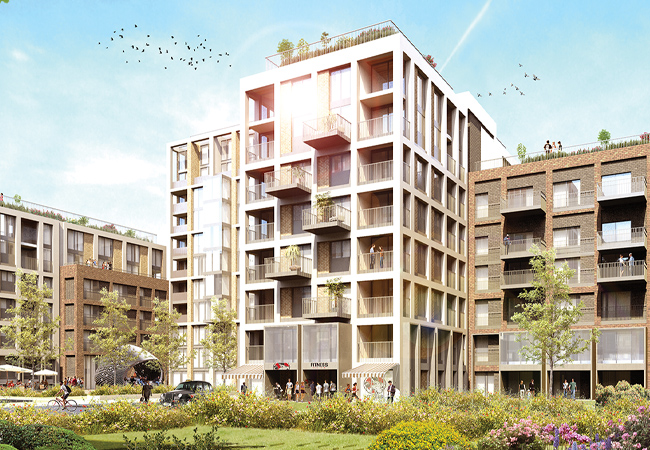 A regeneration scheme in Barnet has won planning approval after engineering consultant ChapmanBDSP changed the energy strategy to meet new carbon factors adopted by the Greater London Authority (GLA).
Air source heat pump (ASHP) technology, rather than a gas-fired combined heat and power plant, will now provide energy for 844 new homes and civic spaces at the former Pentavia Retail Park in north London, designed by architect AFK for Meadow Residential.
The factors, adopted by the GLA in January 2019, are based on the SAP 10 calculations that will be used in the next revision of Building Regulations. SAP 10 takes account of the rapid decarbonisation of the National Grid, and reduces the carbon emission factor for electricity from 0.519 kgCO2/kWh to 0.233 kgCO2/kWh.
ChapmanBDSP associate Joanna Conceicao said: 'It's changed the energy strategy completely. Gas could still be used, but you would have to work a lot harder on the façade performance.'
Permission for the development was refused by the local council in 2018. Plans were later changed and resubmitted, but the redesign had to take account of the new carbon factors.
ChapmanBDSP tested six energy strategies, including those based on direct electric, air source heat pumps and gas.
The design strategy will be ASHP-led – either  a communal ASHP with individual top-up electric immersion heaters for hot water, or a communal ASHP with individual air-to-water heat pumps.
Under the new carbon factors, the two strategies offer a 53% and 62% reduction in carbon emissions respectively when compared with the 2013 notional building emission rate. Conceicao said: 'Using the original carbon factors and a CHP-led strategy, there was a 44% reduction – but, with the updated figures, this was only 4%. We're now developing a bigger matrix, looking at the pros and cons of each strategy. Whenever we get a new project, we can immediately analyse the options.'