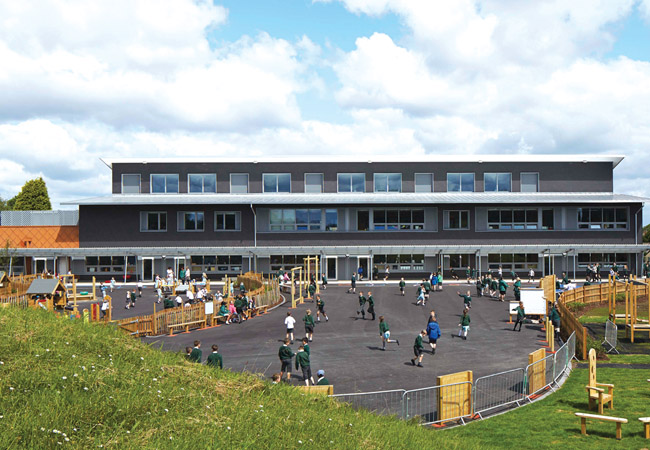 CIBSE Award Winner Wilkinson School: Only 5% of school buildings surveyed were in top condition
Overly complex building services are contributing to the poor performance of new school buildings, according to a report from RIBA.
Only 5% of 59,967 buildings – in 18,000 schools surveyed – were in top condition, performing as intended and operating efficiently, the report revealed. As a result, most schools are not providing conditions conducive to learning and are suffering from inflated operating costs. 'From damp, leaky buildings to serious issues such as exposure to asbestos, too many pupils are trying to learn in classrooms that are damaging to their health – and to their education,' the report said.
Almost all of the 500 teachers surveyed said good school buildings were crucial to improving children's learning and behaviour, but almost half said their schools were too small for the number of pupils, and a quarter rated the buildings as 'poor' or 'very poor'.
The report went on to look at specific failures in new-build schools and pinpointed significant problems with building services strategies.
'A lot of newer schools were driven to adopt overly complex strategies and systems, which overwhelmed school staff and quickly became unmanageable,' said Lisa Ann Pasquale, director at consultancy Six Cylinder, which carried out technical analysis of the post-occupancy evaluations (POEs) used to gather evidence.
She added that difficulties addressing multiple, competing design guidelines – such as acoustic and ventilation requirements – and a tendency to choose complex or 'maintenance intense' systems in a bid to improve SBEM or Breeam scores, had led to problems.
The report also noted that 'simple, robust, passive strategies, intuitive manual controls, and higher ceilings to absorb stale air' could create more comfortable conditions conducive to learning. 
'Building services engineers could play a pivotal role by helping architects develop designs that minimise reliance on mechanical and electrical services, if they were brought into projects earlier,' said Pasquale.
Last year CIBSE published TM57 Integrated School Design 2015, which is aimed at the whole project team, not just building services engineers.