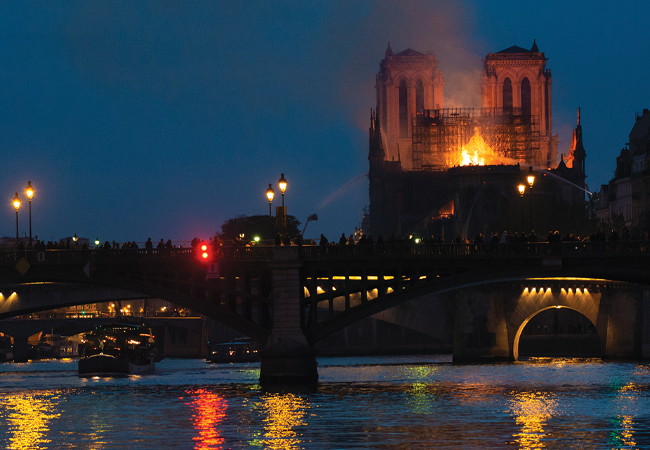 The fire at Notre Dame Cathedral
The government has reassured that fire safety is a top priority during the restoration work on the Houses of Parliament, following the catastrophe that struck Notre Dame Cathedral in Paris.
A government spokesman said it was vital to learn 'any lessons that emerge from the fire at Notre Dame'. Fire safety is 'a key priority for parliament, and protections are constantly reviewed and updated, including… in planning for the future restoration and renewal of the Palace of Westminster', they added.
After a fire destroyed most of the medieval building in 1834, an additional budget for a fire safety strategy at the Palace of Westminster was sanctioned by Parliament in the early 1840s. This had not been included in the original budget for the Palace. The main structural materials were stone and cast-iron to counter the risk from numerous smoke flues.
Henrik Schoenefeldt, senior lecturer in sustainable architecture, University of Kent School of Architecture, said compartmentation between sections of the Palace was included in the design. 'The ceilings on the west side were separated by three layers of clay tiles, bonded together with lime mortar to form arches between iron beams, to create fire barriers,' he said.
This method followed principles of compartmentation that were developed in the late 18th century for the fire-proofing of mill buildings in the north of England.
However, a lot of the historic fire-proofing strategies were removed during various modifications of the building, or not followed through consistently. As a result, the network of ventilation shafts and floor voids unintentionally created conditions for fire and smoke to spread through the building, said Schoenefeldt.
'The risk of the fire safety strategy being compromised by the ventilation system was already recognised by the architect and, between 1844 and 1845, led to serious disputes between Reid and Barry.'
A fire-safety improvement programme has been ongoing, around sittings of parliament, to implement the necessary upgrades.
He added: 'My plea to people working with historic buildings is to have a heritage-led approach, so the historic reasoning behind a building – and how it was designed – is the starting point to address contemporary issues.'