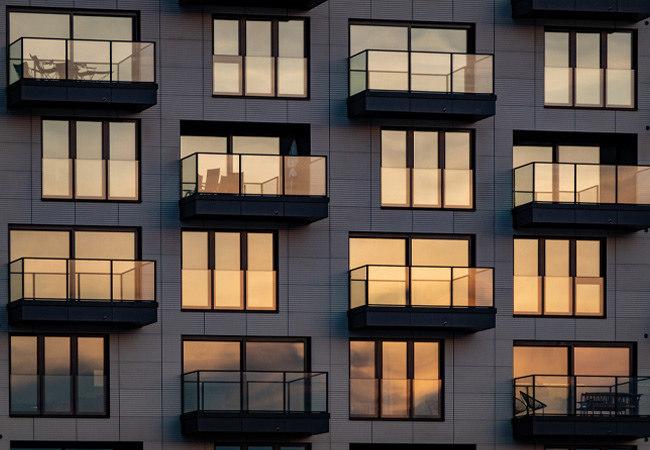 Air conditioning is likely to be the only cooling solution for many parts of the country
A new report by Arup says nine in 10 existing UK homes will be at risk of overheating if worldwide temperatures rise to 2°C above pre-industrial levels, which is expected by 2050 if global warming continues on its current trajectory.
The study was carried out by Arup for the Climate Change Committee, and appraised current and future risks posed to the UK housing stock by summertime overheating.
Even if temperatures stay at current levels, the report says that 55% of UK buildings fail the criterion in CIBSE's TM59 guidance for assessing whether bedrooms are comfortable overnight during heatwaves.
The remaining 45% – which equates to 12.6m homes – require no mitigation because they pass the overheating risk criteria for both living areas and bedrooms.
Overheating risks are particularly high in the south of England, with London being the hottest spot, and are moderate in the Midlands and Wales under current weather conditions. However, if temperatures were to rise by 2°C above pre-industrial levels – the benchmark used to assess the impact of man-made warming – 92% of homes would fail the TM59 criterion.
Of these, 17%, mainly in London, would also fail the overheating criterion for living areas. No buildings outside Scotland would pass the criterion for bedroom overheating.
If temperatures rise by 4°C, all UK homes will be at risk of overheating, according to the report. In this worst-case scenario, virtually all homes in the UK will require adaptation – including in Scotland; air conditioning would be the only cooling solution in many parts of the country.
Arup says smaller houses and flats are the homes at greatest risk of overheating.
Its report says that rolling out a mass homes retrofit programme will be a 'challenge', but that designers can mitigate problems in buildings by maximising the use of natural ventilation.