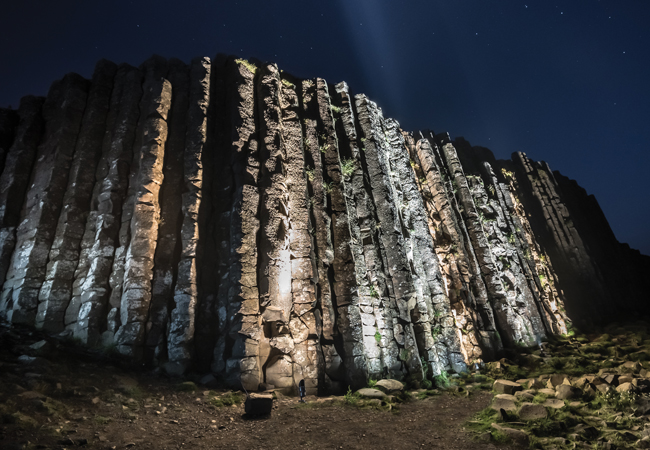 The Giant's Causeway
The Night of Heritage Light (NoHL), organised by the Society of Light and Lighting (SLL), has been named the Best Creative Lighting Event at the Darc Awards 2016, on 15 September. It received 1,300 votes from international professional design agencies.
To celebrate the International Year of Light, the SLL lit nine Unesco World Heritage sites – including Fountains Abbey in Yorkshire, Blenheim Palace, the Tower of London and Ironbridge Gorge – on 1 October 2015. Each site was allocated a design team, led by a recognised lighting professional and SLL member. The event was also supported by more than 100 lighting professionals.
SLL past-president Liz Peck accepted the award on behalf of the society, accompanied by some members of the NoHL organisational team: Simon Fisher, SLL secretary Brendan Keely, and SLL coordinator Juliet Rennie. Rhiannon West and Dan Lister were unable to attend.
Jeff Shaw, president of the SLL, said: 'It is very exciting to receive an award that is given by our peers in the lighting industry, and a tremendous honour to be recognised by leading designers from around the world.
'The Night of Heritage Light represents all that is exciting and challenging in our industry, and it's tremendously inspiring to existing lighters – and those just joining the profession – to see what can be done. Lighting is an art as well as a science, and both these elements were on top form to bring this extraordinary event together.'
Supported by CIBSE, of which the SLL is a division, NoHL was up against similar installations around the world, including Lumiere 2016, Rome's Colosseum Light Messages, San Francisco City Hall Centennial Celebration and the Manchester Festival of Light and Sound Art.
The awards are organised by mondo*arc and darc magazines.