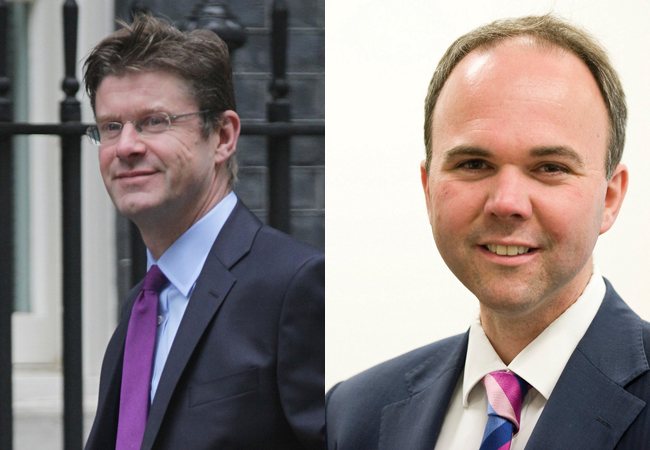 Greg Clark and Gavin Barwell
After eight years, the Department of Energy and Climate Change (DECC) has been abolished by new Prime Minister Theresa May.
Last month, it was merged with the Department for Business, Innovation and Skills (BIS) to form the newly created Department of Business, Energy and Industrial Strategy (BEIS).
It is headed by Greg Clark, who has been appointed Secretary of State for the department.
Scottish energy minister Paul Wheelhouse said the move raised questions about the new cabinet's commitment to tackling climate change and support for renewable energy, calling for urgent talks with the government.
But executive director at Aldersgate Group Nick Molho and Julie Hirigoyen, UK Green Building Council chief executive, believe the merger is positive.
Molho said the key thing about DECC and BIS restructuring is that 'climate change is genuinely incorporated into energy and industrial strategy decisions'.
Hirigoyen said: 'The newly created department represents a golden opportunity to put sustainable business at the heart of jobs and prosperity. As a priority [Greg Clark] needs to provide reassurance to businesses so they can invest with confidence in a low carbon future.'
She added: 'However, the loss of a dedicated climate change department has the potential to send the wrong signal to the international community. The government needs to reconfirm its commitment to the Paris Agreement.'
On Clark's appointment, Professor Dame Ann Dowling, president of the Royal Academy of Engineering, said: 'We appreciate his interest and involvement over many years in the development of vital infrastructure, and his enthusiasm for engineering and innovation – particularly during his work as minister for universities and science, and for cities.'
Gavin Barwell, Conservative MP for Croydon Central, has been made minister of state for housing and planning, and for London, at the Department for Communities and Local Government.