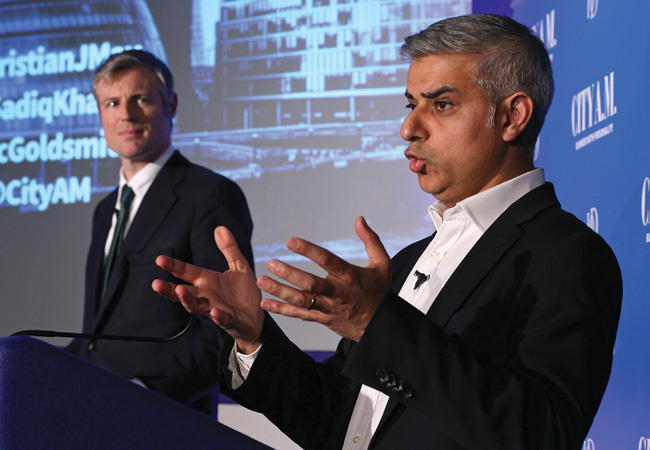 Election front-runners Conservative Party candidate Zac Goldsmith, left, and Labour candidate Sadiq Khan
The new Mayor of London should put decentralised energy production and energy efficiency at the top of their 'to do' list, say leading industry figures.
Lord Barker, chair of the London Sustainable Development Commission, said there were already several projects making good progress and proving that 'it is increasingly economically and commercially feasible' to deploy renewables and sustainable energy 'within a large metropolis in a way that is scalable and makes sense for consumers'.
Speaking during a debate hosted by the Aldersgate Group, an alliance of leaders from business, politics and society that drives action for a sustainable economy, Lord Barker urged the new mayor [to be elected on 5 May] to liaise with the Department for Energy and Climate Change early and 'insist that the new regime that replaces ECO takes into account the special conditions that we need for London' such as the higher costs for energy efficiency initiatives.
The debate heard that, as the fifth-largest city economy, London could – and should – be 'a leader in the international low carbon economy'.
A report commissioned by outgoing mayor Boris Johnson found that the market in London for low carbon and environmental goods and services was worth £25.4bn in 2013 – and could more than double to £52.6bn by 2024.
Duncan Price, director for sustainability at Buro Happold Engineering, said more needed to be done to drive the real time management of energy in the capital's buildings. He added that there was a 'well-known performance gap between the design and reality of buildings…and [how] performing in practice is the real challenge to bring energy use down in existing buildings'.
'If you can't get the economics to work in London [where it is desirable to live], then it's not being valued correctly'.