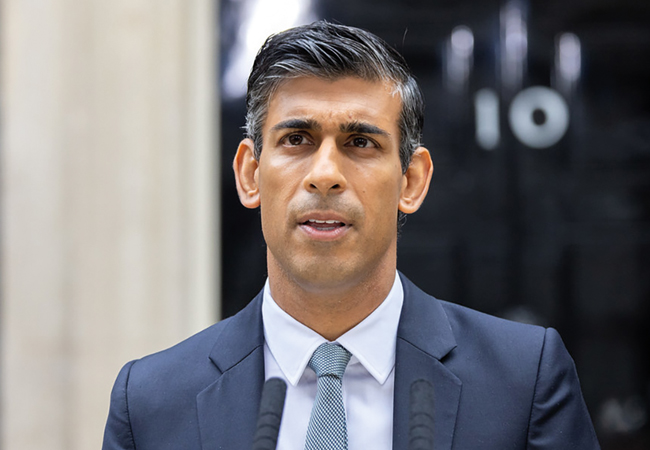 Around a fifth of households will be exempted from the government's 2035 new gas boiler ban and landlords will no longer be forced to carry out energy efficiency upgrades, Rishi Sunak has announced. 
In a speech at 10 Downing Street on 20 September, the Prime Minister unveiled a dramatic and wide-ranging watering down of climate change policies, which he argued currently 'impose unacceptable costs on hard-pressed British families'. 
Sunak said the government would take a 'more pragmatic, proportionate, and realistic approach to meeting net zero that eases the burdens on working people'. Announcing that it will give people 'far more time to make the necessary transition to heat pumps', he said many households will be exempt from the 2035 phase-out of new gas boilers. This exemption is expected to cover about a fifth of homes that will face the biggest struggle to make the switch from fossil-fuel boilers, including off-gas-grid homes and those requiring expensive retrofitting or a very large electricity connection to make them suitable for heat pumps. 
Sunak also announced that grants under the Boiler Upgrade Scheme, which subsidises installations of heat pumps and other low carbon heating technologies, will be increased by 50%, to £7,500. In addition, he outlined moves to speed up the process for securing grid connections and planning permission.
Tory MP Chris Skidmore, author of the government's net zero review, said the Prime Minister's announcement 'condemns the UK to missing out on what could be the opportunity of the decade to deliver growth, jobs and future prosperity'.
Responding to the announcement, Energy UK's chief executive, Emma Pinchbeck, said: 'As recently as yesterday, ministers were stressing their continuing commitment to [low carbon technologies], so it's alarming for companies considering UK investments in these areas when these same policies are shelved the next day.'
Charlotte Lee, chief executive of the Heat Pump Association, said: 'The government has once again moved the goalposts for heat decarbonisation in the UK, and this risks damaging investor, installer and consumer confidence in this space.' 
'We need consistent policy' – CIBSE President Adrian Catchpole
Rishi Sunak's announcement on net zero policy goes against advice from the government's own adviser, the Climate Change Committee. Watering down policy risks seriously undermining confidence from businesses and homeowners, who have started on the journey to invest in skills, supply chains and infrastructure to decarbonise the building stock. As highlighted by Chris Skidmore, the net zero 2050 target is not a lone target: the UK has carbon budgets to meet, and a carbon-reduction trajectory to follow, so we need to act now where we can. As has repeatedly been recommended before, what is needed is a stable and consistent policy framework, alongside government support where required. 
Major changes to net zero policy
Ban on off-grid fossil-fuelled boilers delayed from 2026 to 2035, with only an 80% phase-out target at that date
Removal of requirement for an EPC C rating for domestic landlords' properties by 2025
Postponement of 2030 deadline for buying new diesel- and petrol-powered cars and vans to 2035
Grants for the boiler upgrade scheme increased by 50%, to £7,500