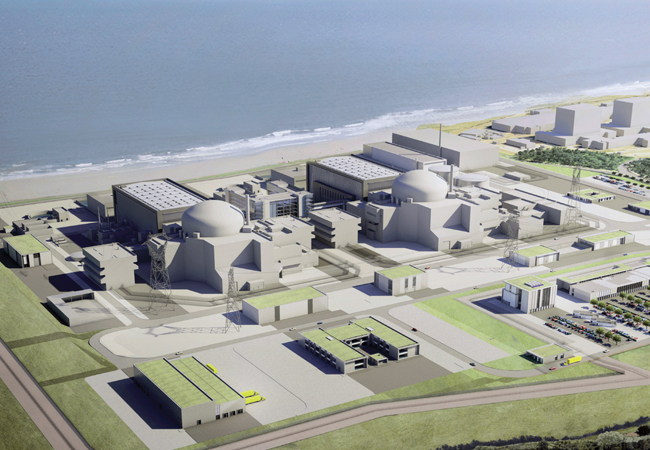 CGI of the approved Hinkley Point C plant
Prime Minister Theresa May has given the go-ahead to the £18bn Hinkley Point C nuclear power plant, after a six-week review.
May has been accused of backing down from security concerns about Chinese involvement in the plant, but she insisted the Somerset development was approved with 'significant new safeguards' to make sure China and other foreign investors could not own stakes in British nuclear plants without UK government approval.
Hinkley Point C will meet 7% of Britain's energy needs.
Ian Maclean, UK managing director for energy and industry at WSP Parsons Brinckerhoff, said: 'After years of delays, we can now look positively to the future, prepare our business and recruitment plans accordingly, and start filling the growing gap in our energy mix.'
Despite this step towards decarbonising the UK energy supply, Maclean said future energy sources should also include renewables, and gas-fired power stations as well as nuclear.
A report from the Energy and Climate Intelligence Unit (ECIU), said increasing investment in renewables and energy efficiency would meet the UK's future energy needs more cheaply than Hinkley Point C.
Its research concluded that the UK could cut its energy costs by £1bn a year and still maintain electricity capacity by growing 'demand response' measures, increasing investment in wind farms, and building new gas-fired power stations. The movement from centralised power generation to distributed networks, smart grids and increased renewable capacity undermined the economic argument for a new generation of nuclear power, it added.
The ECIU said Hinkley was 'not essential' and that the alternatives were 'tried and tested'.
In another report, energy consultant Utilitywise claimed it would be £12bn cheaper to invest in energy efficiency measures as an alternative to Hinkley, which it labelled an 'unnecessary expense'.