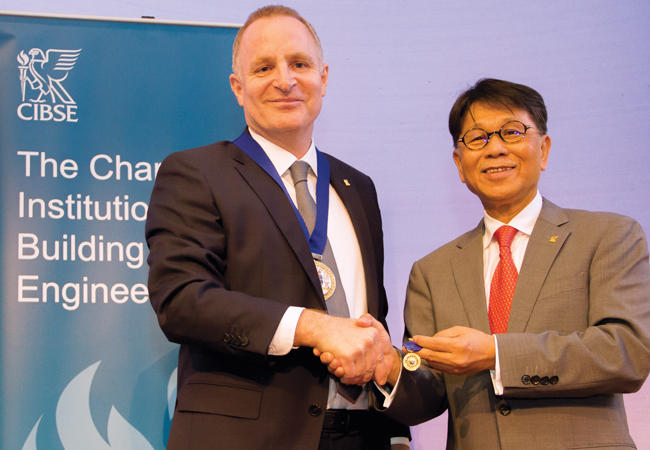 Stephen Lisk with outgoing president Peter Y Wong
We all have a responsibility to ensure lessons are learned from the Grenfell Tower disaster, new CIBSE President Stephen Lisk said last month. During his presidential address at the Royal Society on 8 May, Lisk told the audience that built environment professionals must help to shape a better future.
Dame Judith Hackitt's Independent Review of Building Regulations and Fire Safety identified several areas in which change is needed, including regulations and guidance, roles and responsibilities, standards, procurement and competence. Lisk said: 'Dame Judith recognised the need for the original design intent to be preserved, recorded, and for any changes to go through a formal review process involving people who are competent and who understand the key features of the design.
'That information needs to be kept up to date throughout construction and handed over to those who will operate the building, preserving the "golden thread" of building information, from construction into the operational life of the building.'
CIBSE responded to the review's call for evidence, with input from the Society of Façade Engineering. The Institution also supported the Royal Academy of Engineering's and the Construction Industry Council's responses.
CIBSE members have the power to make a positive and significant impact on people's lives, Lisk said, whether through the products they make, the projects they design, the buildings they manage, operate, maintain and refurbish, or the codes and guidance they write.
'It is clear that construction in the UK must change and, as a charitable body that exists for the public benefit, we are committed to being at the forefront of delivering that change,' he said.