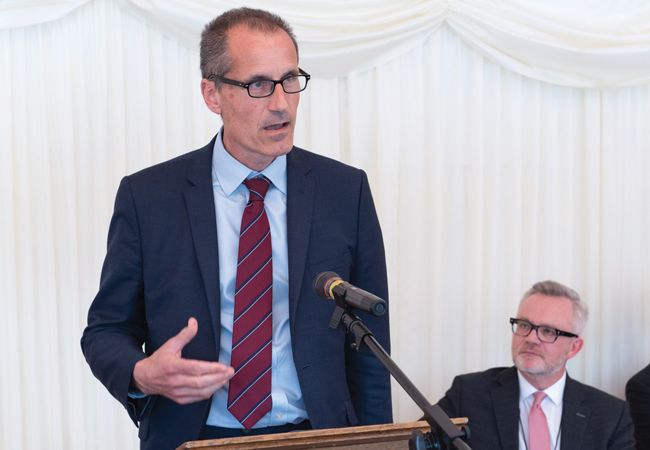 Bill Esterson addresses the CIBSE Patrons lunch
A member of the shadow cabinet has committed a future Labour government to tackling the growing problems of late payment and retentions in construction. Bill Esterson, shadow minister for small business, told the annual CIBSE Patrons lunch at the House of Lords that unsecured debts were crippling many small and medium-sized enterprises (SMEs) in construction supply chains.
He attacked the government's record on enforcing late-payment legislation and its 'lack of oversight and corporate governance' during the run-up to the collapse of Carillion. 'There is already legislation in place to ensure government clients pay their prime contractors within 30 days, but it also says they must make sure money due to subcontractors is passed promptly onto the supply chain,' said Esterson. 'The sad fact is that many contractors will not get paid anything at all following [the collapse of] Carillion.'
His comments came days before a report by two parliamentary committees concluded that government had 'lacked the decisiveness or bravery' to address the failures in corporate regulation that allowed Carillion to become a 'giant and unsustainable corporate time bomb'.
The report said Carillion had used its SME suppliers like a private bank by withholding payments, and blame was laid firmly at the door of the company's board of directors, which was 'responsible and culpable for the company's failure'. 'The mystery is not that it collapsed, but that it lasted so long,' the report added.
Carillion was holding £800m in retentions money due to subcontractors – a debt that has been written off by the company's liquidators. Esterson said a future Labour government would support retentions deposit accounts that would protect SMEs' cash. These form part of the retentions reform measures in a draft bill proposed by Conservative MP Peter Aldous, which is due to have its second reading in parliament on 15 June.
Patrons chair David Fitzpatrick said: 'We have a unique insight into the problem and have witnessed the havoc it can cause in supply chains.'
■ Find more information about CIBSE Patrons here