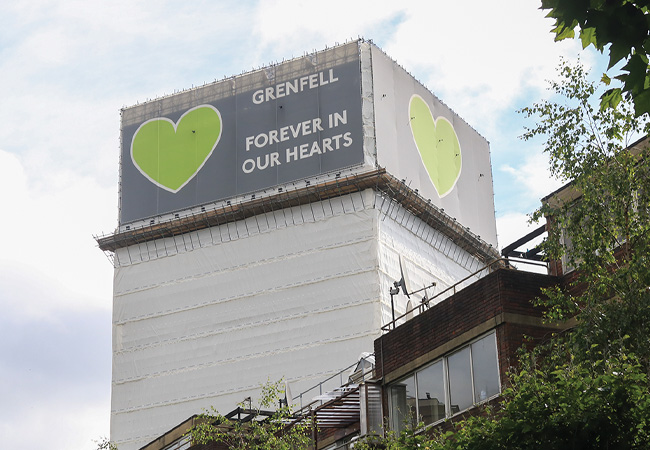 Credit: Getty images – SOPA Image
New positions of accountability across the life-cycle of high-rise residential tower blocks have been proposed in a consultation launched by the Ministry of Housing, Communities and Local Government (MHCLG).
Building a Safer Future calls for the formation of a new regulatory framework to implement the recommendations of the Hackitt Review.
A dutyholder regime will cover the whole life of a building, from design through to construction and occupation. The statutory responsibilities will include creating and maintaining digital records and producing a safety case for approval by the new building safety regulator before a safety certificate is issued.
'This is radical,' said Hywel Davies, technical manager at CIBSE. 'The proposal requires the principal contractor to produce a final declaration with the principal designer, confirming that the building complies with Building Regulations.'
There is also a proposal for a new national regulator for building safety, 'whistleblower protection' for workers making disclosures in the public interest, and the involvement of residents in decisions around fire safety.
The document proposes that, for residential buildings that are 18m tall or higher, there should be three 'Gateways', at which point safety information will have to be disclosed to the building safety regulator.
The government's consultation on the proposed building safety reforms closes on 31 July. 
New UK regulator to oversee building safety
The government plans to create a new national regulator for building safety, in response to the Grenfell Tower disaster. It also aims to make it a criminal offence to fail to comply with its proposed new safety regime for high-rise residential blocks.
'We have outlined plans for a new regulator to provide oversight of the new building safety regulatory regime,' said Secretary of State for Housing, Communities and Local Government James Brokenshire. '[They] will also oversee the wider building and regulatory system, and watch over efforts to assure the competence of those working on buildings.'
The minister said the government would strengthen 'oversight and regulation of construction products', adding that the proposed system would be underpinned by 'strengthened enforcement and sanctions to deter non-compliance with the new regime… to help drive real culture change in the industry'.
Government considers mandating BIM
Building information modelling (BIM) could become compulsory on high-rise residential projects of more than 18m high (six storeys and above) under the government's building safety reform proposals.
'Mandating BIM would make best use of ongoing work to promote digitalisation in the construction industry,' the consultation document said. It explained that the use of BIM would make it easier to record key changes to a building's design and the products and materials used in its construction. This would create the 'golden thread' of life-cycle information called for by Dame Judith Hackitt's Independent review of Building Regulations and Fire Safety.
'Early adopters' sign up to safety charter
Developers, contractors and housing associations have signed a charter aimed at improving building safety. The eight-strong group of 'early adopters' joined forces after the Hackitt Review and have promised to 'put safety before profit' during design, construction, refurbishment and occupation
of residential buildings. 
Other firms will have the opportunity to sign up to the charter via the Building a Safer Future website when it is fully launched later this year.
Barratt Developments, Kier, United Living, Wates and Willmott Dixon, plus housing associations L&Q, Peabody and Salix Homes, said they had been trialling new ways of working ahead of any changes to legislation.