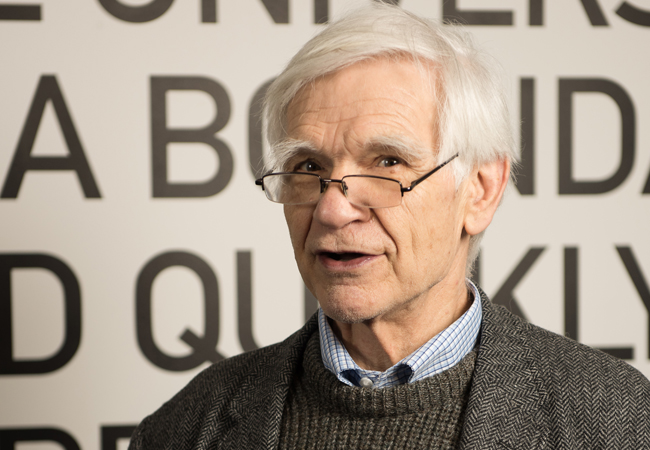 Building services pioneer Max Fordham FCIBSE has died aged 88.
Max, who was CIBSE President in 2001, was one of the great champions of sustainable building design.
His contribution to building services engineering extended well beyond the sector. He was an inventive, brilliant engineer, who patented inventions and brought a new rigour to delivering and measuring building performance.
Max tackled building services design in an integrated way, and was one of the first to bring together the separate disciplines of mechanical, electrical and public health engineering.
Alongside his wife, Taddy, he set up Max Fordham & Partners in 1966. The company is still one of the most influential in the building services sector and many of its alumni have gone on to form groundbreaking design practices of their own.
Max was elected a Fellow of the Royal Academy of Engineering in 1992, and in 2008 won the prestigious Prince Philip Design Award.
More recently, Max Fordham's contribution to Passivhaus buildings design won the consultancy consecutive CIBSE Building Performance Awards for housing. The multi-residential London Agar Grove Estate redevelopment won Residential Project of the Year 2020, while Max's own Passivhaus home in Camden won the same award in 2021.
He will be greatly missed by the whole of the CIBSE community and beyond. Thoughts and condolences are with his family and friends and all those at Max Fordham.
Read our 2017 interview with Max Fordham here.
Professor Sigurd Max Fordham OBE FREng FCIBSE MA(Cantab) HonFRIBA RDI
Born: 17 June 1933
Died: 4 January 2022
Tribute from Max Fordham and Partners
It is with great sadness that we announce that Max Fordham, the acclaimed engineer and pioneer of sustainable building design, passed away at his home on 4 January 2022.
Max pursued a new approach to engineering based on his insatiable curiosity about how buildings work. He resisted pigeonholing into the conventional boxes of mechanical or electrical engineering, and was always interested in the whole building. He took a creative, but essentially practical, approach to building services design. Designing from first principles, he was often quoted as saying 'start with the edge of the universe as a boundary and quickly narrow down to the specific problem'.
In 1966, Max, alongside his wife Taddy, set up Max Fordham & Partners. The practice was founded on the idea of engineers bringing scientific knowledge into the art of building design. He developed his skills in what was then considered the new field of heating engineering to test his idea. Invention, innovation and success followed. The design of the practice itself, as a Partnership, was key to its success.
Max and his practice won significant and varied recognition for their work in ensuring human comfort by giving buildings heat, power, water and ventilation in a sustainable and elegant way.
With energy and humour he built strong relationships with many of the most highly regarded UK architects, engineers and designers of the time, including Neave Brown, Peter Clegg, Ted Cullinan, Peter Foggo, David Levitt, Sunand Prasad, Sam Price, Jane Wernick, Mark Whitby, and many others.
Notable projects under Max's leadership, include Tate St Ives, Alexandra Road Estate, Judge Institute Cambridge, and Contact Theatre in Manchester.
These along with his lecturing (at the University of Bath) and other teaching earned Max many prestigious honours, including: Fellow of the Chartered Institute of Building Services Engineers (FCIBSE); Fellow of the Royal Academy of Engineering; Honorary Fellow of the RIBA; awarded the Prince Philip Designers Prize by the Royal Society of Art, recognised as 'a pioneer of environmental design for buildings' (2008); voted into the inaugural Building Hall of Fame (2006); The Queen's Award for Enterprise, Sustainable Development (2004); CIBSE Gold Medal (1997); and, Order of the British Empire, OBE, for services to engineering (1994).
From the start, Max sought a collaborative partnership approach to running a business to encourage shared responsibility and a feeling of ownership. He felt that designing a system for people to work in productively and creatively was as important as the design of the buildings themselves. Max himself said 'it's a responsibility-sharing scheme, not a profit-sharing scheme'.
Max Fordham LLP, as it came to be known in 2001, was the first business in the British construction industry to become a Limited Liability Partnership.
Max handed over the running of the practice to his fellow partners in 2000. The business has gone on to work on many more notable buildings including Tate Modern Switch House, the RIBA Stirling Prize-winning MAXXI in Rome, the Passivhaus redevelopment of Agar Grove Estate, and Max's own RIBA Sustainable Prize-winning Camden home. The practice now numbers over 250 people, including 119 partners who co-own the business.
Max is survived by his three sons: Jason, Cato and Finn and four grandchildren. Max's wife, Thalia 'Taddy' Fordham, who was a lifelong personal and professional partner to Max, passed away in 2017.
Max's creativity and passion will be sorely missed. The legacy of his vision will continue to inspire.