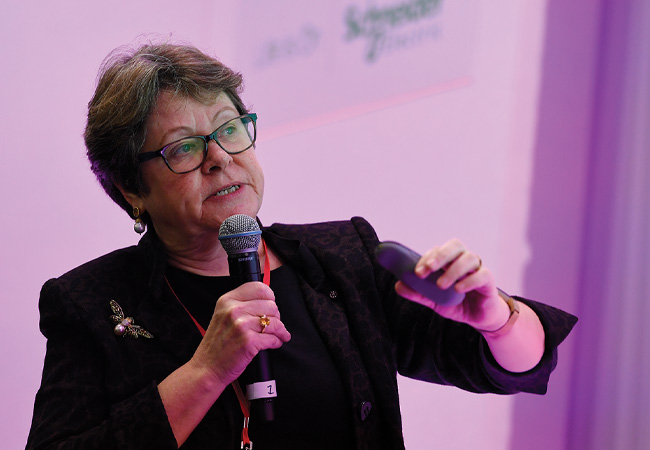 Baroness Brown: 'Avoid the unmanageable and manage the unavoidable'
The vice-chair of the Committee on Climate Change (CCC) believes hybrid heat pump solutions and increasing amounts of hydrogen heating will prove pivotal in the push towards net-zero carbon.
Speaking at the CIBSE Build2Perform Live event, Baroness Brown of Cambridge said the government had been advised to combine Building Regulations for heating and ventilation to ensure higher levels of insulation and airtightness did not lead to an epidemic of overheating and sick building syndrome (SBS).
She said current levels of greenhouse gas emissions had no precedent in the past 800,000 years and that potential future scenarios were 'scary'. Current projections suggest the planet is on course for a 4°C rise in temperatures – far above the 1.5°C target outlined in the Paris Agreement.
However, she believes the worst is not inevitable and urged the building services sector to focus on 'avoiding the unmanageable and managing the unavoidable' through a combination of technical innovations and mitigation strategies for buildings.
The CCC has written an open letter to Prime Minister Boris Johnson urging the new administration to address the climate crisis.
The CCC warned that UK efforts had so far 'fallen short', but with the country hosting the 2020 UN Climate Summit in Glasgow, the government's actions over the next year would have 'a lasting global impact'.
The letter, signed by CCC chairman Lord Deben and Lady Brown, said the UK must get back on track to delivering net zero emissions.
The CCC identified five key priorities for cutting UK emissions: removing fossil fuels in existing buildings; phase out of petrol and diesel cars; 40GW of offshore wind by 2030; developing hydrogen and a mechanism to pay for emissions reductions; and cutting emissions from agriculture.