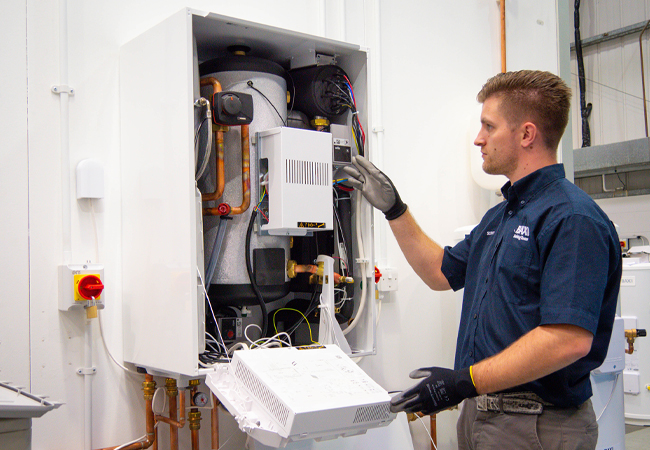 The government has published plans to achieve price parity between gas boilers and electric heat pumps in its long-delayed Heat and Buildings Strategy, which was published last month.
A key tactic will be moving green surcharges from electricity to gas bills to make heat pumps more attractive to consumers. The government has also confirmed a ban on the installation of new and replacement gas boilers by 2035.
The strategy says 600,000 heat pump installations per year is the minimum market size that will be required by 2028 to be on track to deliver net zero.
The government also published its Net Zero Strategy, which provides a roadmap for emissions reduction in other industries including: power; fuel supply and hydrogen; industry; transport; natural resources, waste and F-Gases; and greenhouse gas removals.
Currently, 85% of UK homes use natural gas for heating and cooking. The UK housing stock is also among the most energy inefficient in Europe, so addressing this was rated a top priority by the government ahead of the COP26 climate conference in Glasgow.
The government believes electricity prices have been kept unnecessarily high by the burden of subsidies and is looking to move to a situation where consumers use more electricity, but pay lower rates for it, while gradually reducing their gas consumption as its cost rises.
Householders switching from gas to heat pumps will receive a £5,000 grant from a new £450m boiler upgrade scheme. However, CIBSE technical director Hywel Davies said the grant would not cover all the costs of transition.
'If you put a heat pump in a 1950s house, other improvements will have to be made, such as installing more insulation.'
He added: 'The other real concern is around installation, and whether we have enough people who can design and install heat pumps.'
The strategy also commits the government to investing £60m in heat pump innovation to make them smaller and easier to install.
A final decision on the role of hydrogen in heating will be made in 2026 following large-scale pilot projects.