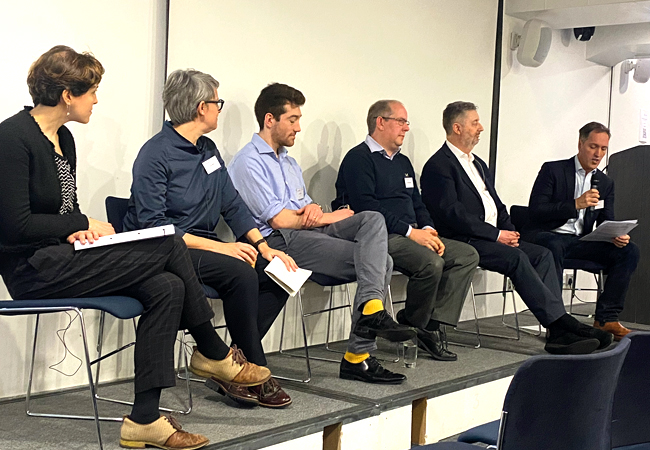 Gareth Jones chairs a session at the FairHeat conference
Heat network customers should be afforded a similar level of protection as gas and electricity customers, says Richard Bellingham, head of heat networks implementation at Ofgem.
Bellingham was speaking at the FairHeat heat network conference about plans for the regulation of the industry.
He said: 'As we learn more about the industry a lot of challenges come to the fore. Current heat networks can be patchy in terms of reliability and efficiency… there are no price protection mechanisms in place and communications with consumers has been poor.' 
The Energy Security Bill, which is expected to receive Royal Assent this summer, appointed Ofgem as regulator of heat networks. The aim is to ensure customers get a fair price and reliable supply of heat by monitoring compliance and taking enforcement action where heat networks are not meeting required standards. 
Bellingham described the challenges of regulating an industry with 3,000 companies providing heat to 600,000 consumers across 14,000 heat networks, as opposed to regulating 30-40 suppliers in the gas and electricity industry.
He said: 'We need new ways to monitor and communicate. It's a big challenge.' 
Bellingham said he was working closely with the Department for Energy Security and Net Zero (DESNZ) on a joint consultation to be published this summer. 
He said it would be based around five themes: regulatory framework; compliance and enforcement; monitoring and reporting; consumer protection; and technical standards.
A Heat Network Technical Assurance Scheme is being developed to demonstrate compliance with relevant standards such as the CP1 Heat Networks: Code of Practice (see page 40).
The government expects heat networks regulations to come into force in 2024 and existing heat networks will be required to notify Ofgem to maintain authorised status. 
For more information visit bit.ly/41DsC5e