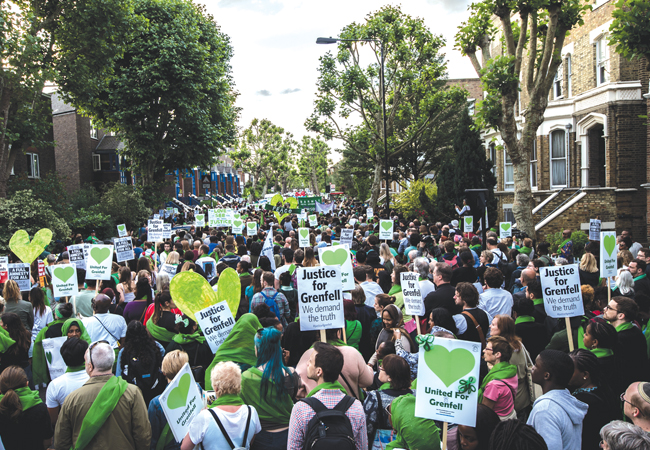 The Grenfell Silent Walk at Kensington Memorial Park on 14 June marked one year since the fire
A host of fire-safety regulations failures were presented to the Grenfell Tower public inquiry on 18 and 19 June.
Arup fire engineer Dr Barbara Lane, who wrote a report into the cause and spread of the fire, told the inquiry that the lifts were substandard, fire doors had not been replaced, and combustible material was fitted around windows.
She also emphasised that the stay-put policy, permitted by Building Regulations for some high-rise buildings, relies heavily on compartmentation, which only works alongside other protection measures. Fire-safety systems in tower blocks are designed to respond to fires in a single flat, not multiple fires throughout a building, as happened at Grenfell.
Lane's report, released last month, stated that several additions or refurbishments at Grenfell Tower did not comply with regulations. The lifts in the building were not up to the standard for firefighters – they had no escape hatches, making them unsuitable for the evacuation of disabled people.
Only 106 of the 120 doors in the tower were replaced after refurbishments in 2011, so it is assumed that the others had been there since 1974, when doors were required to be fire resistant for 20 minutes. The current regulations raise this to an hour. The dry rising mains in the tower were also unsuitable. A wet fire main should be installed in buildings above 50m; Grenfell's topmost residential floor was at 62.8m.
A gas pipe installed in 2016 penetrated the protected stair compartment wall and the protected flat compartment walls, added Lane. She said the pipe – one of six gas risers running vertically up the block – had incomplete compartmentation and ventilation around it to protect it from fire.
Lane also revealed that EDPM, a combustible material, was used to weatherproof the window seals of the tower, and no cavity barriers 'of any kind' were installed around any windows.