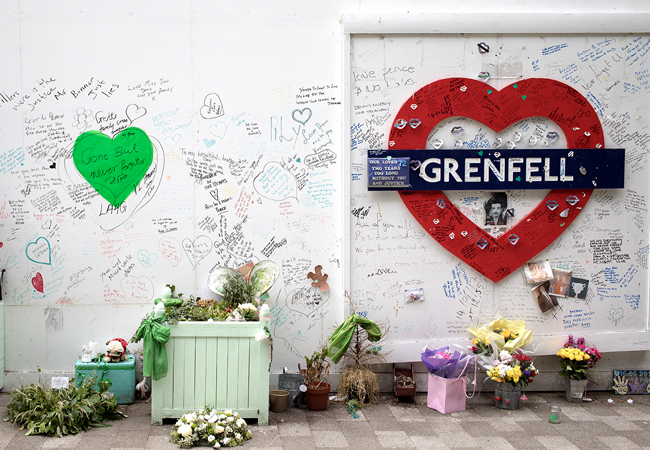 Credit: Getty images – Anselm Ebulue
The company that sold combustible insulation for use on Grenfell Tower rigged a fire test and made misleading claims about it, a public inquiry has heard.
Celotex, a subsidiary of the French materials company Saint-Gobain, behaved in a 'completely unethical' way, said its former assistant product manager, Jonathan Roper.
In evidence to the Grenfell inquiry last month, Roper said the firm had been 'dishonest' by 'over-engineering' a cladding fire-safety test to achieve a pass. After a first test failure in January 2014, a second system passed in May 2014, but Celotex failed to disclose additional non-combustible elements that it had added to prevent this system from failing.
The inquiry heard that Celotex added a 6mm fire-resisting magnesium oxide board to a cladding test rig made up of 12mm fibre cement panels for the second test. The 8mm fibre cement panels were added over the magnesium oxide, making the whole system almost flush – apart from a 2mm difference.
Agreeing this was dishonest, Roper said: 'I went along with a lot of actions at Celotex that, looking back on refection, were completely unethical and that I probably didn't potentially consider the impact of at the time.'
Roper said subsequent marketing material was 'misleading and intended to mislead' by claiming the insulation boards were safe for use on high-rise buildings. Celotex has said it promoted RS5000's use on buildings taller than 18 metres only in a 'rainscreen cladding system with the specific components', used when it passed the fire-safety test.
In September, the Grenfell Tower Inquiry heard that FR5000 was recommended as part of the Grenfell Tower refurbishment to meet an energy efficiency target, according to an M&E consultant who worked on the design.
The fire-safety performance of the material was not a consideration, Max Fordham's Andrew McQuatt told the public inquiry. He said the main criteria for his recommendation that the architect, Studio E, ft Celotex FR5000 insulation between the outside walls and new rainscreen cladding was its lambda value and thickness.
He said it never occurred to him that he could select something off a website that would have the potential to be so unsafe. 'I had done a lot of projects, I had seen [polyisocyanurate rigid foam insulation] again and again and again. In my mind, it was just a common material,' he said.
In the end, Celotex RS5000 insulation boards were fitted to the building, which, independent fire experts said, was essentially the same product and had contributed to the speed with which the fire spread.
Although McQuatt said he had not looked at the fire performance, the project leader from Studio E, Bruce Sounes, told the inquiry that he had 'made an assumption' that Max Fordham had worked with the material before and considered it safe.