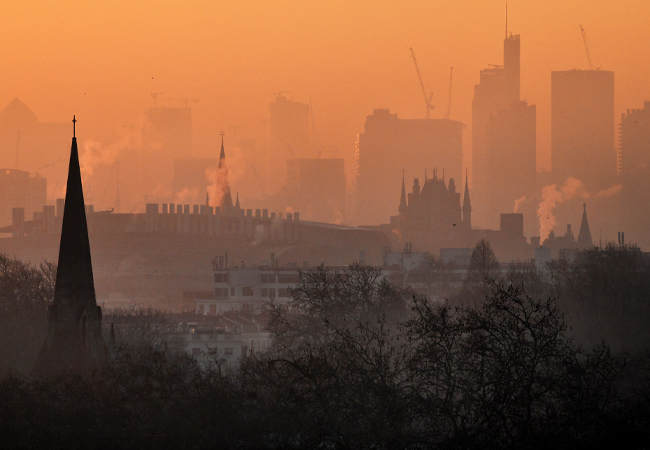 Air pollution is linked to as many as 64,000 early deaths a year
The government should adopt the World Health Organization's (WHO's) guidelines on air pollution and provide more help for businesses and communities to achieve higher air quality standards, according to a report from the Environment, Food and Rural Affairs (EFRA) Select Committee.
It warned that air pollution is the largest environmental risk to UK public health and is linked to as many as 64,000 early deaths a year.
The EFRA report calls for stricter and legally binding clean-air targets, a long-term funding structure for councils to deliver local strategies and a public communication campaign around transport. It calls for the WHO's recommendations on particulate matter, NO2 and ammonia to be enshrined in the Environment Bill, which is currently before parliament but has been delayed for six months.
EFRA said the government's Clean Air Strategy relies too much on local authorities to improve air quality without providing sufficient resources to deliver the plans. '
While the Clean Air Strategy is a step in the right direction, the government needs to be more ambitious,' said committee chair Neil Parish MP. 'Before the Environment Bill comes back, commitments to reduce the levels of toxic particulates that cause the most harm must be strengthened – and targets on reducing the health impacts of air pollution included.'
Wood burning biggest cause of UK particle pollution
Domestic wood burning in stoves and open fires was responsible for 38% of PM2.5 emissions in 2019, while road traffic contributed 12% of emissions.
A government report said that PM2.5 emissions from wood burning had more than doubled since 2003, to 41,000 tonnes a year, and had increased by 1% in the past year.
A second report, produced by Kantar for the government, found that just 8% of people in the UK burned fuel indoors, with two-thirds living in urban areas.
Other research has revealed that wood burners triple the level of harmful pollution in the home. In the study of wood burners in 19 homes, researchers from Sheffield University found that tiny particles enter the room when the burner doors are opened for refuelling.
Over four hours, average particle levels rose to between 27 and 195 micrograms per cubic metre of air. The WHO limit is 25μg/m3 over 24 hours.