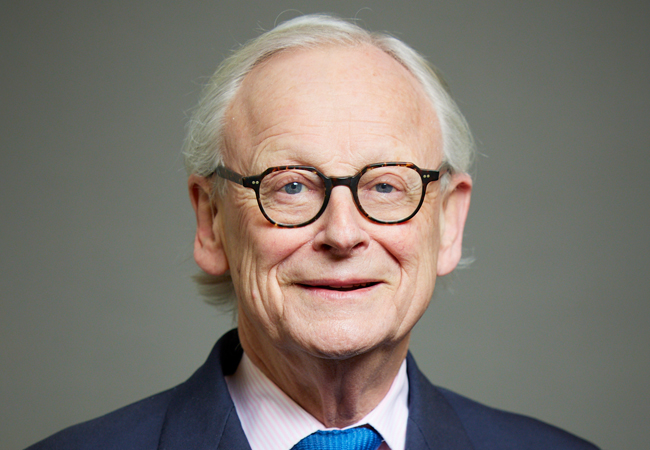 Lord Deben, who has stepped down as chair of the CCC after 11 years at the helm
Hydrogen should be given 'at most' a 'small' role in home heating, the Climate Change Committee (CCC) has said in its latest progress report on the UK's decarbonisation. The annual update, published last month, warns that the government displays a 'lack of urgency' on tackling climate change and that policies are not being developed at the 'required pace' for meeting future targets.
The CCC says its confidence that the UK will meet its Fourth Carbon Budget, which covers the period up to 2027, has 'slightly increased' over the past year, largely because of an approximately 5% post-pandemic drop in driving and continued growth in sales of electric vehicles. But its confidence that the UK will meet longer-term emissions-reduction targets has decreased, partly because of 'over-reliance' on technological solutions yet to be deployed at scale.
The committee says the government must back up its 'strong' commitments – such as to decarbonise the electricity system by 2035 and install 600,000 heat pumps per year by 2028 – by moving 'as swiftly as possible' to delivery.
'Immediate' action is needed to overcome the 'systemic uncertainty' being caused by the government's position that a decision on the role of hydrogen in heating will not be made until 2026. Postponing this decision for three years is 'hindering' the growth of supply chains for low carbon heat, says the CCC. 'Waiting three more years to set a clear direction will lead to further lost progress in buildings, and hinder infrastructure development more widely.'
What the report describes as 'no and low regret' options, which the government should push forward on, include electrification of heating with 'at most – a small, focused role for hydrogen use in buildings'.
The CCC also says the government's decision to take environmental and social levy costs off power bills, as part of last winter's wider energy support package, means the ratio of electricity prices to gas prices has fallen over the past year. It is now 'essential' that this improvement in relative prices is made 'permanent', it adds, as part of the rebalancing of electricity and gas prices that the government has committed to implement by March next year. 
Professor Piers Forster has been appointed interim chair of the CCC, after Lord Deben stepped down last month.