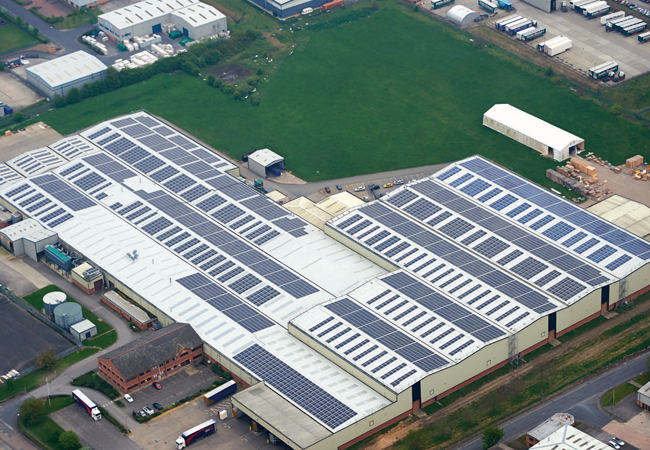 Kingspan's Selby plant with solar PV on the roof
Around 65% of organisations subject to the Energy Savings Opportunity Scheme (ESOS) are now compliant, according to the Environment Agency. It published a list of the 5,939 companies that met the 29 January deadline, of which 31% (1,870) used CIBSE-certified ESOS Lead Assessors to achieve compliance.
ESOS applies to firms with more than 250 employees or a turnover of more than €50m and a balance sheet exceeding €43m. Those that failed to meet the regulations by 29 January faced a fine of £50,000, plus a further £800 per day of non-compliance after that. CIBSE is urging affected organisations to apply for certification of their energy management systems under the ISO 50001 standard, which also delivers ESOS compliance.
During a well-attended seminar at CIBSE headquarters in Balham, head of CIBSE Certification, Andrew Geens, said the flaw in ESOS was that it was a four-yearly assessment, which meant organisations might put energy management 'on the back burner' for three years in between. 'ISO 50001 addresses that by putting a management system in place for continuous improvement.'
Released in 2011, ISO 50001 brings together several countries' local codes, providing a single standard for implementing energy management systems. A properly structured energy management system is invaluable to organisations looking to manage energy costs, explained Geens.
Lead auditor Tony Lindsay told the seminar that 50001 could be applied to businesses of all sizes. It can also give 'competitive advantage', according to Sebastian Gray, a director at GEA Consulting.
One company that has applied 50001 in a comprehensive way is Kingspan Insulation, whose divisional manager Deon Joubert said it was a great way of convincing 'bean counters' to invest in energy saving measures because it can be used to demonstrate financial savings.