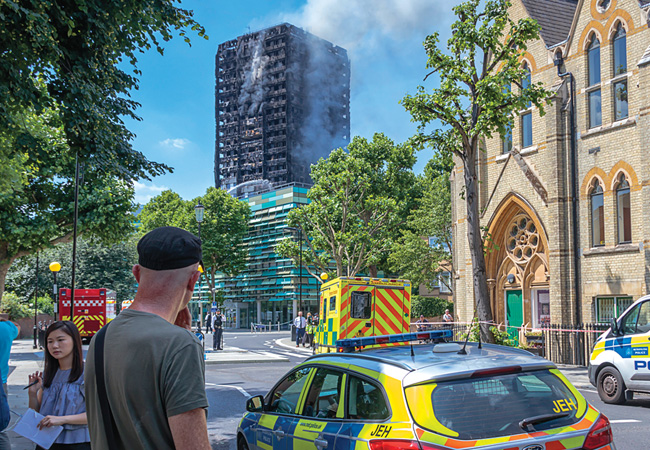 Tower tragedy... urgent action is needed
London Fire Brigade (LFB) chiefs have highlighted a 'general lack of competence' and poor training among building designers and construction companies – and have warned of 'an increase in serious building fires unless the construction industry starts to take fire safety more seriously'.
In its submission to Dame Judith Hackitt's review into building regulations and fire safety, in the wake of the Grenfell Tower blaze, the LFB said responsibility for ensuring buildings are constructed with proper fire safety measures sits with the construction industry.
It added that fire officers regularly noted 'significant construction defects' – such as flawed compartmentation between flats – that can allow fire and smoke to spread. They also saw 'critical fire safety systems', such as mechanical smoke ventilation, not installed as per the original design, poorly designed, or simply not working.
'It took a tragedy for everyone to take fire safety seriously and listen to what the Brigade has been saying for years about skills,' said assistant commissioner for fire safety Dan Daly. 'Urgent action is needed to better regulate those who are responsible for ensuring a building's design, construction and maintenance are fit for purpose. There are countless points where a dangerous decision can be made about a building's design or upkeep, and hardly any measures to ensure the people making those decisions are properly qualified.'