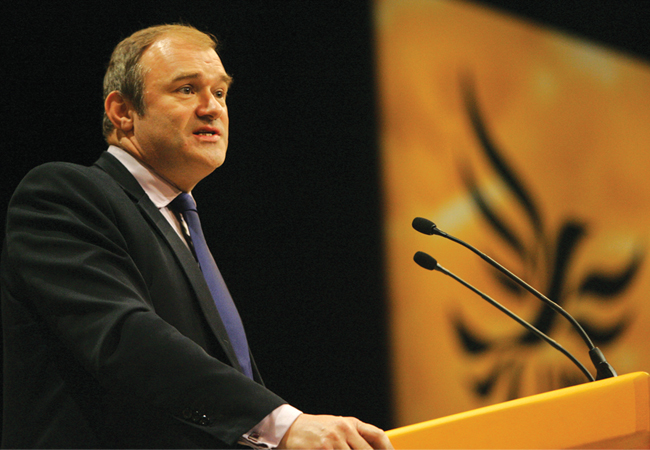 Ed Davey. Credit: Liberal Democrats
The UK's energy policy is a 'national disgrace' and could even be illegal in light of the agreement reached by 195 countries at last month's COP21 climate change conference, in Paris, according to a former Energy Minister.
The talks ended with a deal committing signatories to limit global warming to 'well below' 2°C and pursue efforts to keep it at 1.5°C in a bid to cut the current 46bn tonnes of greenhouse gases emitted every year to close to zero by 2050. Prime Minister David Cameron said it was a 'huge step forward in helping to secure the future of our planet', but he was widely accused of hypocrisy for pursuing domestic policies that are not in line with the UK's Paris commitments.
Ed Davey, who was Energy Minister in the coalition government, said the government was in danger of breaching its own Climate Change Act – which commits the country to cutting emissions by 80% by 2050 – and the EU's Renewable Energy Directive. He said cutting renewable subsidies and closing the carbon-capture storage programme 'where the UK was one of the leaders in the world, is a national disgrace'.
He said the Chancellor, George Osborne, was at risk of 'breaching ministerial codes' by putting the government 'in an illegal position, in my view'.
Current Energy Minister, Amber Rudd, said the government was absolutely committed to the 2°C upper limit, but that the 1.5°C goal was aspirational, adding that the government was going to achieve its targets in a different way that provided better value for consumers. Expert commentators have said the UK would have to close all its coal and gas power stations by 2035 to achieve the 1.5°C target.