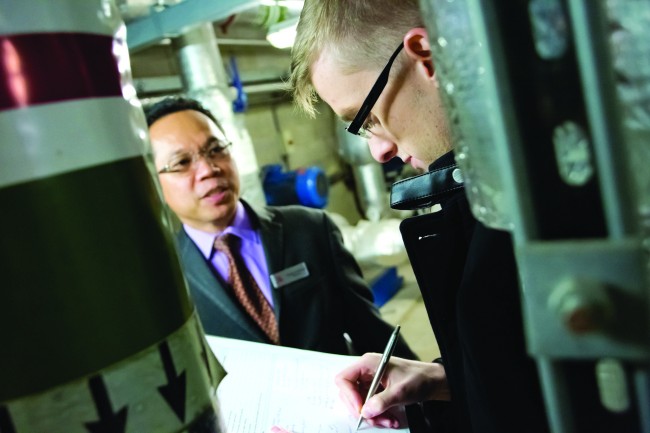 Freddie Gubatanga, engineering manager at the London Heathrow Marriott, with ESOS lead assessor Sebastian Gray
The Environment Agency has offered some leeway for firms rushing to comply with the Energy Savings Opportunity Scheme (ESOS).
The Environment Agency (EA), which is managing the scheme, said it would not act against firms that show they have a plan to comply with the policy by the original audit deadline of 5 December – but will do if they are not fully ESOS-compliant by 29 January 2016. It confirmed that penalties would only be applied for non-compliance three months after the new deadline.
Andrew Geens, head of CIBSE Certification, said: 'This discretionary approach to enforcement will be welcomed by many of our ESOS Lead Assessors who faced working around the clock to meet the deadline.' He said that although only 500 firms had completed the registration process, ESOS Lead Assessors have been facing a 'tidal wave' of ESOS work over the last three months.
Geens said that although concerns have been expressed about the number of assessors available, he felt there were already sufficient registered assessors. They will be able to pick up work from late compliers as they finish projects for early compliers.
If firms are using ISO 50001 as the route to compliance, they will be given until 30 June to comply. This is to benefit organisations that have audited in time for 5 December but are found to have non-conformities during the audit. Geens said that if a firm already had a non-certified energy management system in place that has been in operation for at least six months, the 30 June deadline would be achievable.
He said: 'It is not intended to allow a company to decide now to use this route to compliance because, from a standing start, this period is not long enough.'
If you wish to find a CIBSE ESOS Lead Assessor, visit http://bit.ly/1M6PtHL