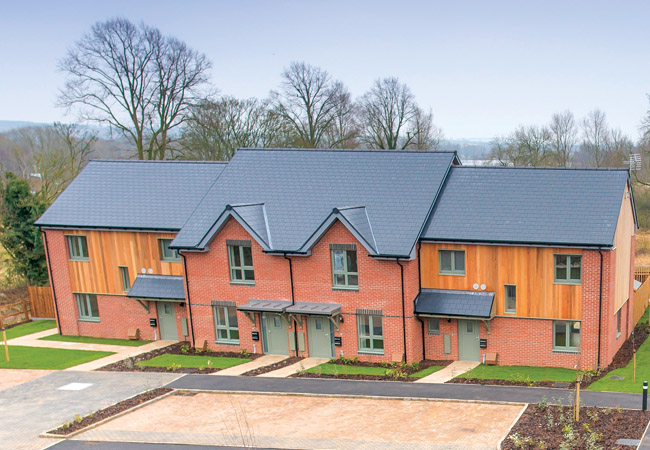 Passivhaus homes in Mill Road, Sharnbrook, built by Parrott Construction
The energy used for space heating is 2.4 times higher in non-Passivhaus dwellings, a Building Performance Network review has found. Launched at Futurebuild 2020, State of the Nation review: performance evaluation of housing found that the energy performance gap in non-Passivhaus (NPH) dwellings was nearly twice that of Passivhaus (PH) dwellings.
The study looked at 91 housing-performance evaluation studies of new housing, covering 826 dwellings, of which 105 were PH and 721 NPH. It found that PH dwellings used 62% less energy than NPH homes, with a mean energy consumption of 73kWh.m-2 per year, compared with 117kWh.m-2 per year for NPH dwellings.
Despite the differences in energy use, indoor temperature profiles in the heating and non-heating season were similar in PH and NPH dwellings, with mean indoor temperature ranging from 20.1-24.6°C. However, consistently higher mean monthly CO2 concentrations were observed in NPH dwellings than in PH dwellings, with the difference being more significant in bedrooms.
Resident comfort and satisfaction with indoor temperature were found to be higher in winter than in summer across PH and NPH dwellings, with indoor temperatures perceived to be hot.