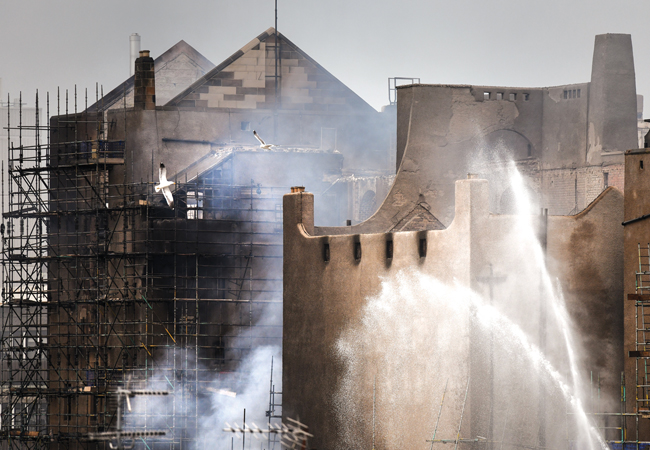 The Glasgow School of Art could still be saved, despite experts suggesting the second fire in four years to ravage the world-famous building had left it structurally unsound.
Initial estimates have put the cost of a second reconstruction of Charles Rennie Mackintosh's masterpiece at £100m. It was still undergoing a £35m rebuild – led by Kier Construction – after the 2014 fire when it was engulfed in flames again on 15 June.
After the first fire, a complete digital record of the original building was made, which makes a rebuild a possibility. A Glasgow School of Art team also created a digital model of the building, using photographic records and drawings.
However, Glasgow Council leader Susan Aitken said the building was not in danger of collapse and the city was 'not writing off the Mackintosh building just yet'. She added that estimates for rebuilding were 'purely speculative' at this stage.
It took 120 firefighters almost three days to get the latest blaze under control, but the main structural elements of the building remain intact. The scaffolding surrounding the building as part of the ongoing restoration project helped the main section to remain standing. However, the Eastern wing, built in 1899, appears to be severely damaged with some of the stonework clearly weakened.
Early reports suggest the sprinkler system installed as part of the rebuilding work was not working, as the water pumps had yet to be fitted.