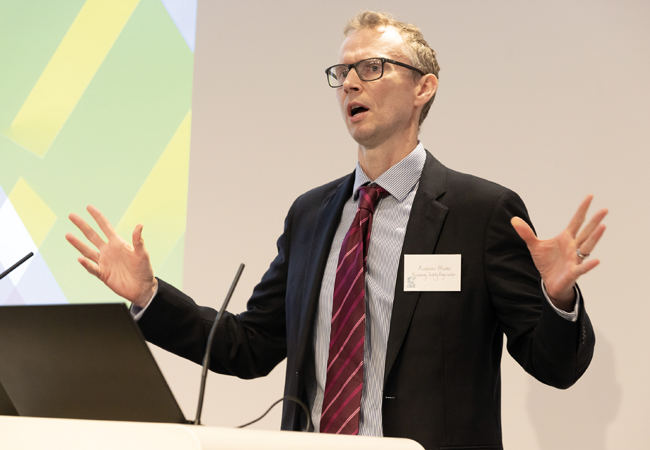 Andrew Moore, head of operations, building control, at the BSR
BSR's Andrew Moore says current form of D&B not viable in new safety regime
Design and Build (D&B) procurement practices will have to change if they are to be used for higher-risk buildings (HRBs) under the new building safety regime, according to a senior official at the Building Safety Regulator (BSR).
Andrew Moore, head of operations, building control, at the BSR, said: 'I don't see the current D&B process working in the new BSR regime for HRBs, because design occurring at the same time as construction will not be viable. D&B will have to change.'
He told the audience at the CIBSE Golden Thread building safety conference that D&B contracts do not suit the new safety regime for HRBs. The new regulations require that major changes made to the design during construction have to be approved by the BSR, which could lead to costly project delays.
Also speaking at the event was Balfour Beatty's compliance manager, David McCullogh, who said D&B could still be used if designs were much more upfront in the process. He said: 'Minimising, if not completely eliminating, change was essential, as formalised change approval would be expensive and entail time implications.'
David Stevens FCIBSE, director of estates, facilities & capital development at East London NHS Foundation Trust, said: 'Poor aspects of D&B, where construction may have started prior to finalisation of designs, will no longer occur.'
He added that D&B contracts offer potential for much better management of the Golden Thread, especially as contractors will hold ultimate accountability for delivery of the design, construction and handover
For more on D&B in the new safety regime for higher-risk buildings, see here.