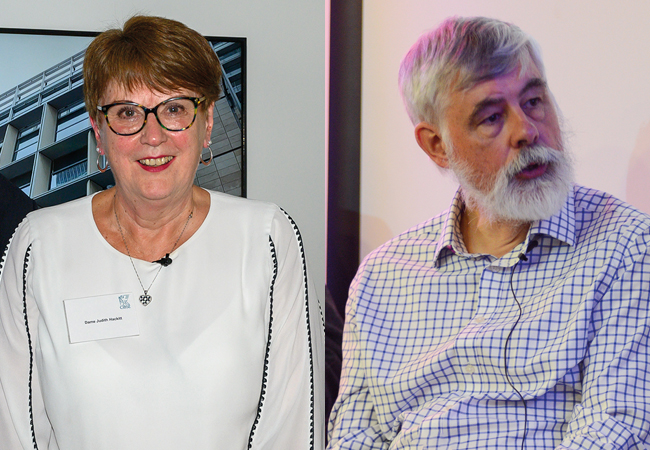 Two of the key architects of the government's new building safety regime have been awarded CIBSE Honorary Fellowships.
The recipients are Dame Judith Hackitt, who chaired the Independent Review of Building Regulations and Fire Safety, and Dr Hywel Davies, CIBSE's long-standing chief technical officer. 
Honorary Fellowships are the highest accolades that can be presented by the institute to non-CIBSE members, to recognise their lifetime contributions to the construction and building industries.
The fellowships were awarded to both recipients by CIBSE President Adrian Catchpole at an event attended by CIBSE members and patrons in London on 27 July.
Dame Judith's 2018 report, Building a Safer Future, formed the basis for the fundamental and systemic reform of building safety legislation introduced through the 2021 Fire Safety Act 2021 and Building Safety Act 2022. It also paved the way for the establishment of a building safety regulator for England.
'It was an honour to receive the award,' Dame Judith said in her acceptance speech. 'I've been particularly grateful to CIBSE over the past five years for the support they've given to my recommendations.'
Prior to taking on the building safety review, Dame Judith had chaired the UK Health and Safety Executive. She is also the chair of the manufacturing trade body Make UK, formerly the Engineering Employers' Federation. 
The fellowship for Dr Davies is the first awarded to a serving member of CIBSE staff. He became technical director of CIBSE in 2007, following more than a decade working for the Building Research Establishment and a further 10 years as an independent consultant.
Davies also headed the expert group responsible for reviewing the use and structure of the Approved Documents following the Grenfell tragedy. 
He advised on the Covid-19 pandemic response and coordinated advice and guidance notes on 'emerging from lockdown', which have been downloaded more than 60,000 times and are recognised across the world.