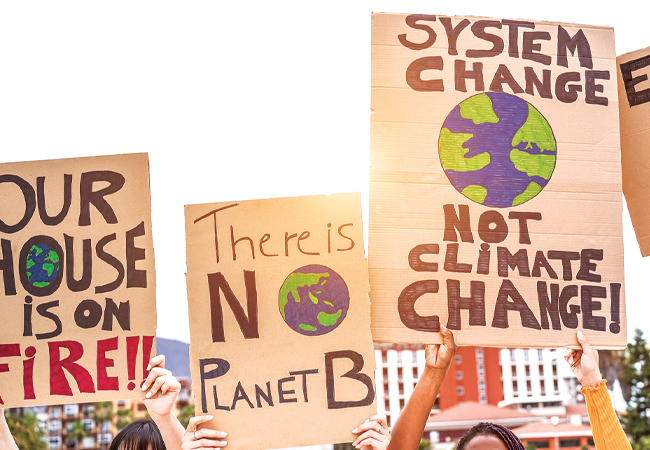 Credit: iStock.com / DisobeyArt 
Climate-resilient development is key to preventing runaway global warming, according to the latest report by the Intergovernmental Panel on Climate Change (IPCC). 
The report, released on 20 March, is a synthesis of the UN body's work over recent years. It warns that the pace and scale of actions and current plans on climate change are 'insufficient' to tackle the problem. 
There is a 'substantial gap' between government commitments to cut emissions, which were announced at the COP 26 UN global climate change summit, and the levels required to limit warming to 1.5°C above pre-industrial levels. 
It says a continued increase in greenhouse gas emissions means that the 'unprecedented' challenge required to keep warming to 1.5°C has become 'even greater' over the past five years, since the current round of IPCC reports began. 
The concluding document says accelerated action to adapt to climate change is essential to close the gap between existing adaptation and what is needed during this decade.
Keeping warming to 1.5°C above pre-industrial levels requires deep, rapid and sustained greenhouse gas emissions (GHG) reductions in all sectors. 
Emissions should be decreasing by now, and will need to be cut by almost half by 2030 if warming is to be limited to 1.5°C, the IPCC warns. 
Even a 'limited overshoot' to 2°C would require 'immediate' action and 'deep' global GHG emissions reductions this decade. Governments' existing COP 26 pledges would lead to global warming of 2.8°C by 2100. 
The solution, says the report, lies in climate-resilient development that involves the integration of measures to adapt to climate change, with actions to reduce or avoid greenhouse gas emissions. 
Designing and planning settlements and infrastructure to achieve greater co-location of jobs and housing will help to mitigate wider warming. 
But, adds the report, while low carbon power is becoming 'increasingly cost effective', the reduction in carbon intensity of energy sources is being outpaced by greater demand resulting from higher levels of economic activity.