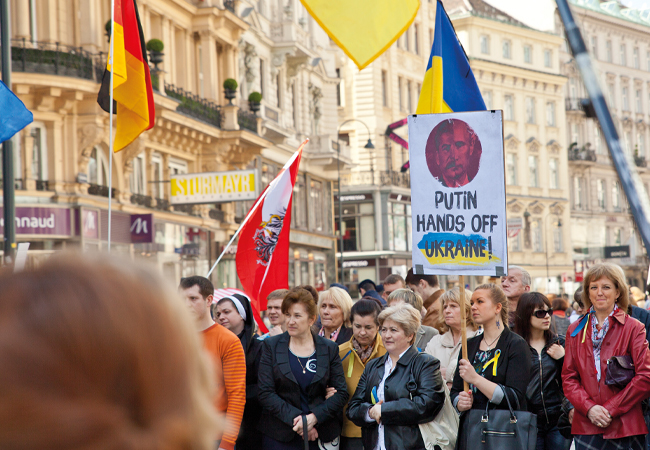 People in Vienna protest against the Ukraine war
International design consultants, including Aecom and Foster + Partners, have announced their withdrawal from Russia following the country's invasion of Ukraine.
Last month, Aecom announced that it was 'immediately exiting its business operations in Russia'. Its chief executive, Troy Rudd, said: 'We support the people of Ukraine who are facing tremendous suffering as a result of Russia's unlawful invasion.
'Russia's actions are inconsistent with Aecom's values and have compromised the business environment for Aecom, our clients and our joint activities in Russia.'
The global engineering giant said that leaving the Russian market would cost it around $10m.
Architect Norman Foster declared in a handwritten note on Instagram that Foster + Partners was leaving Russia. It read: 'We deplore the Russian invasion of Ukraine and as a result we have stopped work on all our projects in Russia.' The architect had two schemes in the country.
Other architects to suspend projects in Russia included David Chipperfeld Architects, Zaha Hadid Architects and Swiss studio Herzog & de Meuron.
Sweco, which has no current work in Russia, has donated £400,000 to Médecins Sans Frontières to help people in Ukraine.
Ramboll UK said it would donate one million Danish kroner (£112,000) to a Ukrainian refugee organisation.
RIBA has opened up its jobs platform to match Ukrainian refugees with employment opportunities as part of its response to Russia's invasion of the country.
The move means that RIBA chartered practices can advertise job or apprenticeship roles for displaced architects and architectural students for free on the platform.