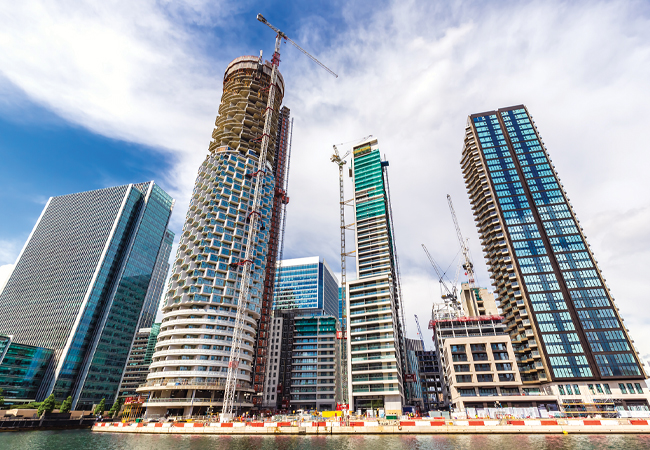 The construction industry grew at its fastest rate since September 2014 during March, according to a survey by IHS Markit and the Chartered Institute of Procurement & Supply (CIPS).
Rises in housebuilding, commercial work and civil engineering helped drive the sector, with the UK Construction Total Activity Index recording a reading of 61.7 in March, up from 53.3 in February.
Anything above 50 indicates growth. The positive figures also reflect the resurrection of delayed projects, particularly in the hospitality, leisure and office-development sectors.
'Construction was full of the joys of spring in March, with a sudden leap into solid growth fuelled by across-the-board rises in workloads. The commercial pipeline was particularly spectacular, giving its best performance since late-2014,' said CIPS group director Duncan Brock.
Housebuilding was the best-performing category, at a reading of 64, showing its fastest growth since July 2020. Commercial construction was at 62.7 and civil engineering 58. As a result, job creation was the strongest for more than two years.
This surge in activity put supply pressure on products and materials, leading to longer wait times for deliveries, especially for imported items. As a result, prices rose steeply and at their fastest pace since August 2008, with many survey respondents blaming Brexit and the pandemic.
'Improving confidence among clients in the commercial segment was a key driver of growth, with development activity rebounding in sectors of the economy set to benefit the most from the improving pandemic situation,' said Tim Moore, economics director at IHS Markit.
'Continued pressures on supply chains are expected in the near term, but these concerns did little to dampen confidence about the business outlook. The survey pointed to the strongest growth projections across the UK construction sector since those reported during a post-election bounce in June 2015.'