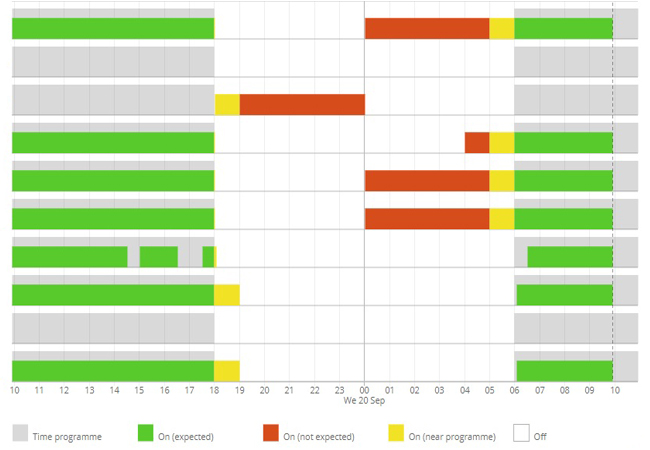 Graph showing when HVAC is on unexpectedly (in red)
BT says building performance software has helped it reduce its annual energy costs by £50,000, while cutting maintenance time and improving productivity.
A data acquisition device (DAD) – supplied by Demand Logic and nicknamed a building 'Fitbit' – was installed as part of the refurbishment of BT's 18,000m2 Leeds office, to monitor the activity of the building management system (BMS) and give 'real-time visualisation' of operations.
'Demand Logic has enabled the energy team to understand the operation of the building in much more detail than simply using the BMS information we have traditionally used,' said senior energy manager Nick Macdonald Smith.
The DAD supplies detailed analysis of the energy output and temperature levels of individual terminal units, so the site team can locate faulty site-specific sensors and equipment running out of hours unnecessarily.
Gilbert Lennox-King, head of business development at Demand Logic, said the company had built what it believed was the first general-purpose, cloud-based building analytics engine, capable of delivering flexible modelling of plant, virtual metering, and fault and performance diagnoses.