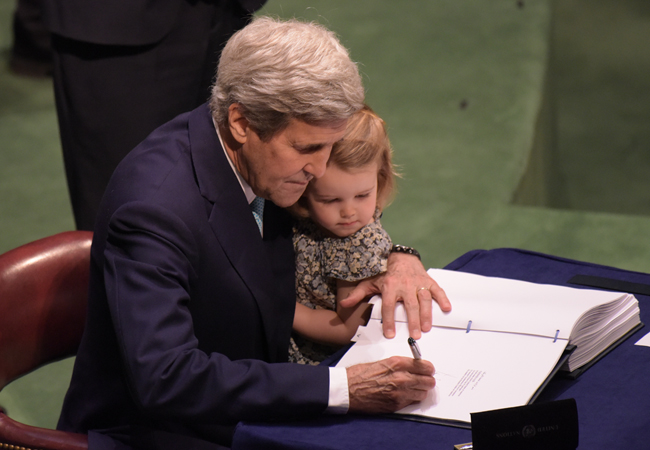 US Secretary of State John Kerry signed the Paris Climate Accord at the United Nations General Assembly in April
Prime Minister Theresa May has promised to ratify the Paris Agreement on climate change by the end of the year.
The UK has been accused of putting environmental issues on the back burner as it deals with the political fallout from the 'Brexit' vote. However, May used her maiden speech at the United Nations in New York to say the UK remained determined to 'play our part in the international effort against climate change… the UK will start its domestic procedures to enable ratification of the Paris Agreement and complete these before the end of the year'.
To come into force, the Paris Agreement must be officially ratified by at least 55 countries, representing 55% of global carbon emissions.
So far, 180 nations have signed up to it, but only 24 – accounting for just over 1% of global emissions – had actually ratified it before China and the US did so ahead of last month's G20 Summit in Hangzhou.
France is the only major EU nation so far to have ratified the agreement, which was drawn up at last December's COP21 in Paris.
'History will judge today's effort as pivotal,' said President Barack Obama when the US and China – jointly responsible for 40% of the world's carbon emissions – ratified the accord. Signatories commit to keeping temperatures at less than 1.5°C above pre-industrial levels.
China will have to cut its carbon emissions by 60-65%, from 2005 levels, by 2030 and the US has committed to reducing its emissions by 26-28% below its 2005 levels by 2025.