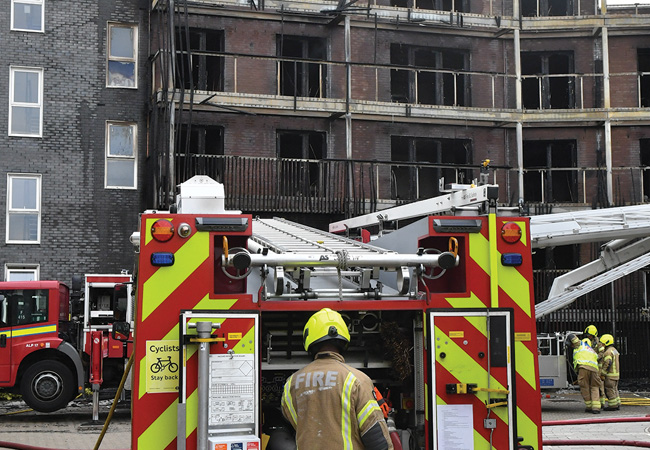 Credit: PA Images / Dominic Lipinski
The block of flats in East London engulfed by flames last month was not covered by the government's combustible cladding ban because it is less than 18m high.
More than 200 blocks with the same type of timber cladding, containing more than 12,000 flats, received planning approval in the past six years, according to construction data analyst Glenigan. All are now subject to safety reviews, and the incident has opened up the possibility that thousands more tower blocks will have to be re-clad.
The Barking fire, which is thought to have been caused by a barbecue, engulfed the whole building in less than six minutes. It is estimated that timber accounts for more than 15% of all cladding sold in the UK – much of it for balconies.
Similarities were drawn between this fire and the Grenfell Tower fire two years ago. However, aluminium composite material (ACM) cladding was used to refurbish Grenfell. This was found on another 328 high-rise blocks in England – 221 of which are still awaiting re-cladding.
The fact that the Barking fire was spread by timber cladding has prompted many experts to call for a much wider review of combustible building cladding.
The government has so far committed to pay £200m to remove ACM from privately owned blocks, but there are now calls for the funding to be extended to other forms of cladding and fire-safety measures.
To mark the second anniversary of the Grenfell fire, survivors organisation Grenfell United arranged for messages to be projected onto high-rise buildings that  are still awaiting remedial safety work.
The Ministry of Housing, Communities and Local Government (MHCLG) has issued new advice regarding residential buildings' balconies.
In a note issued in the ongoing aftermath of the Barking fire earlier this month, the Ministry of Housing, Communities and Local Government (MHCLG) issued new advice regarding residential buildings' balconies