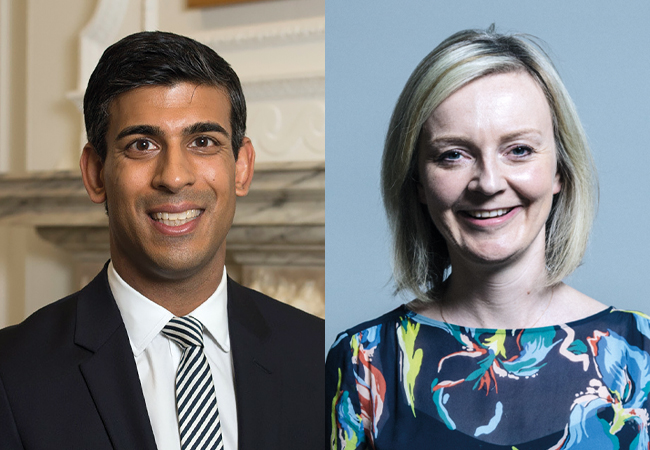 Credit: CC By-ND 2.0 / CC BY 3.0
The climate change credentials of Foreign Secretary Liz Truss and former Chancellor Rishi Sunak have come under the spotlight after they were shortlisted in the race to become leader of the Conservative Party, and the UK's next Prime Minister.
Truss – who was Secretary of State for the Environment, Food and Rural Affairs in David Cameron's government – won a place in the ballot of Conservative Party members after securing the second -highest number of votes among Tory MPs , behind Sunak.
She has pledged to maintain the UK's headline target to cut emissions to net zero by 2050. However, she has made a moratorium on green energy levies – such as the Energy Company Obligation, which pays for efficiency improvements in low-income households – one of her signature policies.
In her current role, Truss has been criticised for sidelining climate concerns when negotiating the UK's post-Brexit trade deal with Australia.
As Chancellor in Boris Johnson's government, Sunak announced a reduction in VAT for domestic installations of insulation and low-carbon technologies . He is now pledging to re-establish a dedicated energy department if he wins the race to become Prime Minister.
The department – and a new energy security committee – would be designed to help deliver Sunak's promise to create a new legal goal for the UK to be self-sufficient in power by 2050.
He has also committed to meet the net zero emissions goal by 2050, and in the first TV debate between rival candidates for the Conservative Party leadership, he highlighted the importance of energy efficiency measures for tackling climate change. However, the Treasury, under Sunak, has been criticised for dragging its feet on bringing forward the cash for energy efficiency improvements pledged in the Tory's 2019 election manifesto.
The leadership contest has taken place against the backdrop of July's heatwave, when the record for Britain's hottest day was smashed.
Act now on heatwaves, scientists urge
The extreme temperatures experienced during last month's European heatwave were a signal for governments to act now to minimise the effects of climate change, leading scientists have warned. Gerhard Adrian, head of the UN weather agency, said the heatwaves should be a 'wake up call for governments to change'.
Friederike Otto, senior lecturer in climate science at Imperial College London's Grantham Institute for Climate Change, said there was still time for societies to act.
He added: ' Whether [heatwaves] become a common occurrence is in our hands, and is determined by when and at what global mean temperature we reach net zero.' According to UK Climate Projections, all summers will see prolonged spells of high temperatures by the end of the century.
CIBSE's Dr Anastasia Mylona said: 'Our buildings are not designed to deal with it, so we have to get used to taking simple, practical steps to help make hot summers more comfortable.'