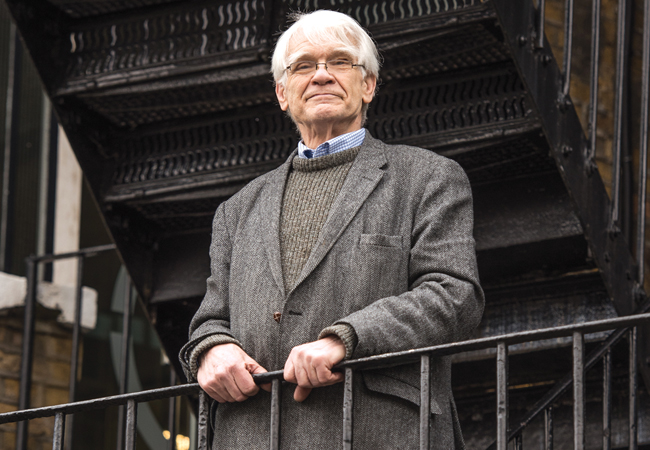 familiar name led the roll of honour at CIBSE's Building Performance Awards last month. Max Fordham won in two of the most competitive categories – Building Consultant of the Year and Building of the Year: Public Use – to continue its long run of success at the annual event. The accolades capped a stellar 12 months for the building services engineer, which also won the Stirling Prize for its Newport Gallery project and picked up RIBA House of the Year for the second year running.
When I met the company's founder for this interview, the first thing I did was congratulate him on his latest success. I was met with a polite, but dismissive, wave of the hand. Awards offer a fleeting pleasure, but – as I was to find out – what really drives Max Fordham is the sense of achievement derived from designing and making things.
Fordham is an inventive, brilliant engineer, who patented inventions and bought a new rigour to measuring building performance. He is also an engineering polymath. He brought together the separate disciplines of mechanical, electrical and public health engineering, and was one of the first to tackle building services design in an integrated way.
'I remember going to meetings with engineers for electrical, public health and mechanical ventilation – it seemed bonkers,' says Fordham, recalling his first consultancy in the 1960s. He vowed to learn to produce detailed drawings for all the services, so he could integrate his designs.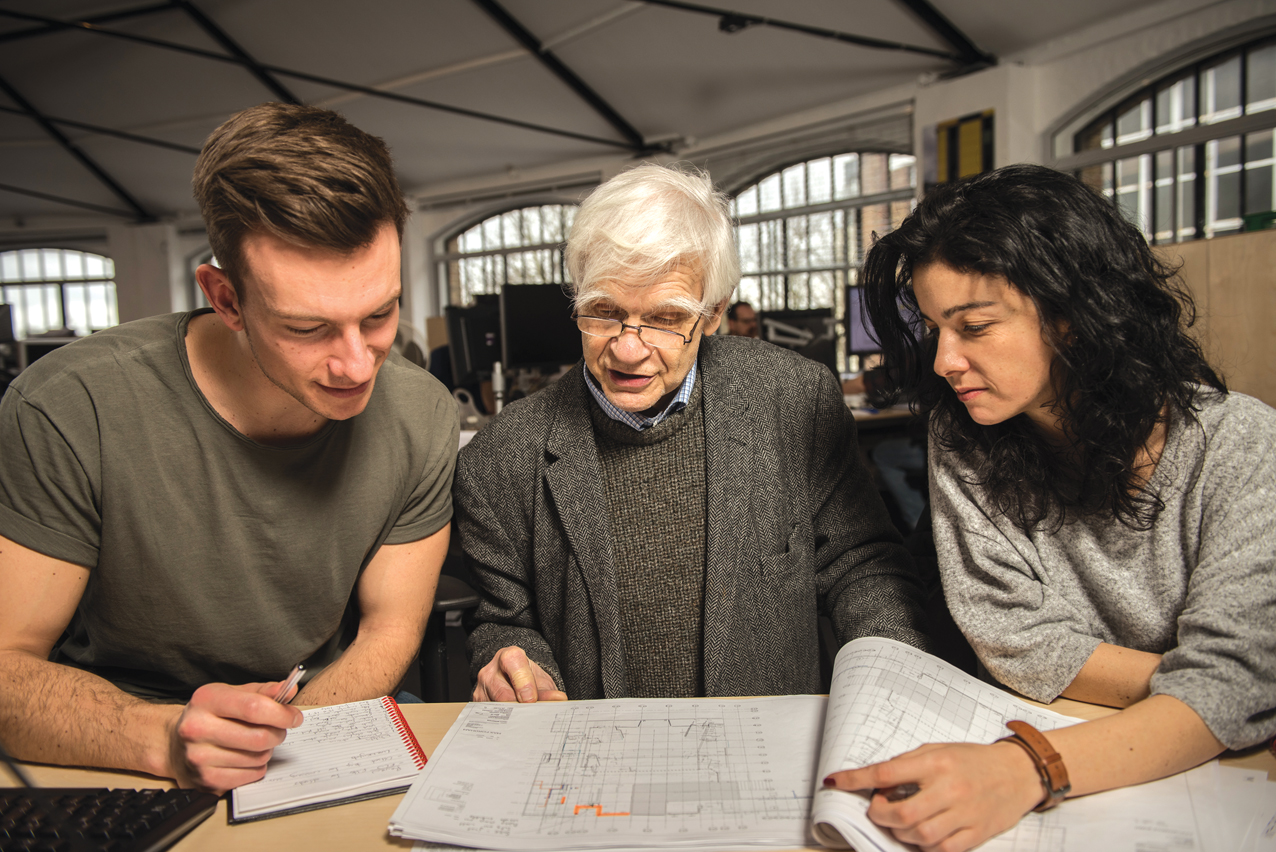 His obsession with engineering was evident at the CIBSE Building Performance Conference, where he was asked on stage what his favourite project was. 'I'm not proud of any particular building,' Fordham replied. 'The intensity and the fun of the design process is what I really remember.'
He cited one job – Hulme 5, a 1,000-flat, council block in Manchester. It gave Fordham the opportunity to come up with a new method of sizing and drawing up pipes. 'I felt the guidance of the time was leading to absurdly oversized pipes. I decided on another method, which gave me a terrific buzz,' he told delegates.
This episode demonstrates Fordham's ability to combine a creative, innovative approach to services design with a rigorous application of scientific principles. This has been a hallmark of his career and can be traced back to his formative years.
Background
Fordham was born in 1933. His mother, Molly Swabey, was a journalist at Vogue and the News Chronicle national newspaper, and his father was Michael Fordham, a renowned child psychiatrist. When war broke out, Fordham was sent to Jamaica to stay with an uncle, and attended a traditional prep school. Tragically, his mother was killed in 1942, when her ship returning to England was torpedoed by the German navy, and Fordham spent the rest of the war in Jamaica, far from close family.
He did not enjoy the harsh prep-school regime, but it instilled in him a sense of discipline. Fordham's next educational experience could not be more different. He was sent to the progressive Dartington Hall School in Devon, which he remembers as having a 'completely undisciplined environment'.
The only mandatory activity was what was called 'useful work'; this focused on maintenance of school buildings. Fordham took full advantage to learn wood- and metalwork techniques. He learned about push-fit and compression pipework, and made an electric hotplate for the kitchen. He likened it to an apprenticeship.
The sense of discipline drilled into him at prep school ensured that Fordham gained a School Certificate  – the equivalent of five GCSEs – and this enabled him to do A Levels in double maths, physics and chemistry. He subsequently read natural sciences at Cambridge, specialising in chemistry, physics, maths and mineralogy.
'I proceeded to do badly at science academic subjects, but had tremendous fun,' joked Fordham, who enjoyed the company of humanity students outside of lectures. He shared a house with Dartington Hall schoolfriend Simon Nicholson – son of artists Ben Nicholson and Barbara Hepworth – who introduced him to a circle of architects and artists, including Sir Leslie Martin. the lead designer of the Royal Festival Hall and head of the Architecture School at Cambridge University.
Fordham enjoyed many 'a robust argument' with Sir Leslie, but also discussed his career prospects and was advised to apply his knowledge of physics in the heating and ventilating industry, which was lacking in skills.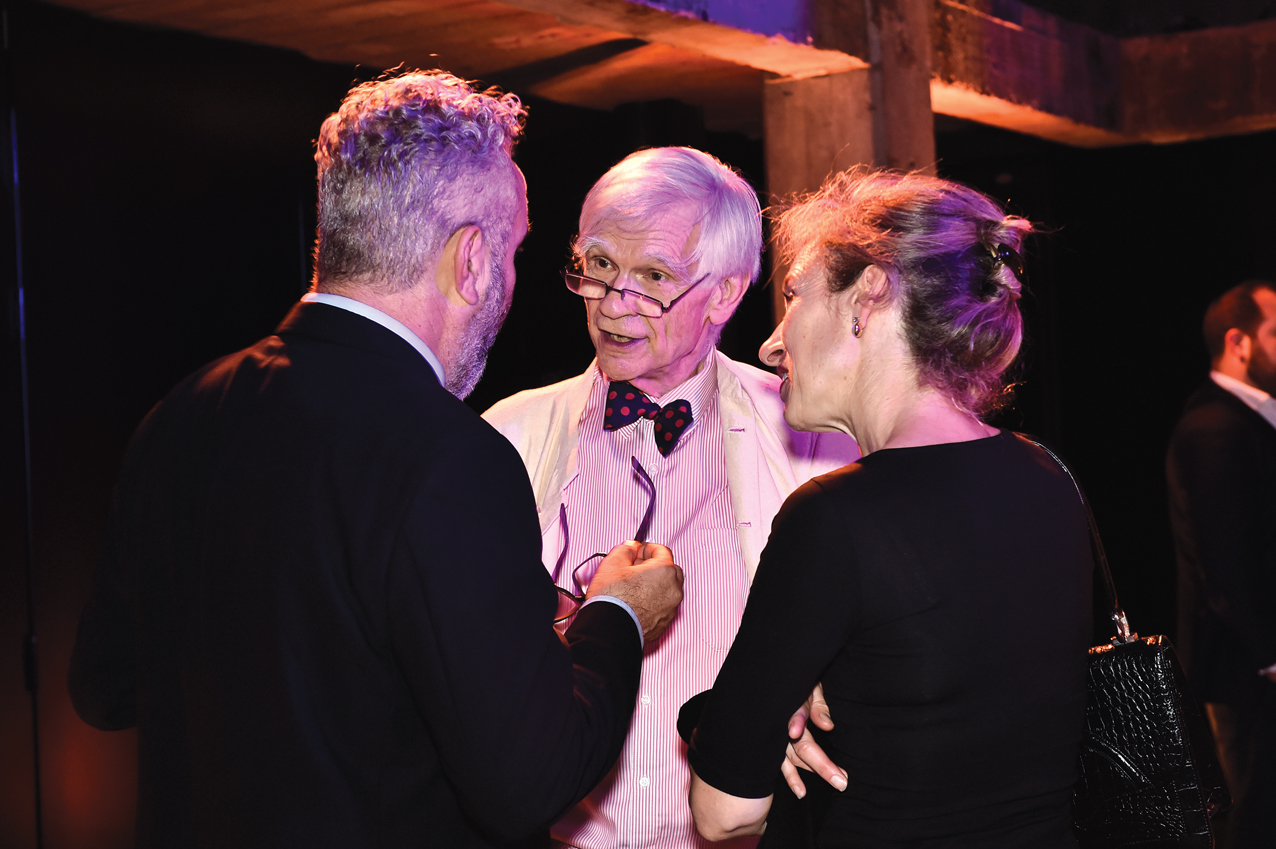 Max Fordham at his practice's 50th anniversary party last year held in the Switch House Tate Modern extension
Sir Leslie recommended him for a job at Weatherfoil Heating Systems. 'It gave me a wonderful introduction to engineering thinking,' says Fordham, who was able to use his academic knowledge for a wide range of design and research work.
Fordham met his wife, Thalia Dyson, at this time, and she introduced him to her landlord, architect Sir Philip Dowson, the founding partner at Arup Associates. He needed a heating engineer, and offered Fordham a job. It was here that he developed his drawing skills, and started to take on electrical, public health and mechanical elements. His ability to draw all types of services was getting him extra work outside Arup Associates, particularly with architect Peter Foggo, who was designing houses. On one project, Fordham drew the flue precast concrete blocks that were built into the walls as a warm air duct. 'The bricklayers and ductlayers would not have had a clue,' he says.
Fordham finally went out on his own in 1966, and his fledgling consultancy got a big boost when he was asked by Arup Associates to design the heating on the Hulme 5 scheme. Soon after, he was introduced to the brutalist architect Neave Brown, which led to a commission to work on Brown's Alexandra Road flats and Newport High School.
Architect Justin Bere has designed the Passivhaus home for Max Fordham
In 1973, a co-operative was established at Max Fordham, where equity was paid out every year with a small amount of capital retained for the practice. The partnership principle stands to this day.  The Max Fordham practice has designed a string of innovative buildings since it was established and has a particular focus on the performance of buildings and soft landings.
'Before specifying any product, I want to see evidence of performance, installation and operation,' says Fordham, who intends to expand the company's portfolio of 'innovative architecture employing innovative environmental design'.
Much of Fordham's thinking time is now taken up with analysing the sustainability of human activity on Earth. He considers the planet as a thermodynamic system that is roughly in equilibrium. 'Any intervention we make should be put into context, much like environmental impact studies that are made on new schemes.'
He has calculated that if mankind continues to burn fossil fuels at the same rate, carbon resources would run out in about 400 years. And, if all of it was burned for energy, the CO2 released into the atmosphere would make air unsafe for humans. 'We must decarbonise electricity,' says Fordham, who believes some nuclear power and coal-fired power stations will be necessary until buildings are improved and the electricity grid decarbonised.
Career timeline
1933 Born in Highgate to Michael Fordham and Molly Swabey
1939 Sent to preparatory school in Jamaica to escape World War II in Europe
1945-52 Attended Dartington Hall School in Devon
1952-54 National Service as pilot in the Fleet Air Arm
1954-57 Completed degree in natural sciences at Trinity College, Cambridge
1958 Spent a year at the National College of Heating, Ventilation, Refrigeration and Fan Engineering
1958-1961 Joined Weatherfoil Heating Systems as a development engineer
1961-66 Joined Building Group (now Arup Associates) as building services engineer
1966 Created Max Fordham 
1973 Turned Max Fordham into a partnership
1984 Became a fellow of the Royal Society of Arts
1994 Made an OBE
1992 Elected fellow of the Royal Academy of Engineering
1997 Awarded CIBSE Gold Medal
2001 President of CIBSE
2008 Won the Prince Philip Designers Prize

In his CIBSE Journal article (October 2016) celebrating the 40th anniversary of CIBSE, Fordham said demand for winter heat could be reduced to almost zero by thermal insulation, control of ventilation, and the use of heat from human respiration, and electrical work. He calls the latter the 'metabolism of the building'.
Fordham will soon be putting his theory into practice as he is about to build himself a Justin Bere-designed Passivhaus home without heating in Camden, close to where he lives. Fordham may be in his 84th year, but he's still thriving on engineering challenges that focus on sustainability and human values.