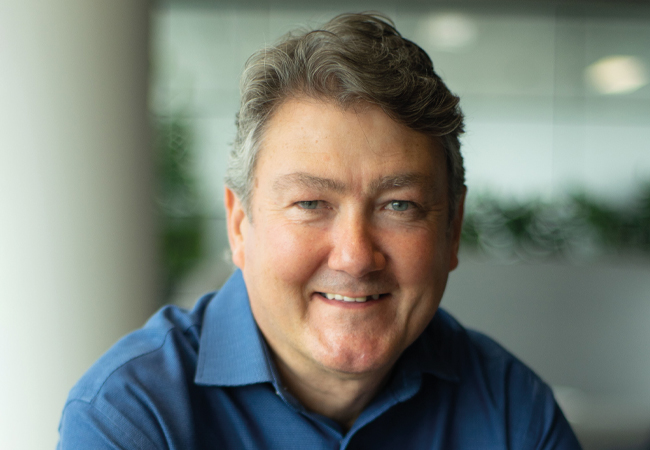 Mike Burton FCIBSE, CIBSE's Building Performance Engineer of the Year, has set a high bar for those seeking to win the crown at next month's awards.
As well as leading project teams on significant buildings such as the White Collar Factory, BBC Broadcasting House and the Institute of Physics HQ, Aecom's director of building engineering has authored industry publications, and fostered equality and career support for engineers.
Burton joined the CIBSE Council in 2022 and will be sitting on the CIBSE Board from this May. He is also director at the British Council for Offices (BCO) Board of Management, chair of the National BCO Awards, and a RIBA Regional Awards juror. 
CIBSE judges commended Burton for his knowledge and experience and, during the interview process, remarked on his determination to inspire early career engineers with the attainments and successes of his predecessors. 'He spoke so passionately of his work with new entrants into the industry and how he can instil in them a sense of purpose and understanding,' noted the judges. They also praised his outreach work with primary and secondary schools, where he promotes building services through creative engineering exercises and mock work-experience sessions.
No STEM ambassadors visited the schools Burton attended in Purley, South London, and he was unaware of the building services profession as he was growing up. 'Like lots of people, I didn't really know building services engineering existed. However, I loved art, design and technology, and architecture, and I was pretty good at maths and physics,' says Burton.
It was in his sixth form, when he was studying maths, physics, art and graphical communication, that a teacher first suggested he look at building engineering. 'I decided that structural and civil engineering wasn't for me, but I found this degree at Leeds called architectural engineering, which had the attraction of one year's study at Penn State University in Pennsylvania.' 

"It's good to be mentored by those who are not exactly in your profession, because it gives you a different perspective
Soon after Burton started the degree, he knew he'd made the right decision. 'There were a lot of like-minded people there interested in art and architecture,' he says. Peers included Buro Happold group director Tanya Ross, Arup sustainable development lead Nigel Tonks and Eckersley O'Callaghan associate director Mitsu Edwards. 
The year at Penn was an eye-opener, says Burton. 'You were lectured by experts in their field. They were designing the tallest building in Chicago, lighting the Guggenheim Museum, and putting huge ventilation plant in the largest hospital in the world.'
Burton saw developments in engineering and lighting that were unheard of in the UK at the time, and it made a lasting impression. 'When I came back to the UK, I knew I wanted to do something in holistic building design,' he remembers. 
His first graduate position was at Oscar Faber, which eventually morphed into Aecom after the engineering giant bought Oscar Faber to become Faber Maunsell in 2002. Burton says he found a very supportive culture. 'I was very lucky that I grew up in a really good training organisation – though, of course, you don't realise this at the time. It was part of the culture of Oscar Faber to mentor and train young engineers, apprentices and graduates, and Burton says senior engineers such as CIBSE Past President Doug Oughton FCIBSE and Ant Wilson MBE were among those who gave their time to supporting young engineers. 
'This has always been part of my own culture, and that's why the teams I have worked with really support young engineers,' says Burton, who recalls that Oughton encouraged him to contribute to Faber and Kell's heating and air conditioning of buildings. Now Burton is looking to do the same for the next edition, and will be asking young engineers to help with research.
The supportive culture was very important during the Covid pandemic, says Burton: 'We had people start that had only met people on Teams or Zoom, so recreating a support network and the culture of training and developing was really important.' There is now a UK-wide young engineers network within Aecom.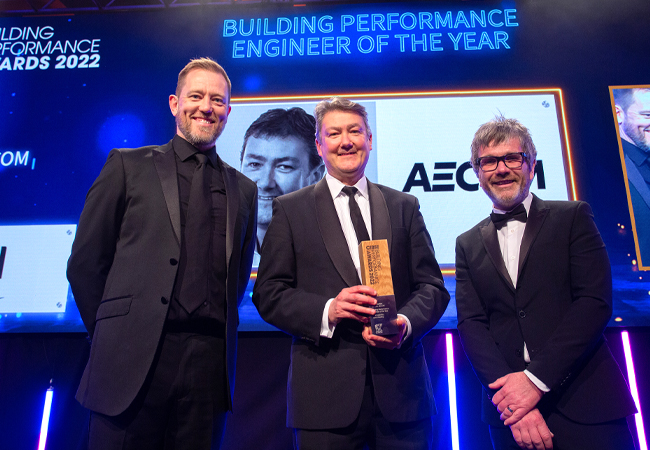 Mike Burton at the Building Performance Awards
Burton believes teaching communication skills and developing engineers' emotional intelligence is as important as technical education. 'The emphasis now is a lot more on understanding the wider context of what you are doing and how it influences other people. Understanding the perspective of the architecture or contractor, for example.'
Training includes net skills, collaboration skills, site visits, manufacturer talks, specialist presentations, and softer skills around presenting, negotiating and report writing.
Burton is keen that engineers develop their personal profile, and encourages them to join young engineer networks, not just with CIBSE, but in other sectors or areas of interest. He is a BCO NextGen Mentor and is mentoring an interior designer, architect and project manager. 'It's good to be mentored by those who are not exactly in your profession, because it gives you both a different perspective,' he says.
The new CIBSE Fellows Network links experienced professionals with young engineers who may not have access to in-house mentoring, and Burton believes it is important for older engineers and mentors to keep themselves relevant to young professionals.
'It's about being culturally aware of the difference between our age groups and what's formed their opinions. I ask a lot of questions, trying to understand their perspective and what is important to them,' he says. '
Burton's work mentoring women in engineering was recognised at the 2022 European Women in Construction and Engineering Awards. As well as supporting more females to join the profession, he says there should be mentoring for women to take up leadership positions.
'Statistics show that a lot of females leave our profession and it's in part because there are not enough female role models in leadership roles. I believe the skills you learn having and bringing up children are as important as the skills you learn as an engineer. Women need to know that it's OK to work part-time and look after their family, and that they "can" get promoted on maternity leave.'
At CIBSE, Burton has been contributing to workshops aimed at encouraging more engineers into the profession. He believes STEM subjects need to be made more interesting and engaging, particularly for older primary school children, and that outreach work should be linked to real building services careers. 
'We need to make it known that these are career paths for people, and link that to support for colleges and universities that offer related courses,' he says, adding that CIBSE could follow the Institute of Physics and engage with children at summer festivals, using fun experiments and demonstrations. 'It makes science really interesting and that's what science is.'
Sharing knowledge
Mike Burton has authored or peer reviewed a number of significant books on building services in recent years. 
He is hoping to embark on the latest edition of Faber and Kell's heating and air conditioning of buildings having worked with on the previous edition in 2015. 
Burton has also peer reviewed the new BCO Guide to Specification, and is working on the next BCO Guide to Fit-Out.
He says the office has changed in the post-Covid world, and this is reflected in the guide. 'Embodied carbon and operational energy levels are far more important now, and sustainability targets have changed. There needs to be holistic integrated design, construction and operation with better quality of air, more fresh air and openable windows – and there's better understanding of healthy buildings and a focus on sustainable materials.'
Burton also contributed to Future office: next-generation workplace design by Nicola Gillen and is working on another book by the same author that also focuses on healthy buildings and the desire for natural ventilation, good air quality and generous daylighting. 
The 2023 Building Performance Awards take place on March 1. Book your place at www.cibse.org/BPA