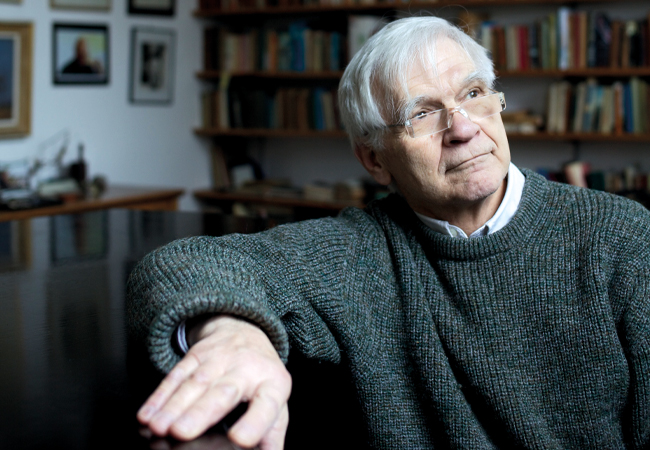 Max Fordham FCIBSE FREng pursued a new approach to engineering based on his insatiable curiosity about how buildings work. He resisted pigeonholing into the conventional boxes of mechanical or electrical engineering, and was interested in the whole building.
He took a creative, but essentially practical, approach to building services design. Designing from first principles, he was often quoted as saying 'start with the edge of the universe as a boundary and quickly narrow down to the specific problem'.
In 1966, Max, alongside his wife Thalia 'Taddy' Dyson, set up Max Fordham & Partners. The practice was founded on the idea of engineers bringing scientific knowledge into the art of building design. He developed his skills in what was then considered the new field of heating engineering to test his idea. Invention, innovation and success followed. The design of the practice itself, as a partnership, was key to its success. 
His obsession with engineering was evident at the 2016 CIBSE Building Performance Conference. He told delegates that 'the intensity and the fun of the design process' is what he enjoyed most.' He remembered a project that gave him the chance to rethink the sizing of pipes. 'Guidance of the time was leading to absurdly oversized pipes. I decided on another method, which gave me a terrific buzz,' he said.
Max's mother, Molly Swabey, was a journalist and his father, Michael Fordham, a renowned child psychiatrist. When World War II broke out, Fordham was sent to Jamaica, and attended a traditional prep school. Tragically, his mother was killed in 1942, when her ship was torpedoed by the German navy.
He did not enjoy the harsh prep-school regime, but it instilled in him a sense of discipline. On his return to England, he was sent to the progressive Dartington Hall School in Devon, which he remembers as having a 'completely undisciplined environment'. The only mandatory activity was 'useful work'; Max's was building maintenance, through which he learned wood- and metalwork techniques. He likened it to an apprenticeship.
After National Service, Max read natural sciences at Cambridge, specialising in chemistry, physics, maths and mineralogy. He shared a house with Dartington Hall schoolfriend Simon Nicholson – son of artists Ben Nicholson and Barbara Hepworth – who introduced him to a circle of architects and artists, including Sir Leslie Martin, head of the architecture school at Cambridge University.
Fordham enjoyed many 'a robust argument' with Sir Leslie, who advised him to apply his physics knowledge in the heating and ventilating industry. Sir Leslie recommended him for a job at Weatherfoil Heating Systems. 'It gave me a wonderful introduction to engineering thinking,' said Max, who was able to apply his academic knowledge to design and research work.
Fordham met his wife, Taddy, at this time, and she introduced him to architect Sir Philip Dowson, founding partner at Arup Associates, who offered Fordham a job as a heating engineer. Here, he started taking on electrical, public health and mechanical elements. His ability to draw all types of services was getting him extra work outside of Arup Associates, particularly with architect Peter Foggo.
Fordham set up on his own in 1966, and his consultancy was asked by Arup Associates to design the heating on the Hulme 5 scheme. Soon after, he was introduced to the brutalist architect Neave Brown, which led to a commission to work on Brown's Alexandra Road flats in London.
Max and his practice won significant recognition for their work in ensuring human comfort by giving buildings heat, power, water and ventilation in sustainable and elegant ways. Notable projects under Max's leadership include Tate St Ives, Alexandra Road Estate, the Judge Institute Cambridge, and the Contact Theatre in Manchester. These – along with his lecturing at the University of Bath and other teaching – earned Max many honours, including: Fellow of the Royal Academy of Engineering; Honorary Fellow of the RIBA; CIBSE Gold Medal; and OBE.
From the start, Max sought a partnership approach to running a business to encourage shared responsibility and a feeling of ownership. He felt that designing a system for people to work in productively and creatively was as important as the design of the buildings.
Max Fordham was the first business in British construction to become a limited liability partnership. Max handed over the running of the practice to his fellow partners in 2000. The practice now numbers more than 250, including 119 partners.
Max is survived by three sons, Jason, Cato and Finn, and four grandchildren. Taddy – a personal and professional partner to Max –died in 2017.
Tributes to Max
Terry Wyatt FCIBSE, CIBSE past-president
Max was someone I always admired and a fine friend. To me, Max was more of a physicist than a fellow engineer, as I recall him, many years ago, patiently answering my naive question about how it is that CO2, being heavier than air, doesn't just cover the Earth and drown us all. He was always good for discussion, at conferences, CIBSE meetings, and The Edge debates. He was a good listener as well as a speaker, great fun, and never took himself too seriously, often resorting to his 'signature' laughter. He was a prominent figure in our profession, which is diminished by his departure.
Bill Bordass, consultant
In 1970, when about to join multidisciplinary designers RMJM, someone suggested I spoke to Max Fordham instead. I didn't until 1976, when asked to develop RMJM's building services group, and Max (who had turned down the job) became a mentor. We hit it off immediately, perhaps because of our similar backgrounds, or his friendly, inquisitive manner. 
We both became interested in buildings when doing maintenance at school, and had the same natural sciences degree, which stressed the importance of first principles. Max reminisced that, on his first job at Weatherfoil, he had started to design the fans from scratch, and was shocked to be told he just needed to select them!
When I went to Max with a query, he would explore the relevant principles, suggest a reference or two, and then ask for my view. He had a vivid imagination, starting off apparently naively, but swiftly lasering into what mattered. He had a lovely way of putting things, as when leaving a lecture by Ole Fanger: 'It's great for academics to do research, but I do wish they wouldn't turn it into a standard.'
What a mind, what a character, what a legacy – his imagination, his buildings, the firm that bears his name, and the generations of scientists he turned into environmental designers and engineers. And his recent house, too, which embodies his lifetime ambition of 'no heating, no cooling, and no lighting while the sun is above the horizon'.
Rod Bunn, past editor of CIBSE Journal
Max was a genius in so many ways. There's been no-one quite like him. It's difficult to summarise his impact on industry, but it was profound, decent, and egalitarian. He had no side, and no airs and graces. He mentored a great many free-thinkers in our industry, though not nearly enough. We all want to be like Max but we know we don't have the same educational capacity. That's partly where the loss comes from. Max was a father figure to the industry. We owe him a great debt.
Paddy Conaghan, consultant at Hoare Lea
Max was a polymath. Sitting alongside him at an event once, he expounded on sustainability – citing the novel concept of planetary entropy. But the event started before he could finish. Eighteen months later, when we next chanced together, Max went immediately into concluding his thesis. As he was an old boy then, I've been boggled by his mind and memory to this day. Max was a one-off in our profession. His wit and wisdom may be irreplaceable, and he will be sorely missed.