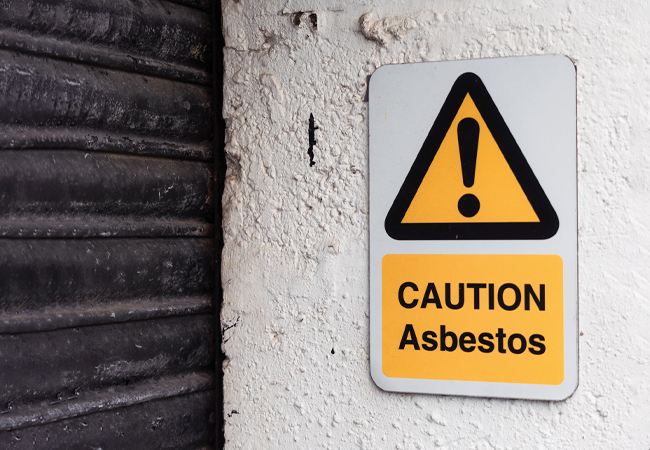 Asbestos is still a malignant presence in construction, even though it has not been used in new buildings since the 1970s. More than 5,000 deaths a year in the UK are attributed to asbestos exposure, with around half of those dying of lung cancer and half of mesothelioma, a form of cancer.
Robert Dwyer, a specialist in asbestos removal, has been co-opted onto the committee of Mesothelioma UK to advise it on removing asbestos in the building services industry. He is campaigning to make owners and occupiers more aware of the dangers of asbestos in existing buildings and will be participating in Global Asbestos Awareness Week from 1-7 April. 
Why did you become involved in raising awareness of asbestos?
On 4 October 2017, I was holding my brother's hand as he died a dreadful death from mesothelioma, an experience that haunts me. It galvanised me into helping with research into the science behind the disease. I also have a former client and very dear friend now afflicted with it.
What is your experience of asbestos?
I started work as an apprentice in 1960, building a steam-grade boiler plant lagged in magnesia asbestos, which was thrown about like confetti and the guys went home covered in it. It was mixed in a large tin bath as a poultice, such as plaster might be made. It was applied to pipework and boilers by the handful, smoothed down to an even coating by spatula, and finished with Keene's cement – a very hard plaster.
I subsequently worked on the development of Leeds University, where the buildings were bedecked with asbestos cement boarding. The air conditioning air handling unit was insulated with it, as was the central boiler plant and vast network of underground steam and water mains. Magnesia asbestos insulation remained the first choice of consultants when specifying works into the 1970s.
I have since been routinely engaged in the removal and cleansing of asbestos in boiler rooms, working with surveyors and the contractors in the planning and management of its removal, usually in preparation for major boiler renewals.
I am keen to raise awareness among managers of residential estates, as well as the occupiers, who, ultimately, have to bear the now horrendous cost of cleansing it (about £180,000 in one case that I am working on).
What are the issues with asbestos in construction today?
Risks for the construction industry are now in the demolition and refurbishment of buildings dating from the late 1800s to the 1970s. Convincing owners and property managers of the unseen, long-term risks of the disease is an uphill task. They are all-too often unaware of their corporate and personal liabilities under sanction of the Health and Safety Executive, which can extend to imprisonment.
What needs to be done to minimise risk to workers and occupiers?
Rigid enforcement of awareness training is required, together with engagement of only the best surveyors. Their reports should be double-checked by professionals such as myself, who have wide experience of where asbestos is likely to be found.
Building dutyholders – which could be the owner, occupier or landlord – should be made aware of their legal responsibility under the Control of Asbestos Regulations 2012 (bit.ly/CJFeb23RD) to 'identify the location and condition of asbestos in premises, and to manage the risk to prevent harm to anyone who works on the building or to building occupants'. 
What will you be doing for Global Asbestos Awareness Week?
I will be engaged in discussions with the relevant MPs in parliament and elsewhere, drawing upon my first-hand knowledge and bitter experience of the disease.
Those wishing to assist in the eradication of the disease and support research into the pathology of mesothelioma, can do no better than to contribute generously to Mesothelioma UK, a registered charity dedicated to the cause (www.mesothelioma.uk.com).