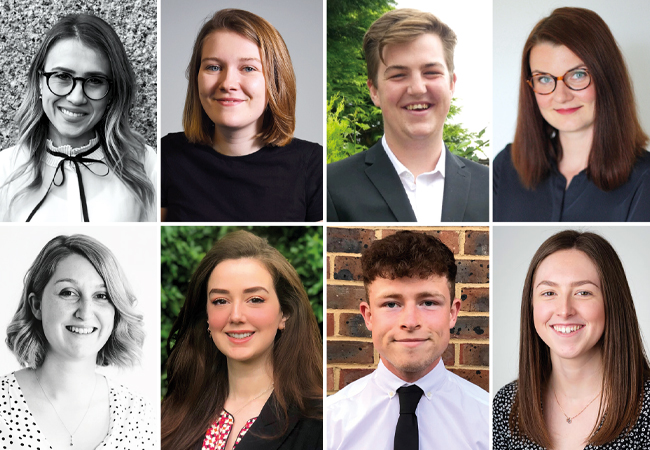 Graduate of the Year finalists. Clockwise from top left: Jessica Cansian, Ella Clark, Matthew Dickenson, Michaela Lattenbergova, Niamh Luck, Yara Machnouk, Jonathan Pairman, Lucy Sherburn
On 14 October, eight young engineers will go head-to-head to try to win the prestigious Graduate of the Year title. Each one will have a chance to impress the judges with a five-minute presentation on the question: 'What challenges will engineers have to overcome to deliver sustainable and safe built environments for future generations?'
The CIBSE ASHRAE Graduate of the Year accolade, which has been running for more than 25 years, is one part of the Young Engineers Awards.
These also incorporate the CIBSE Apprentice of the Year award, which – for its second year – has been split into two categories: Technician Level 3-4 and Degree Level 5-7.
The CIBSE Employer of the Year award, now in its 14th year, is also part of the event, and the shortlist for these have been announced.
The awards – delivered in partnership with CIBSE Patrons and sponsored by Ideal Heating, ACV and Swegon – recognise the innovative thinking, hard work and skills of graduate engineers, while showcasing employers who are committed to developing and encouraging young talent. 
The 2021 winners will be announced at the virtual awards on Thursday 14 October. To register for your free place, go to cibse.org/YEA 
CIBSE ASHRAE Graduate of the Year shortlist
1  Jessica Cansian, ChapmanBDSP
Cansian joined ChapmanBDSP in 2020 as a graduate environmental consultant, and has worked on large-scale commercial projects. She is passionate about sustainable engineering, with a particular interest in net zero carbon design, embodied carbon, passive design strategies, retrofit, and user wellbeing. With an interdisciplinary background, she has a Bachelor's degree in architecture and urban design (Unisinos University, 2013) and an MSc in sustainable building: performance and design (Oxford Brookes University, 2019). Cansian is a registered architect in Brazil and a CIBSE affiliate, currently pursuing her licentiateship. She recently became a Well AP and Breeam associate, and was a contributor to the London Energy Transformation Initiative 2020 Modelling and Retrofit Workstream. 
2  Ella Clark, Aecom
Clark is a graduate mechanical engineer in Aecom's London office fit-out team. She has worked on a variety of projects in MEP and vertical transportation, leading the design for multiple projects. She also works to support  other young engineers at Aecom and mentors schoolgirls interested in Stem subjects.
3  Matthew Dickenson, Aecom
Since graduating from the University of Nottingham in 2019, Dickenson has worked as a graduate mechanical engineer on a variety of mixed-use projects within the Aecom St Albans team. He coordinates events for the CIBSE HVAC Systems Group, co-leads the Aecom Young Engineers Forum, and participates in Stem events.
4  Michaela Lattenbergova, Arup
Lattenbergova graduated from Heriot-Watt University in April 2019 with an MEng, with distinction, in architectural engineering. Shortly afterwards, she joined Arup as a graduate mechanical engineer, and is currently working with the buildings team in the Edinburgh office and the Arup global digital initiative.
5  Niamh Luck, Couch Perry Wilkes
Luck graduated with a BEng in building services engineering from Coventry University in 2021, achieving a first-class degree with honours. Alongside her studies, she works at CPW Birmingham, where she focuses on healthcare projects for the NHS. As Young Engineers Network vice-president, she is involved with CIBSE West Midlands, where she supports those new to the industry through a local network. She participates in Women in Science and Engineering and Stem events at local schools, and aims to show that engineering is an enjoyable and achievable career path for all. Her objective is to showcase that she can be a great engineer, not just a great female engineer, by demonstrating what her engineering can do.
6  Yara Machnouk, Elementa Consulting
Machnouk is an environmental design engineer working in the sustainability team at Elementa Consulting. She joined the company after completing an MEng degree in architecture and environmental design at the University of Nottingham. While exploring many forms of energy modelling and sustainability within building services and design, she has, more recently, been focusing on whole-life carbon assessments and, specifically, the embodied carbon impact of MEP materials.
7  Jonathan Pairman, Red Engineering Design 
Pairman achieved a first-class (hons) degree from Southampton University, and is a graduate mechanical engineer in Red's technology team. He designs sustainable solutions, including a research piece on battery technology/smart grid integration for data centres. Inspired by his family history in teaching, he is a Stem ambassador, and created Red's Collaborative Learning Programme to support graduate development.
8  Lucy Sherburn, FairHeat
Sherburn joined FairHeat after graduating from the University of Sheffield with a Master's degree in chemical engineering, with a year abroad. As a graduate engineer, her role involves working on the design and operation of new-build heat networks to deliver cost- and energy-saving improvements. Sherburn is an active member of CIBSE Young Energy Performance Group and Stem.
CIBSE Apprentice of the Year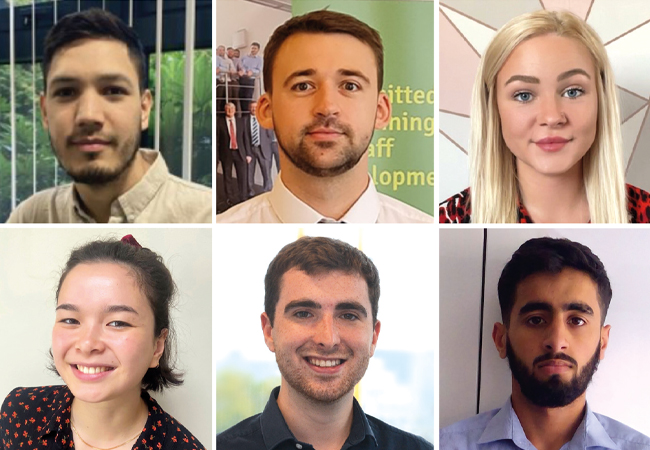 From clockwise, top left: Amanullah Amirmohammadi, Daniel Bailey, Stevie Braxton, Musab Mahmood, Connor Hanlon, Josie Cheeseman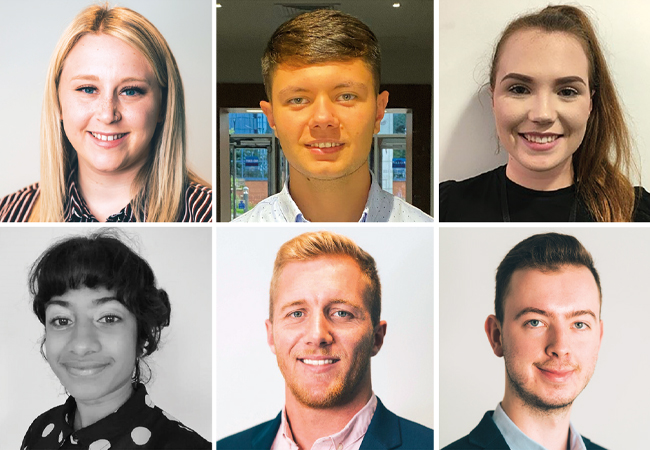 From clockwise, top left: Megan Ganderson, Harry Playfair, Katie Baker, Lewis Ward, Jason Rawlins, Yogi Nagam
Technician Level 3-4
1  Amanullah Amirmohammadi, Cooper Homewood
The 27-year-old junior electrical engineer at Cooper Homewood started his career as an electrician in Sweden in 2015. He then decided to improve his electrical knowledge and chose to continue his studies in electrical engineering.
2  Daniel Bailey, Derry Building Services
Bailey has been working in the mechanical industry since leaving school. He looks forward to his ensuing development as he continues his apprenticeship course at Leeds College of Building, along with his career with Derry Building Services.
3  Stevie Braxton, Briggs & Forrester Special Projects
Braxton is undertaking an apprenticeship at Briggs & Forrester Special Projects. Throughout her two and a half years at the firm, she has experienced work within project management, quantity surveying and estimating, completed a HNC in the built environment, and is coming to the completion of her NVQ.
4  Megan Ganderson, Couch Perry Wilkes
Ganderson started her building services apprenticeship in 2019, at the age of 20. Fast-forward two years, and she has headed up a sustainability project, played a key role in the delivery of a vast and diverse collection of projects, and completed the first year of her Level 4 qualification, with distinctions across the board.
5  Harry Playfair, NG Bailey
Playfair is a building services engineer apprentice at NG Bailey. He started his apprenticeship in 2019, studying a HNC in building services engineering, and is on track to complete with a distinction. He is working on the Manchester Town Hall, the UK's largest heritage construction project. 
Degree Level 5-7
6  Katie Baker, Tetra Tech
After a year living and working in Australia, Baker joined Tetra Tech as a degree apprentice engineer in 2019. She has worked on a variety of public and private sector projects, gaining valuable experience in improving building sustainability.
7  Josie Cheeseman, WSP
An apprentice building services design engineer at WSP in London, Cheeseman began her apprenticeship in 2019, after completing her A Levels, and is starting her third year at London South Bank University. She is currently working within the mechanical team.
8  Connor Hanlon, HDR
Hanlon is a mechanical engineer at HDR, studying for his degree apprenticeship at London South Bank University. He is enthusiastic about ensuring the industry continues to grow and encouraging young engineers to enrol on apprenticeship schemes – both endorsing the route and supporting others as part of the HDR L&D committee.
9  Musab Mahmood, Atkins
Mahmood is an apprentice building services engineer at Atkins in Westminster. He started his apprenticeship at 17, completing a BTEC Level 3 and obtaining his EngTech. He is currently in year 3 of his degree apprenticeship at London South Bank University, and aiming for a first.
10  Yogi Nagam, Buro Happold
A first-year apprentice in building services engineering at Buro Happold, Nagam began her career at 25 after working in music venues, festivals and bars. She is excited for the opportunity to work and learn at a world-class engineering company so early in her career, and for the projects to come.
11  Jason Rawlins, Couch Perry Wilkes
Rawlins left the British Army (infantry) and wanted to pursue a career in electrical engineering. He joined CPW as an apprentice at 22, and began part-time study at Leicester College. Although he had limited knowledge of building services when he joined, today – at 25 – he has finished his Level 3 with top grades, as well as the first year of his electrical engineering degree at Sheffield Hallam University.
12  Lewis Ward, Couch Perry Wilkes
A 24-year-old apprentice mechanical engineer, Ward has been at Couch Perry Wilkes since 2015. He has completed both his ONC and HNC at Solihull College, and is currently in his final year at Coventry University.