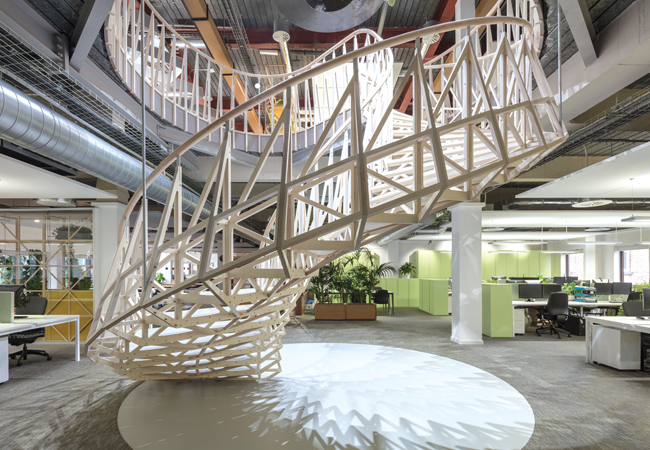 Cundall was the first company in Europe to have an office achieve Well Building Standard certification, its 1,400m2 head office in Carter Lane, London, gaining gold certification in 2016. Now the multidisciplinary engineer and project architect Studio Ben Allen are aiming to go one step further and gain Platinum – the highest level of Well – for the refurbishment of its Birmingham office at 15 Colmore Row.
The Well Building Standard is a scheme established by the International Well Building Institute (IWBI). It measures, certifies and monitors features of the built environment that will affect health and wellbeing, namely air, water, nourishment, light, fitness, comfort and mind. (See panel 'Well meaning'.)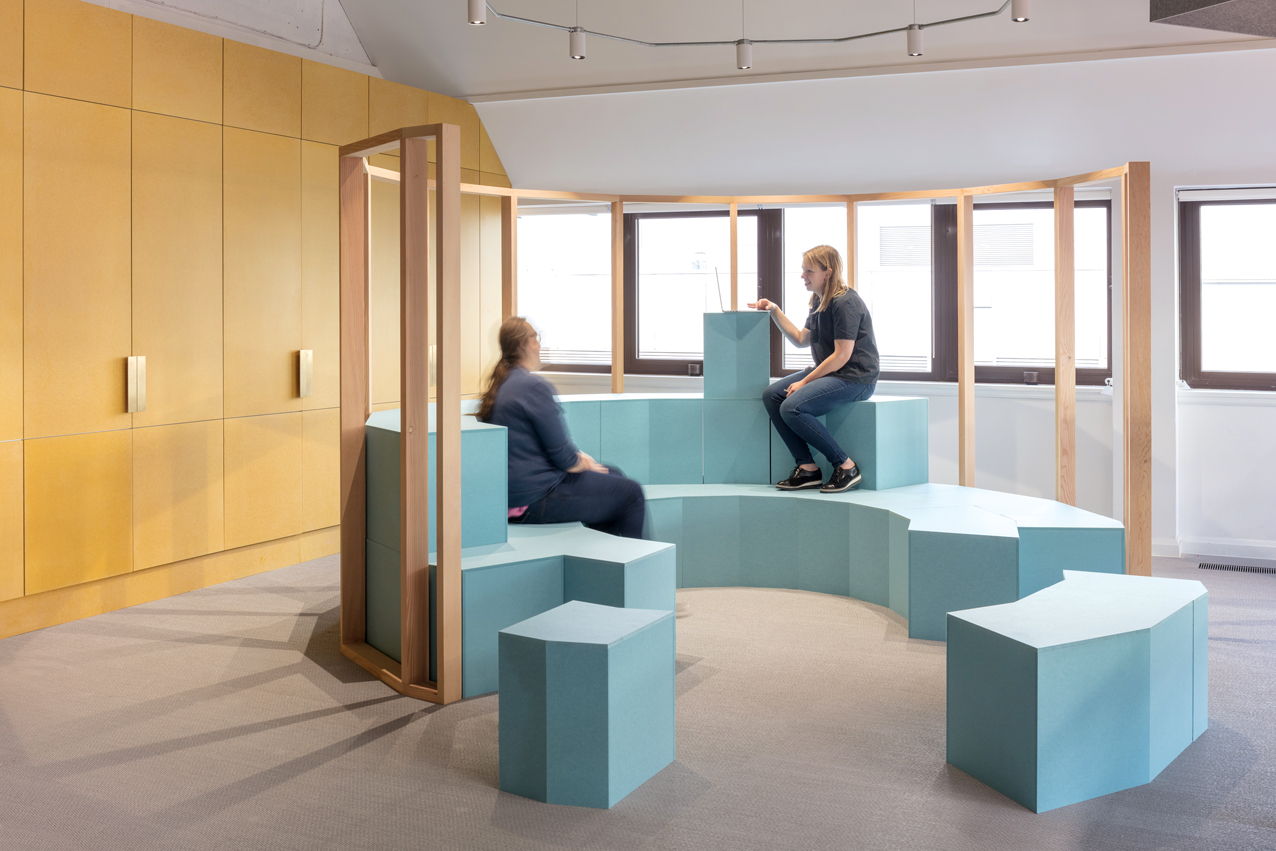 To assess whether Well has improved the health and wellbeing of staff at Carter Lane, Cundall has been carrying out occupant surveys and recording staff turnover and absenteeism. In the two years since it gained certification, there has been a 50% reduction in absenteeism and a 27% reduction in staff turnover. This, says Cundall, equates to an annual saving of £200,000 for the firm.
The results, which are backed up by positive post-occupancy surveys, have reinforced Cundall's commitment to Well, and it is now aiming for certification in more buildings, with its 1,100m2 Birmingham office – 15 Colmore Row – next in line.
15 Colmore Row
Refurbishing Cundall's Midlands base to the Well standard was not straightforward. The company's 90-strong staff occupy two floors in the building – the fourth and fifth – but the former had only been refurbished three years before, and had won a British Council for Offices (BCO) award.
'There was no desire to undo the great work done by Peter Grant, the architect for the fourth floor,' says Cundall acoustics partner Andrew Parkin. 'So new areas and fittings were carefully inserted, leaving key elements of the existing office intact.'
The fifth floor, however, had only recently been rented by Cundall, after it decided to expand its Birmingham office, so the project team had carte blanche over the refurbishment.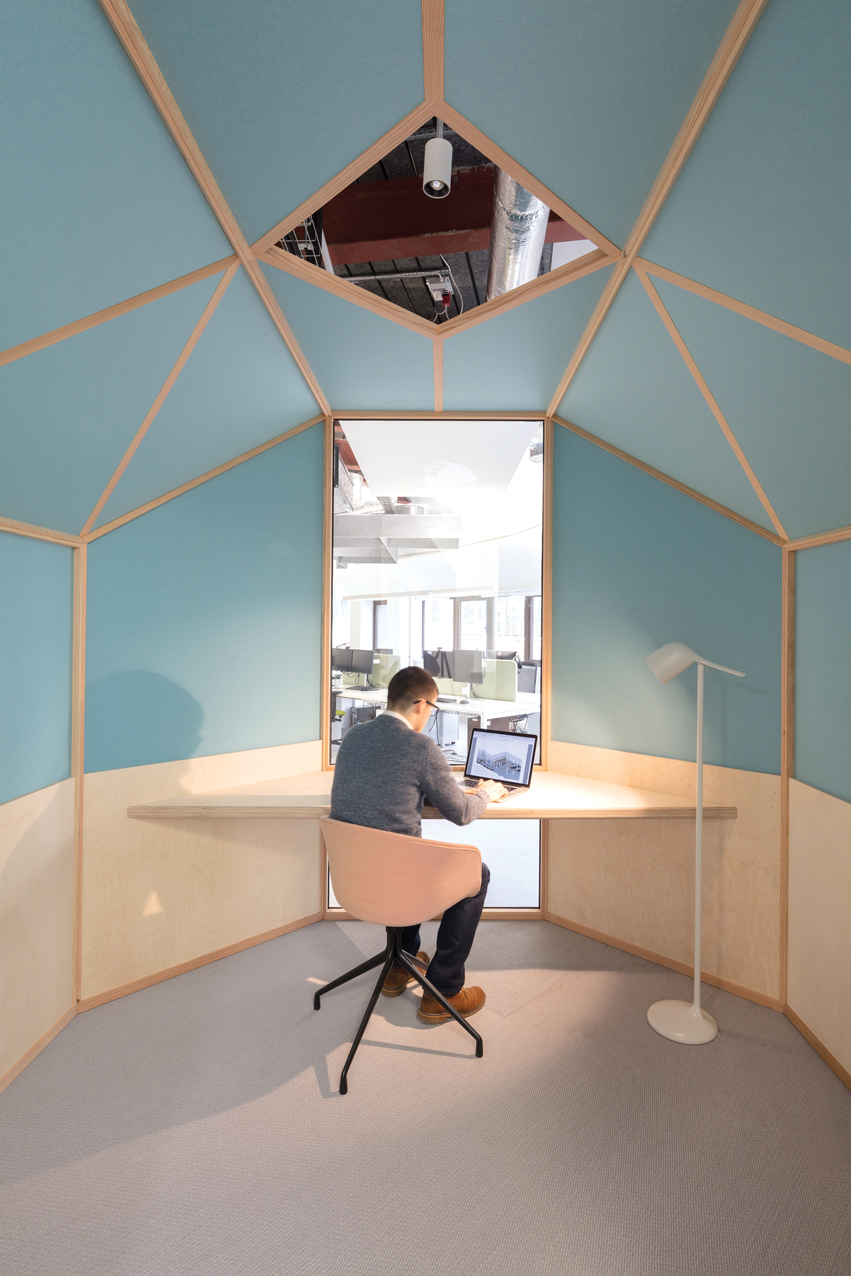 Private pods are at the extremities of the office
Cundall wanted an open staircase to connect the floors and unify the office. As a result, the fourth floor also had to meet the Well standard because, without certification, there was a danger the indoor environment on the fifth floor could be compromised by air flowing from the non-certified level below.
According to Parkin, the quality of the previous fit-out meant the fourth floor 'ticked a lot of boxes' in the Well Building Standard – for example, with its low-energy lighting, which featured task-based lighting, daylight dimming and absence detection, and had a capital cost of £8/m2 compared with the benchmark of £12/m2.
What concerned Parkin was Well's limits on volatile organic compounds (VOCs). Three years earlier, materials had not been specified with this in mind, but – when Cundall tested the fourth floor – it found the VOCs were within the limits. 'Anything that did have VOCs had already off-gassed [dissipated any toxins] – it wasn't the issue we feared it would be,' says Parkin.
All the new materials specified, including furniture, paints, glues, textiles and flooring, were virtually VOC-free, and shelving and breakout furniture was made locally.
An active office
One of the driving forces behind Colmore Row, said Ben Allen, was the active office, with fitness being one of the seven categories targeted by Well. 'The staircase became the central feature, and embodied the idea of people moving around the office,' he says.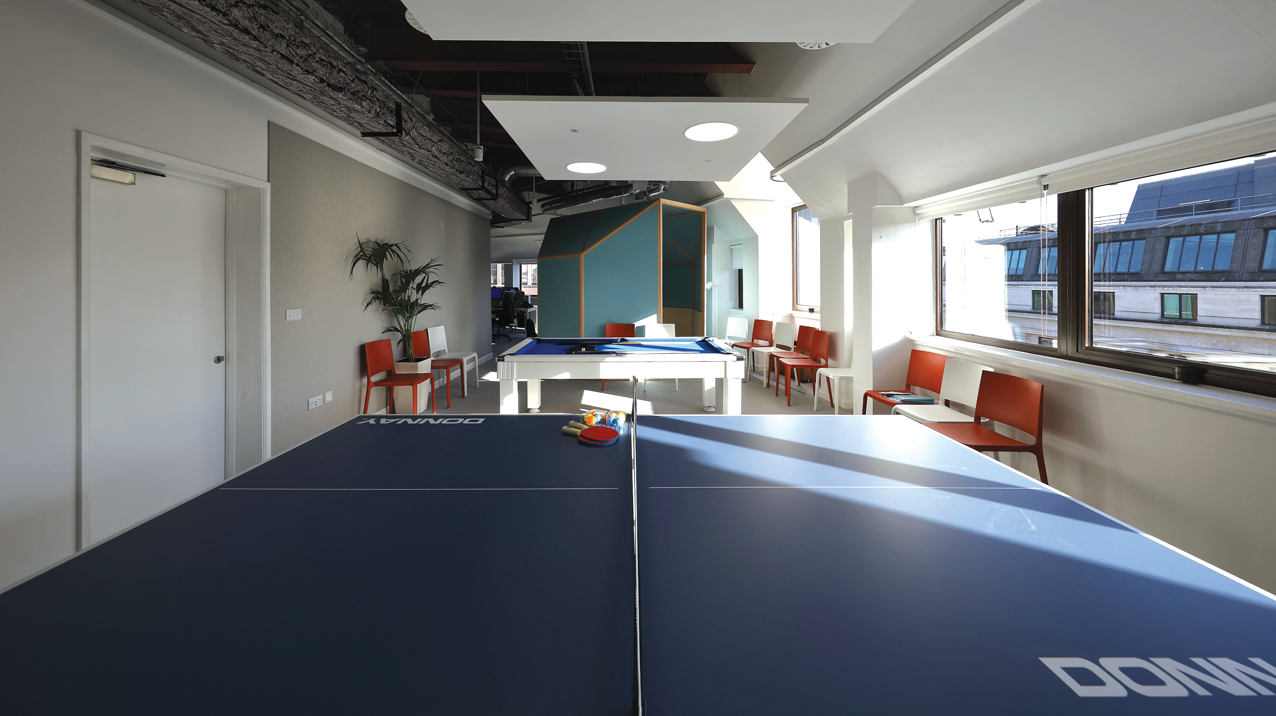 The space encourages social integration
To encourage movement around the offices, the design team positioned some of the most interesting breakout and social spaces – such as private pods and a horseshoe amphitheatre – at the extremities of the office. 'We tried to move away from the front-of-house space as being a "wow" space, with the rest of the office being quite ordinary,' says Allen.
To encourage social integration, a single, expanded kitchen and eating space for 50 people was created, to serve both floors; this doubles up as a town hall space for large meetings. Inclusion of natural materials in the indoor environment is a precondition of attaining Well certification, and is an attempt by IWBI to nurture what it calls 'the innate human-nature connection'. As a result, the kitchen has solid-timber units and a herb garden.
Biophilia
The spectacular, helical central timber staircase – designed and engineered by Cundall and Studio Ben Allen – is intended to give a sense of nature. Light passing through its filigree framework creates intricate patterns, that change throughout the day and give a connection to nature.
Project team

Client, MEP engineer, including sustainability: Cundall
Architect: Studio Ben Allen
Quantity surveyor: Rider Levett Bucknall
Staircase manufacturer: Meer End Staircases & Joinery
Contractor: Paragon Interiors


However, Allen believes that biomimicry should not be overdone. 'I'm a bit sceptical about pictures of trees on walls. After a year, when the tree hasn't changed, it just becomes more stuff on the wall,' he says. 'Nature is the key thing. With the plant reacting to the sun, you have a great natural display next to your space.'

To meet the biophilia requirements in Well, there is extensive planting at Colmore Row, contained in planted zones, including trellis shelving. There is also a centrepiece 'planted chandelier' – or plantelier – positioned over the lightwell. Allen says there are more English plant species at the Birmingham office, because they relate to the external environment.

Lighting and services

As the fifth floor included a category A and B fit-out, Cundall had more scope to try different service designs, particularly when it came to acoustics and lighting.

Half of the fifth-floor ceiling is similar to the fourth-floor one, and has task lighting hanging from square horizontal rafts. The other half, however, is more unusual. To attenuate noise, a high, 1m x 1m grey acoustic lattice hangs at 45 degrees to the desks, on which lighting that can be controlled by two people is mounted. 'The desk lights have been really popular,' says Allen. 'They give people a sense of empowerment.'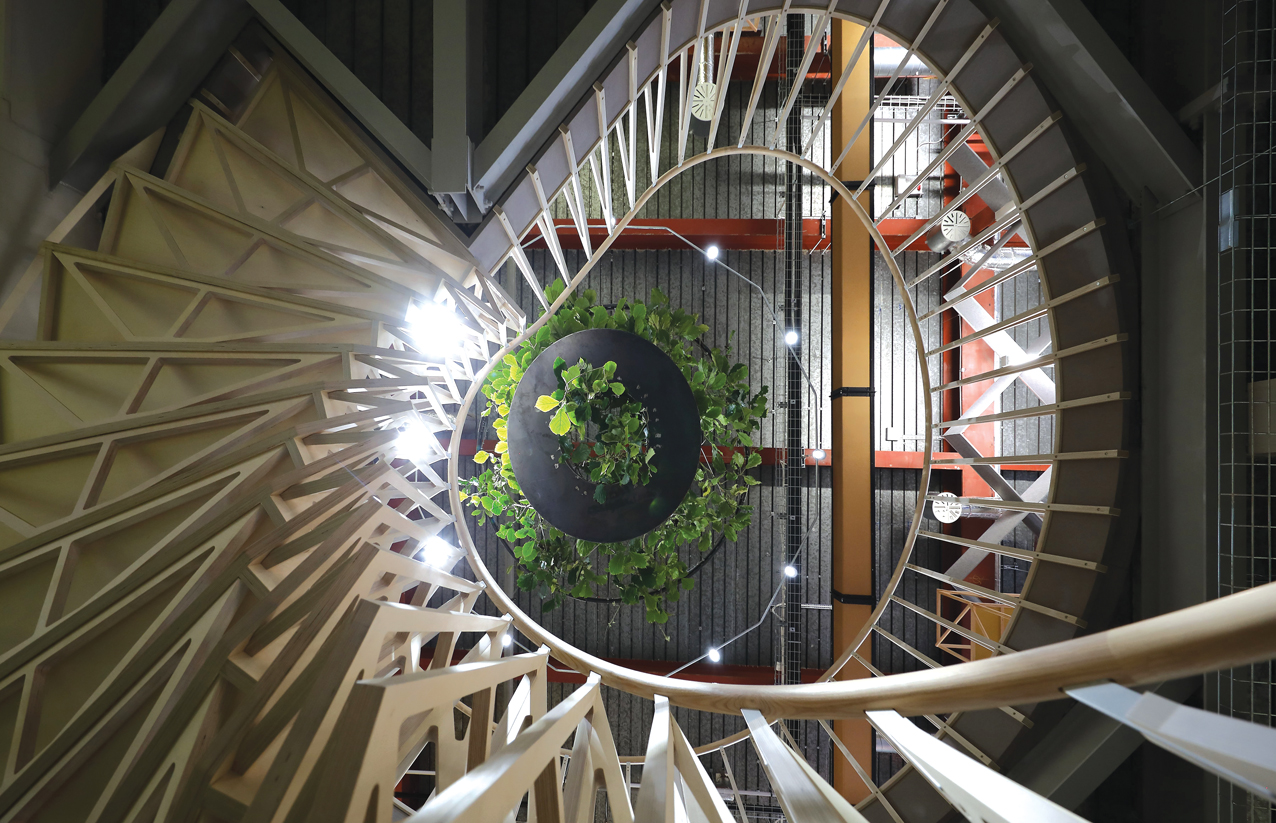 Cundall had to alter the services to meet the preconditions for certification. A primary air supply had to be improved, so F7 bag-type air filters were installed on the landlord's air handling unit so that sufficient amounts of PM10s and PM2.5s could be removed to meet the levels required by the standard. Cundall is hopeful that the next version of Well will also consider NOx in its overall assessment of air quality.
Existing fan coil units in open-plan spaces were too noisy to meet Well and had to be relocated to meeting rooms that didn't have the same requirements.
Cardboard ductwork is used as the primary air distribution on the fifth floor. This has the benefit of being light and easy to clean, says Parkin, but it had to be 'top hung' on wires – rather than supported from underneath on a galvanised steel frame – because, otherwise, it would have twisted under its own weight.
'It looks much neater top-hung, as you can't see the wires,' says Parkin. Where ductwork passes into a social space, it has been photoprinted with tree bark. 'It's a branch duct, literally,' says Parkin.
Soundscaping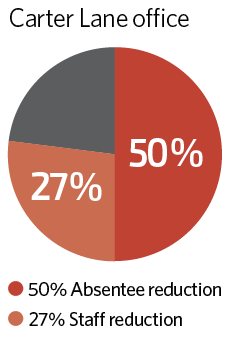 In the two years since it gained certification, there has been a 50% reduction in absenteeism and a 27% reduction in staff turnover
Sound masking counts towards Gold or Platinum certification, and is designed to create background noise so private conversations can't be overheard in open workspaces. 'Open-plan offices get a bad press, either because background noise is too low – meaning a lack of privacy – or because inadequate acoustic finishes result in a cacophony.'
Speakers have been embedded on acoustic rafts in the town hall area to provide soundscaping, and Parkin has been experimenting with different recordings. 'There's no music or speech, as you would be inclined to listen out for it. It's natural sounds we're looking for.' Parkin says birdsong has potential, especially from native species. 'Australian birds feel a bit too raucous,' he says.
Parkin is also tempted to try traffic noise fed in from the office's city centre location. 'It would give you a connection to the external environment when you are in a sealed office, cocooned from the outside world,' he says.
Evidence of performance
Verification for each feature is spelled out in Well. For example, evidence of sound masking is by a letter of use, while compliance with the sound masking limits are tested on site; the open workspaces limit is 45-48 dBA and, for enclosed offices, it is 40-42 dBA. Measuring the wellbeing and productivity of staff as a result of compliance with Well is more difficult, says Allen. 'We're trying to employ data and some is really useful, such as VOC content and absenteeism. But it's frustrating if somebody sells you an ergonomic chair, for example, because there isn't a great deal of research on their benefits.'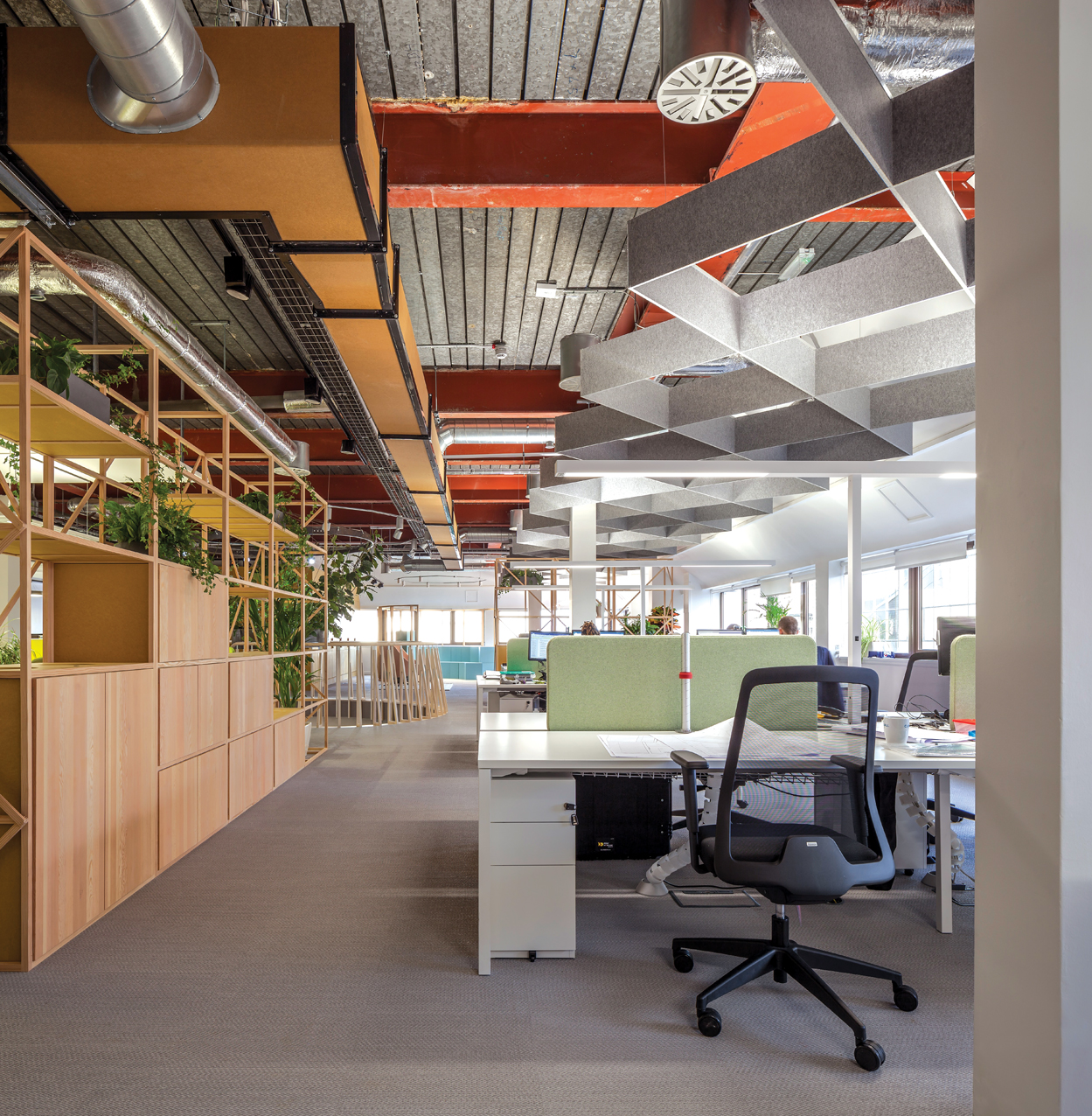 Cardboard ductwork is used as the primary air distribution on the fifth floor
Allen says having a close relationship with the client allows you to receive continuous feedback, while Cundall surveys its employees about how they feel the office changes have affected their productivity. The firm is also planning to undertake cognitive testing to observe the impact of CO2 levels on performance.
Cundall is prepared to experiment with innovations, and put the latest research around health and wellbeing into practice. 'There's a big element in our office fit-outs of being our own guinea pigs. We like to try new things,' says Parkin, who believes it makes commercial sense too. 'Clients are more inclined to use solutions themselves if they can see them in action.'
WELL meaning
There are three levels of Well certification: Silver, Gold and Platinum. Well is composed of 102 features, across the seven areas of air, water, nourishment, light, comfort, fitness and mind. These might be physical activity spaces for 'fitness', sound masking for 'comfort', and stress and addiction treatment for 'mind'.
There are two types of feature: preconditions and optimisations. Preconditions must be met for buildings to gain Silver certification or above. Examples include VOC reduction and moisture reduction for air, and circadian lighting design and solar-glare control for lighting.
Gold and Platinum certification have tougher requirements, known as optimisations. These include standards for displacement ventilation, antimicrobial surfaces and daylight modelling. Gold projects must meet 40% of the optimisation requirements and Platinum must achieve 80%.
Different preconditions and optimisations have to be met depending on whether the project is shell and core, a tenant improvement or new construction. The detailed requirements for each feature are described in the Well Building Standard. The microbe and mould-control precondition, for example, requires 'the use of ultraviolet germicidal irradiation devices to manage mould and bacteria on cooling coils, as well as inspections for signs of mould outside of the air handling system'.
A key concept of Well is the need for projects to be recommissioned and recertified three years after the initial certification. Well scores may rise or fall as a result.