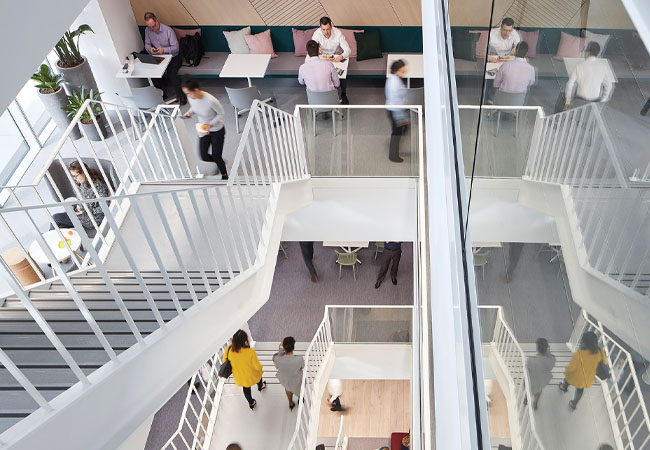 The internal staircase designed to connect Aecom's different disciplines at Aldgate Tower
Aecom being crowned overall Employer of the Year at the 2019 CIBSE Young Engineers Awards represented a major step up for the multidisciplinary engineer. In 2018, it won the large company category, but just missed out on the overall title. A year later, it beat allcomers and was praised for its progressive strategy for recruiting, nurturing and empowering young people.
As well as recognising and showcasing exceptional engineering talent in the industry, the awards 'shine a spotlight on those employers who… have provided a suitable environment for our young engineers to flourish', says CIBSE President Lynne Jack.
In the other categories, Fairheat claimed the prize in the small company section and Troup Bywaters + Anders secured the medium company title.
So what is it about Aecom's approach to the training and development of young engineers that continues to win over the CIBSE judges?
Commitment
Aecom's intake of graduates, apprentices and placements has risen consistently over the past five years. In 2018, 359 graduates joined its UK and Ireland graduate programme – 43% of whom were female. The firm's recruitment and training is aimed at ensuring the continuing development and success of its business, and addresses some of the key issues facing organisations in the building services sector.
Its commitment to developing junior staff is evident in its 'Advance' early careers development programme for graduates and apprentices, work experience placements for young trainee engineers, and its Stem ambassador school engagement initiatives.
'Advance is a combined programme for our apprentices and graduates, to help develop their Aecom career,' says Tracy D'Souza, lead for Aecom's MEP programme. 'One of the many ways this is done is through residential training sessions, which allow joiners to network with people across the business and take part in interactive activities that will support them, and give them the knowledge and tools they need to flourish in their role.'
Since Aecom secured the large category Employer of the Year in 2018, it has continued to develop its training programme. In March 2019, for example, it appointed a dedicated MEP training and development administrator. Their job is to source mentors for apprentice and graduate trainees, support junior engineers through placements, and organise technical and mentor training, to ensure a consistent level of professional development across the business.
Basheer Soudi, 23, Engineer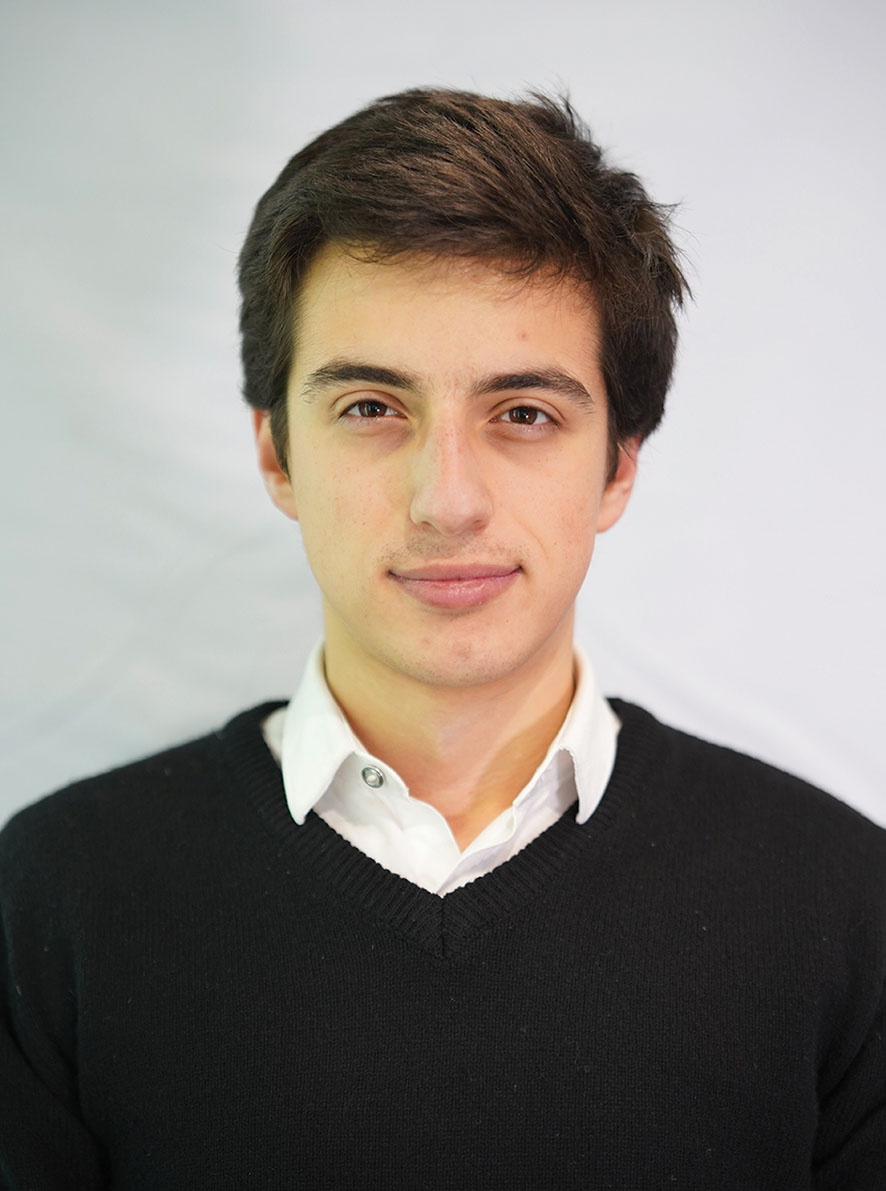 I first heard about Aecom when I attended an engineering careers fair at university in 2015, and I became an electrical engineering intern there in 2016. Aecom then sponsored me during my final year of university and offered me a place on its graduate development programme. I joined the company in 2017, after graduating with a first from the University of South Wales.
As a graduate electrical engineer, I was involved in a variety of projects that allowed me to better understand design considerations, develop technical aspects of design solutions and analytical skills, and produce detailed design calculations, schematics and drawings for services and systems. I have also developed my soft skills through the structured programme, which continues to support my professional development towards chartered status. Aecom supports its graduates to be registered with a professional institute by paying annual membership fees. I joined the CIBSE Young Engineers Network, and have been on its committee since 2018.
Aecom also encourages staff to use two paid working days for voluntary and charity work. It supports the Engineering Education Scheme Wales – with which I was involved – and encourages us to become Stem ambassadors
In addition to its on-the-job training and MEP and Advance training programmes, Aecom's young engineers benefit from accredited CPDs, lunch and learn sessions, and focused mechanical and electrical workshops.
'Graduates are always encouraged to work on site, too,' says D'Souza, 'as this gives them real-life, hands-on experience, as well as the chance to learn from their peers.'
Senior directors – such as Mike Burton and Peter Sutcliffe – lead mentoring programmes, including coaching, careers guidance, shadowing and leadership advice. 'Mentors play a vital role in developing talent, as they have often been in the same position and understand how to overcome certain barriers,' D'Souza says. 'It is important, too, to have buy-in from our senior directors. They have empowered us to drive this initiative forward, which has enabled them to get a better understanding of the talents, interests and capabilities of our young engineers.'
Young engineers are encouraged to join professional industry bodies, and all Aecom's building services schemes are accredited by CIBSE, IET and IMechE. The company also offers a career pathways model, to help young engineers navigate their careers.
Aecom partners with several universities to ensure learning is tailored to individual goals and the relevant accreditations are accomplished with professional bodies, says D'Souza. The firm also promotes the study of Stem subjects in schools and higher education, and has more than 300 Stem UK ambassadors.
Jennifer Cox, 24, Graduate Electrical Engineer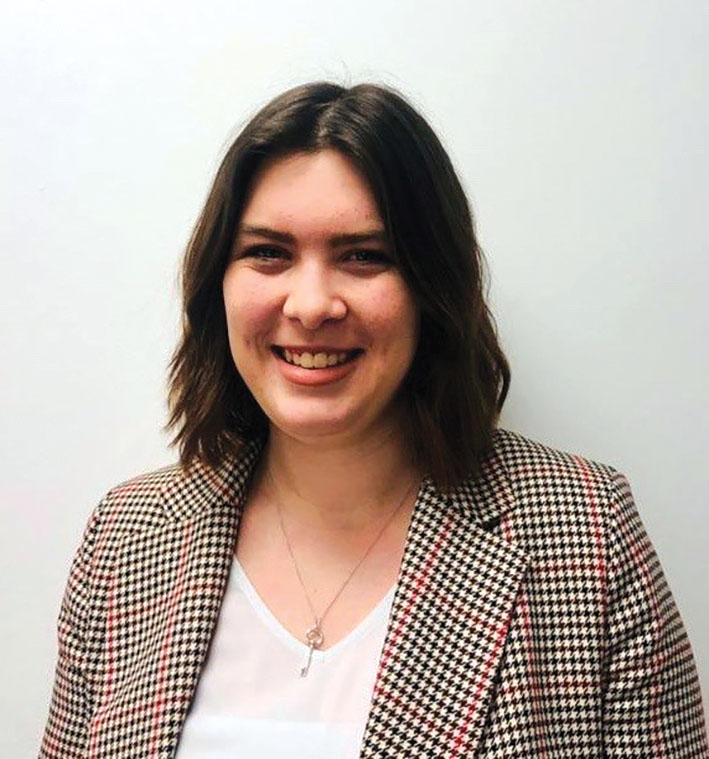 I started Aecom's graduate programme in September 2018, after graduating in architectural engineering from Heriot-Watt University. I did an eight-week internship in the summer of 2017, which is when I found out more about the graduate programme. The programme offers so much in terms of skills development and experience.
From the first day, I was put onto projects, allowing me to focus on technical development. Other graduate events developed softer skills – presentation, communication and negotiation. It prepares you really well to work with other disciplines across the sector. The project work makes you very aware of what's going on within building services and ensures you can work between disciplines. You're exposed to other parts of the organisation.
I'm passionate about being involved in our work in the community and professional organisations. Part of the training programme focuses on the CIBSE chartership skills, which includes encouraging you to get involved in CIBSE, and working as ambassadors to promote Stem learning in schools.
Employees are encouraged to use their 'community days' to go into schools and organisations to raise awareness of careers in engineering with Stem workshops. 'For example, using maths, design and technology skills, students are tasked with building a model with our engineers,' says D'Souza. 'If the roads team delivers the workshop, students may have to construct a road from spaghetti – or a cable bridge for the bridges team.'
While Aecom does not operate a defined exchange programme, engineers can move across the business, to different locations and specialisms, if the project need arises or they want to gain experience.
Diversity is also core to the development of Aecom's business. As well as above industry-average female graduate recruitment (43% against 26%), the firm says its Stem engagement and commitment to delivering social value means it can offer support to young people in deprived areas, who may not have considered engineering as a career.
Recruitment, training and education are a core part of the firm's winning strategy. 'We strive to solve the most complex challenges and build a legacy for generations to come,' says D'Souza. 'We believe it is important to invest time in the younger generation so they can be part of creating it.'