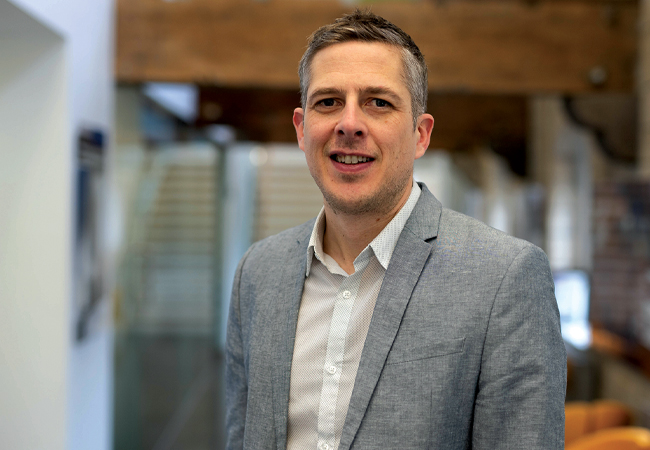 When Buro Happold associate Tom Hopton was presented with the 2020 Engineer of the Year Award last February, it was just more than a month before the UK entered its first lockdown in the face of rising Covid-19 infection rates.
For many engineers the economic shutdown meant work was put on hold, but this wasn't the case for Hopton. As leader of Buro Happold's global smart buildings group, he was quick to deploy technology in response to the disruption caused by Covid-19.
'History shows us that, in difficult times, we have always looked to technology to find answers, and the Covid-19 pandemic is no different,' says Hopton.
'For all its disruption, we should reflect on the pandemic as an opportunity for positive change. Trends around agile working, healthy buildings and operational efficiency have accelerated during the pandemic, and we must build on this momentum as we face the global challenges of economic recession and climate emergency.'
Hopton believes smart technology can help create agile, productive and enriching environments that are necessary to tempt people back into buildings after the virus recedes.
'When people go back to work, they need to feel safe, but they should be in an environment where they can thrive,' he says. 'The vast amount of data generated by buildings should be optimising building performance in areas other than energy efficiency – such as health, wellbeing and productivity, and maintenance'.
Post-Covid, Hopton predicts that staff will return to the workplace, but not five days a week. 'People recognise the need for an office, but they are no longer factories of production,' he says.
'Workplaces need to offer flexibility, with more facilities and concierge services. Rather than predominately being a place to "produce" they become a destination for 'collaboration.'
Unlocking performance
Hopton's smart building's group aims to unlock the performance potential within buildings by analysing data from a host of data-generating systems inside and outside a building. He says the focus is not just on energy, but also on improving space utilisation, health, wellbeing and productivity, and optimising the 'core output of a building', whether that be increasing a buildings' yield or reducing resource consumption.
By analysing data already generated by a building, Hopton says there are plenty of easy wins. 'I have yet to come across a building that is not long overdue a "service".' Hopton describes several levels of BMS 'serving' where his team diagnose problems to realise a beneficial outcome (see panel, 'Data-enabled diagnostics'). He believes new buildings should be designed to automatically find faults.

We have to find our place in the fourth digital revolution because it has the potential to provide us with a much-needed roadmap toward a zero carbon future
'Buildings deteriorate over time if they are not being monitored continuously against key performance indicators. As an industry, we need to put more thought into how we tailor control systems for our clients and pay greater attention to the stakeholder engagement process, design, specification, commissioning and curation of data sets within systems.'
While it's not always possible to engage with the end users of buildings to understand their requirements, Hopton says designers can look at the wealth of lessons learned and best-practice documents on this discipline. At the recent CIBSE Build2Perform virtual conference, he demonstrated how a forensic analysis of data achieved cost, carbon and occupant benefits.
'The important lesson was that we didn't need to change any major physical attributes,' he says. 'We were using the technology we already had to expose the data, then we carried out diagnostics before fine-tuning the system to achieve significant carbon and costs savings.'
Another dashboard gave insights into environmental productivity. In his presentation, Hopton explained how Buro Happold collated academic research, unified it in a model, and exposed it to the BMS data. The team quantified the number of hours of productivity lost with different environmental conditions. 'It was an invaluable tool for FM to prioritise its limited resource to where it would have the greatest business impact,' says Hopton.
Social value
Hopton believes connecting buildings and collating data in an open, but anonymised, data-exchange platform has to be a priority for this industry. 'We have to catch up with other industries and find our place in the fourth digital revolution,' he says. 'Why? Because it has the potential to generate huge financial benefit for building and city infrastructure, fuel a growing building optimisation marketplace, and provide us with a much-needed roadmap toward a zero carbon future.'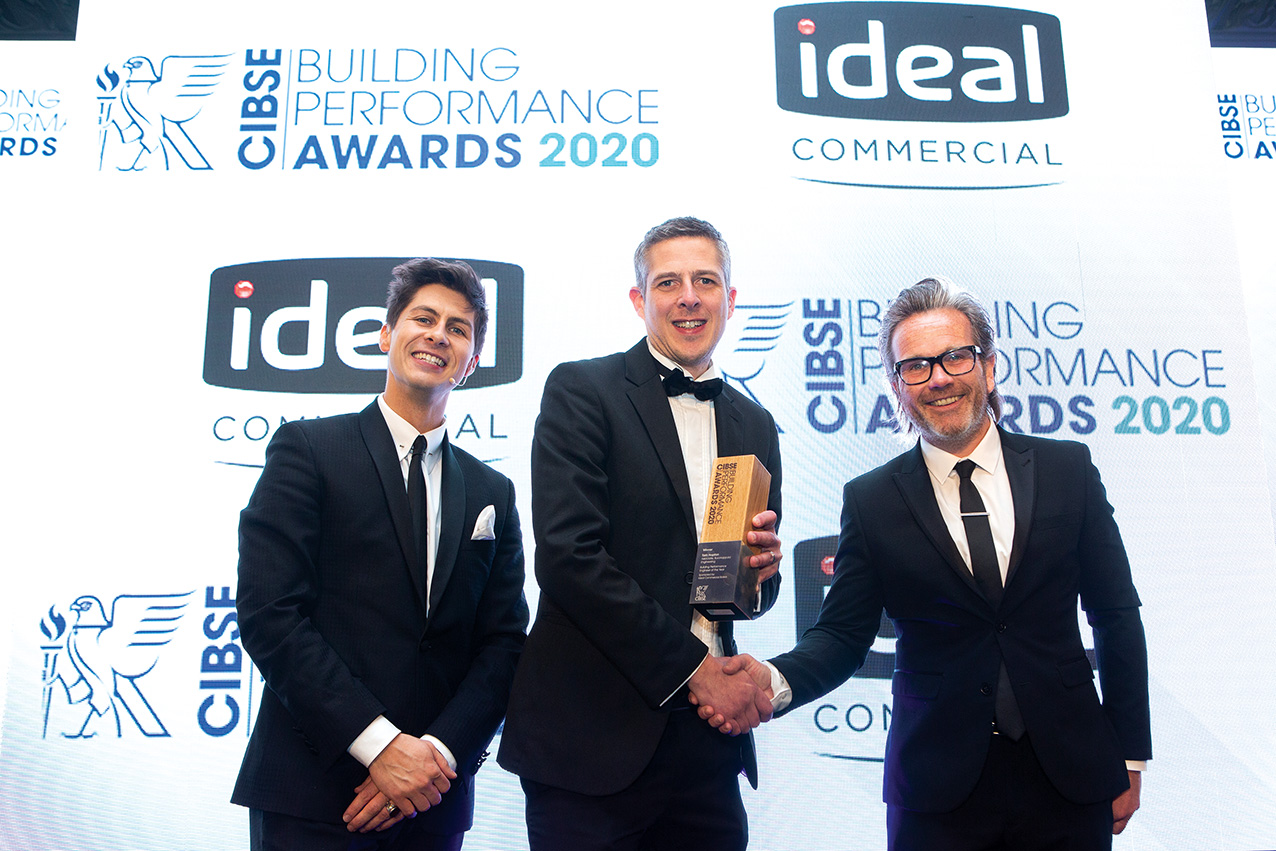 Tom Hopton at the CIBSE 2020 Building Performance Awards
Hopton says there are challenges – such as legacy systems, desperate buildings, data privacy and cyber security – but believes the reward warrants the effort to overcome these. New developments could benchmark design solutions using data from recently completed buildings. Energy aggregators would be able to work with building owners on demand-response initiatives, providing resilience for both building owners and grid suppliers. These insights can be beneficial to broader society, too, says Hopton, who is passionate about using data analytics to give occupants an environment that allows them to thrive, and not be hindered. He has measured CO2 readings of more than 5,000ppm in an existing further education building. 'The impact on the academic attainment of students – our social future – should not be overlooked,' says Hopton.
If building data could be collated and analysed at a national and granular level, Hopton says society could invest in evidence-based strategic policies. 'Our industry aim must to make data more accessible to all the stakeholders who can gain value from the insights it can reveal,' he adds.
Hopton may only be wearing the Engineer of the Year crown for another few weeks, but it's clear his field of expertise will be hugely influential as the building services industry continues to adapt to a data-driven future.  CJ
■ Find out who takes the 2021 Engineer of the Year crown at the Building Performance Awards www.cibse.org/bpa
LIFE-LONG LEARNING
A CIBSE fellow before his 40th birthday, Hopton's career is notable for his willingness to learn and share knowledge. He works with CIBSE and the Building Controls Industry Association (BCIA) to develop standards and guidance around controls ICT and technology, and finds time to teach at Bath College. Impressively, he first taught at Bath while he was still completing his degree.
'I feel it's important to contribute to the industry,' says Hopton. 'We can't move forward on our goals on our own. We need to make sure there is a succession of engineers moving into the industry who can pick up the baton.'
Hopton's prize-winning record is all the more impressive when you consider that he did not start a career in building services until he was 27. After school, he had a succession of jobs – some 'quite colourful' – before he decided to go back to college. He had average grades at GCSE, but always had an aptitude for maths and science. He found his calling when he enrolled on an engineering National Diploma at Bath College.
He came across Buro Happold during an engineering showcase at the college and completed a week's work experience with the company. Soon afterwards, he started working there as a trainee technician. Buro Happold then sponsored him through his HNC, HND and degree programmes – and he hasn't looked back since.