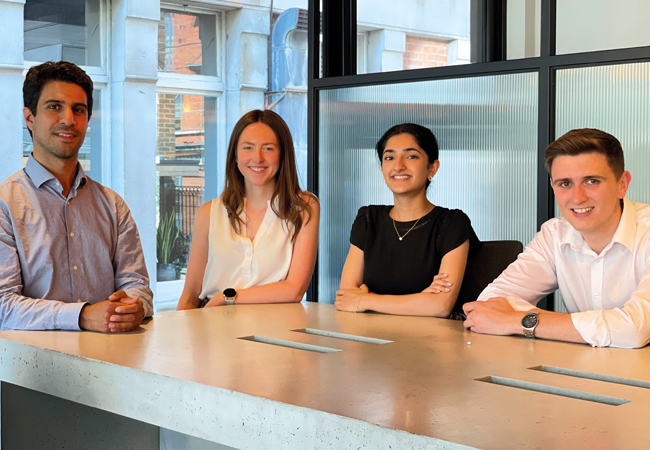 From left: Nikzad Falahati, Lucy Sherburn, Simran Chaggar and Jake Adamso
Specialist energy consultancy FairHeat is a firm to watch. Still glowing after being named 2021 CIBSE's Employer of the Year (small category), the consultancy – which focuses mainly on heat networks – is growing fast. Founded in 2015, FairHeat already has 26 employees and has plans to recruit at least 10 more this year.
The company hires graduates via the more traditional route, such as mechanical engineers, but, unusually, its happiest hunting ground is among chemical engineers.
'Really good chemical process engineers have a wonderful base level of skills, and exactly the sort of analysis we want for coming into this area of heat networks and heat pumps,' says Gareth Jones, FairHeat's managing director. 
Responding to CIBSE President Kevin Mitchell's call for engineers to share career stories, four FairHeat chemistry graduates, including CIBSE ASHRAE Graduate Engineer of the Year Lucy Sherburn, tell us what inspired them to become building services engineers (below).
An important factor underpinning FairHeat's growth is the government's decision to identify heat networks as a key technology for helping decarbonise the way in which UK homes are heated. Given that 90% of FairHeat's work is dedicated to this growing, sustainable technology, does it have difficulty recruiting the right people?
Jones says: 'If we could double the size tomorrow, we would, but when you're growing quickly, you need to make sure you bring in people that contribute to the culture rather than destabilise it. If you grow too quickly, that can be a challenge. We have limited the number of mid- to senior-level engineers and brought in graduates, which is easier, because they come in and pick it up.'
Jones says they receive hundreds of applications every year, but to get the right people, particularly for FairHeat's graduate programme, they look for young engineers with a particular mindset and who have trodden a slightly different path. Recruits need to be good at maths, as there is a lot of site auditing work. FairHeat also likes people who are resilient, have good interpersonal skills, and can fit into a team.
'We like diversity in a team; we don't want clones, because people look at things in different ways,' adds Jones.
He says chemistry graduates tend to have focused, more rigorous training. 'The level of detail they go into with the fundamentals is a step up from what we're seeing in traditional routes,' says Jones. In the past, a lot of young graduate engineers would have gone into the traditional oil and gas industries, Jones adds, but this area isn't as appealing as it once was. 
Lucy Sherburn, consulting engineer at FairHeat and winner of last year's CIBSE ASHRAE Graduate Engineer of the Year is a case in point. 'For me, and for younger people still at school and university, there is a desire to work in industries that deal with the impact of climate change,' she says. 'As a chemical engineering student, I was told that oil, gas, water, pharmaceuticals, and nuclear are the classic industries to go into, but not once did anyone suggest building services as a profession. I didn't even know that degrees in building services existed.'
'Oil and gas will be around for a while,' adds Jones, 'but if you are starting your career now, it has a use-by date. Young graduate engineers want to feel good about the work they do, and they see heat networks as a high-growth area.' 
Jones argues that different types of people need to be brought into the industry to make it grow. 'Traditional routes, going to the same pool, is not the way to do that, so we're trying to identify people who have the right skills and funnel them back into building services.' 
Sherburn adds: 'There are huge opportunities in helping to decarbonise buildings. At FairHeat, I work on new builds and get involved at the very early stages of the heat network, working through the design, build, installation, and commissioning. There are so many opportunities to get involved, whether it's improving an existing building, retrofitting, or designing a new building, it's such a dynamic industry.' 
Jones suggests one of the reasons fewer students are studying building services is because of its image. 'To get top-calibre engineers, we need to promote what we're doing as being at the forefront of decarbonisation,' he says. 'The industry should be doing more to make the sector sexy, and help widen our minds about who we bring into the industry.' 
Sherburn agrees: 'Young people often don't know what building services is – and, if they do, they think its all about radiators and air conditioning. They think it's not a technology for the future, but building services will play a huge part in decarbonisation. 
'The industry needs to shout louder and market itself correctly so young people can see that they can play a major part in this renewable, sustainable revolution and design really cool, low-energy buildings.'
CIBSE Employer of the Year 2021 Award (small company category)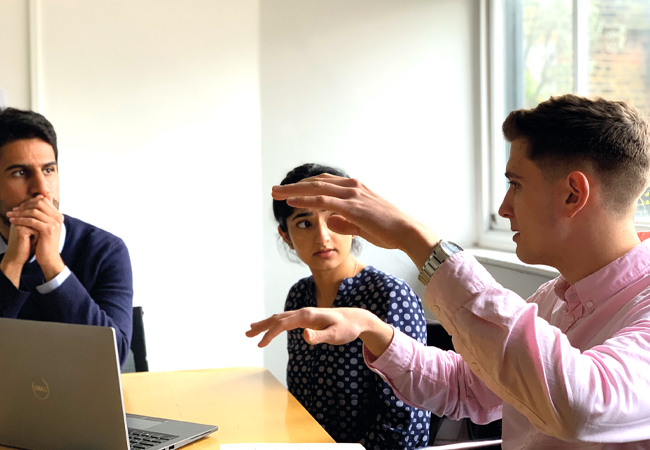 Current FairHeat graduates (from l-r) Nikzad Falahati, Simran Chaggar and Jake Adamson
FairHeat is on a hot streak. The specialist energy consultancy has been presented with the CIBSE Employer of the Year small business category award for a second time. Key to its success and winning the award is its two-year graduate scheme, which brings young engineers – mainly chemical engineers – into the industry and upskills them. FairHeat created the graduate scheme in response to the lack of skilled engineers in the industry and to develop engineering talent for the future. 
Tom Naughton, associate at FairHeat, who co-runs the scheme, says that around 70% of the company's employees are currently doing the graduate programme or have completed it within the past five years. Of the first three engineers who joined the scheme, all are now senior team members, are Prince2 [Projects in Controlled Environments] certified, and have achieved chartership with CIBSE.
'The scheme has been developed in a structured way that enables graduates to gain solid knowledge and experience in all aspects of heat network development,' says Naughton. 'This includes six-month rotations across each of FairHeat's four business areas, covering all aspects of building and operating heat networks, from design and delivery to performance improvement and monitoring. Over the years, we have put a lot of effort into building up a talented group of engineers through our graduate scheme, and they now form the core of the business.'
During each six-month rotation, the graduate engineers are assigned a research project, for which they manage their own time and budget, and present back to the team. The research is published, raising the profile of each young engineer. 
To help provide a nurturing structure for each young engineer, FairHeat has established a mentoring scheme through which consulting engineers are assigned to a graduate. The mentors help the graduates to self-reflect and discuss objectives for their development. External mentoring programmes are also encouraged, to ensure knowledge transfer is applied within the industry. 
During 2021, nine of FairHeat's young engineers reached out to their universities and presented the graduate scheme, highlighting building services as a career. This was a successful initiative, not only to drive fresh talent to FairHeat, but also to expand awareness of the industry. 
'We are particularly proud of the opportunities we are giving engineering graduates,' says Naughton. 'The number of high-calibre engineers that the graduate scheme has supported is a testament to its success, and it will continue to be an integral part of our company's DNA.'
FairHeat's chemical engineers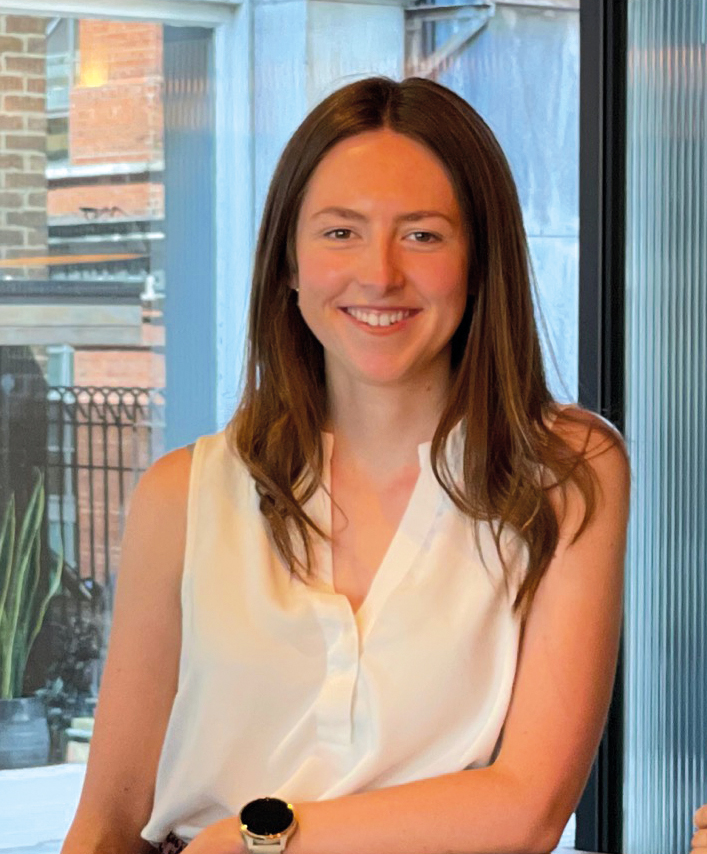 Lucy Sherburn
Lucy Sherburn, winner of the 2021 CIBSE ASHRAE Graduate Engineer of the Year award, is a rising star. Aged 25, she is already a consulting engineer at FairHeat, which she joined as a graduate more than two years ago. She had just completed a chemical engineering degree at the University of Sheffield – where she gained a first and was awarded a Mappin Medal for her hard work – when she spotted a job advert at FairHeat. 
'The job ticked all the boxes,' says Sherburn. 'My desire to work in a sustainable, low-carbon industry led me to FairHeat, and the company helped me understand the importance of heat networks.' 
Given FairHeat's track record of employing chemical engineering graduates, does Sherburn believe her degree has helped her develop a building services career? 'The fundamentals of chemical engineering, such as heat transfer and fluid dynamics, are pretty much the fundamentals of heat networks,' she says. 'This basic knowledge helped me build on my understanding of the technology. With a chemical engineering degree, there is a building services element, a construction element, and an energy heat element, so having this broader understanding of energy did help.'  
Before she joined FairHeat, however, Sherburn admits she had very little idea about heat networks or what building services involved. 'At university, I barely knew what heat networks were – I only knew of the concept.'
She has quickly made up for this gap in her knowledge, though, and has completed many, high-standard research projects that have contributed to – and changed – the company's processes. For example, she did a review of optimal plate heat exchanger sizing for heat networks that resulted in FairHeat adopting the output as standard in its design guidance.  
Sherburn has also developed a graduate mentoring scheme, and helped attract graduates into the industry by doing presentations at the University of Sheffield and showcasing the role of building services in decarbonising heat. She also has a passion for making the construction industry more attractive to women and, in her role as a STEM ambassador, she promotes building services to young children, particularly girls. 
'One of the most difficult aspects of the industry,' she says, 'is inertia and resistance to change. We need to instil a sense of urgency in people in terms of decarbonisation. It's a wider society thing and it will be a huge transition for everyone.'
Despite the massive challenges the industry faces, Sherburn remains positive about the future. 'The best thing about building services is knowing that your work is making a real-life impact and difference," she says.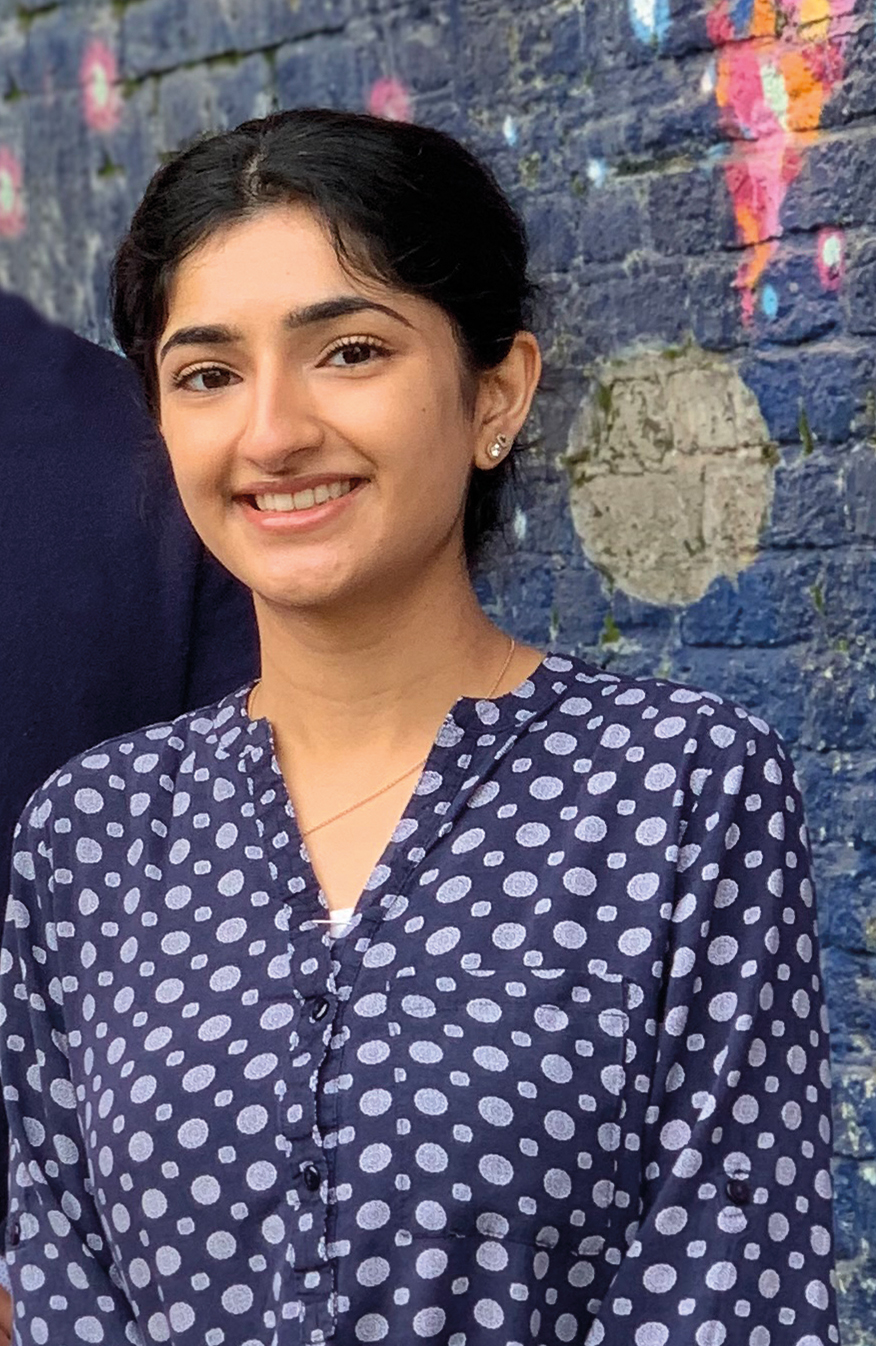 Simran Chaggar
Simran Chaggar joined FairHeat as a graduate chemical engineer in September 2020. She says her experience of working in emissions control within the automotive industry made her want to work in the renewable fuels area of building services. 
FairHeat's graduate scheme has enabled Chaggar to work on some exciting and varied projects in the fields of decarbonisation and decentralised energy – and she says her degree has helped her understanding of the core principles.
'The principles behind the work FairHeat does – such as heat transfer, flow within a pipe, and safety considerations within design and on site – are fundamental concepts that are taught on day one of the course,' says Chaggar. 'Softer skills gained naturally from the degree – such as problem solving, analytical skills and team working – are used on a daily basis in heat network engineering.'
The real-life experience of working with contractors, testing, commissioning, installing, and observing site audits has enabled Chaggar to fast-track her technical competencies, and she says FairHeat is committed to creating future leaders in the industry. 
'Outside of the graduate scheme, I've been encouraged to pursue volunteering initiatives with STEM and given opportunities to participate in industry events. This has been invaluable for my development and networking,' she says. 'The supportive and nurturing culture at FairHeat equips graduates to create much-needed change within this industry.'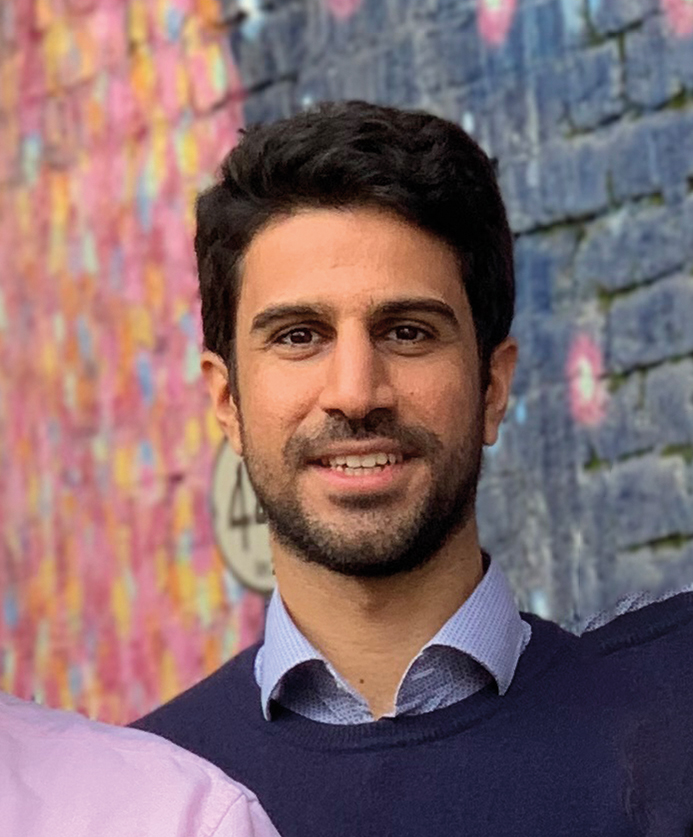 Nikzad Falahati
Nikzad Falahati joined FairHeat with a Master's degree in chemical engineering from Imperial College and a PhD in chemical engineering and biotechnology from the University of Cambridge. 
An opportunity to work in building services was important to Falahati for two reasons. 
Firstly, he could work on projects that improved people's lives through engineering, and, second, by working on heat networks, he could be part of the UK's drive towards net zero carbon by 2050. 
'Designing heat networks requires many of the fundamental concepts and equations that were taught during my degree,' says Falahati. 
'Many of the engineering tools developed at FairHeat are based on such concepts, which means my degree has been crucial to their understanding, allowing me to adapt them to optimise designs.'
He adds that many of the soft skills gained from the degree have also played a significant part in progressing as a heat network engineer. These skills include time management of projects and working in teams of varying sizes, both on site and in the office.
Falahati says working with other engineers, such as mechanical and electrical engineers, has been important for his growth, as there are many things to learn from other areas.
This has been especially helpful, he adds, when on site, because issues can be resolved and ideas discussed on a range of problems. 
'FairHeat fully supports graduate engineers in becoming competent heat network engineers, while encouraging everyone in the company to be part of the significant changes being made in buildings services because of the UK's net-zero drive,' Falahati says. 
'I intend to develop as an engineer at FairHeat and become knowledgeable in a range of heat network aspects, with the aim of becoming an expert.'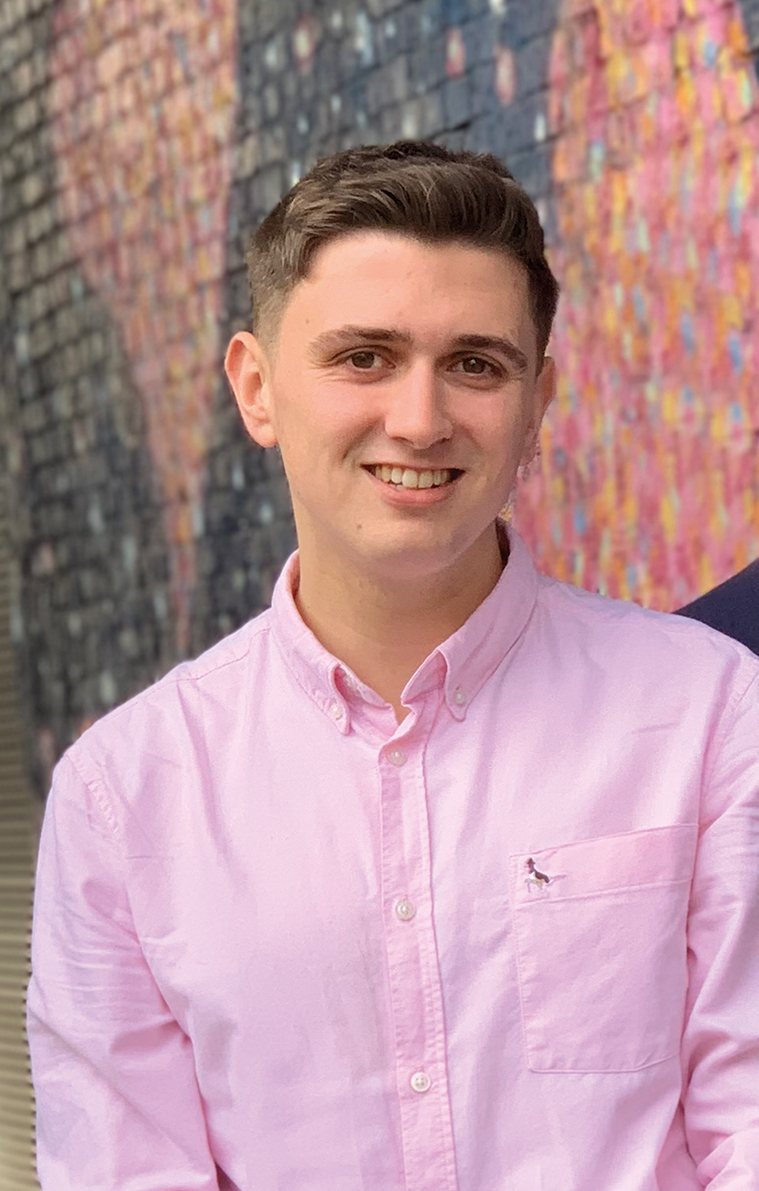 Jake Adamson 
Jake Adamson joined FairHeat in 2021, after completing a Master's degree in chemical engineering and working in the energy sector for a year. He decided to pursue building services because he aspired to work in the district heating sector. He wanted to work in a field that helped the UK meet its target of net zero and be a part of the transition from carbon-intensive energy to cleaner, low carbon technologies.
'My degree taught me a lot about fundamental topics, such as heat transfer and fluid dynamics, which are commonly used when designing and implementing heat networks,' says Adamson. 'As you progress through the degree, more advanced themes arise, such as optimising a system based on cost and efficiency. These areas are essential when designing an optimal heat network to provide a low carbon and cost-effective solution.'
His degree also equipped Adamson with the skills to know how best to approach a problem. Presenting project work to peers as a student developed his communication skills, which has helped with relaying key information to contractors and clients. 
Adamson argues that it's important for all M&E services to come together and work as a team to achieve successful and sustainable developments. 'I hope to develop into a competent technical engineer in the district heating industry,' he says. 'An aspiration of mine is to become an industry leader as the UK approaches its target of net zero by 2050.'