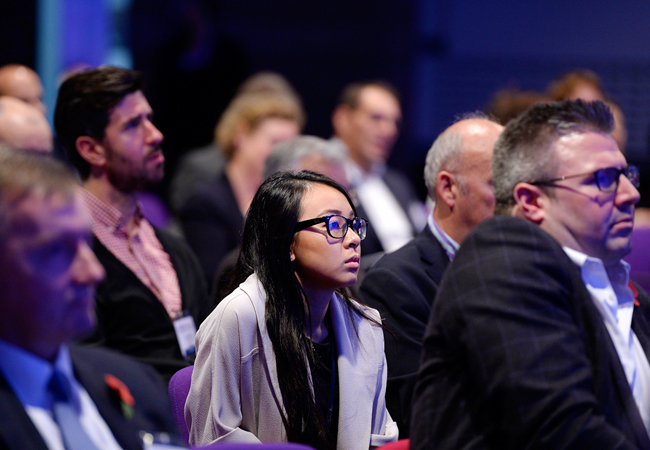 Lord Deben opened the CIBSE Building Performance Conference and Exhibition by making an impassioned plea for engineers and clients to focus on energy efficiency in buildings.
The chairman of the UK's independent Committee on Climate Change said he was tired of hearing firms suggest that energy efficiency was too difficult. 'They don't need to give anything up – we can do all the things we do now, but with half the energy consumption,' he said.
Lord Deben pointed out that Unilever was saving £250m a year by making its buildings more efficient and cited one large energy user that had cut its annual electricity bill from £10m to £1.5m simply by replacing its lighting systems with modern LEDs.
Lord Deben
As the keynote speaker, Lord Deben set the tone of the conference, exhorting the building services industry not to 'undervalue' itself. He said CIBSE 'had a big role to play' in delivering better buildings and contributing to the UK's ongoing economic recovery. 
The conference brought together experts from across the industry to discuss the efficient and effective design, construction, maintenance and operation of buildings.
A key theme of the first day was security and the risk that criminals could exploit a new generation of building systems connected over the internet (see 'News' on page 12). Hugh Boyes, principal fellow at the Cyber Security Centre, WMG, University of Warwick, said the situation could become even more serious with the development of 'smart cities' and the Internet of Things (IoT), as cyber criminals could exploit connected elements to attack infrastructure such as transport systems.
'Building services engineers have to think about the vulnerabilities they are building into designs because they will be there for years into the future,' said Boyes.
Canary Wharf's future city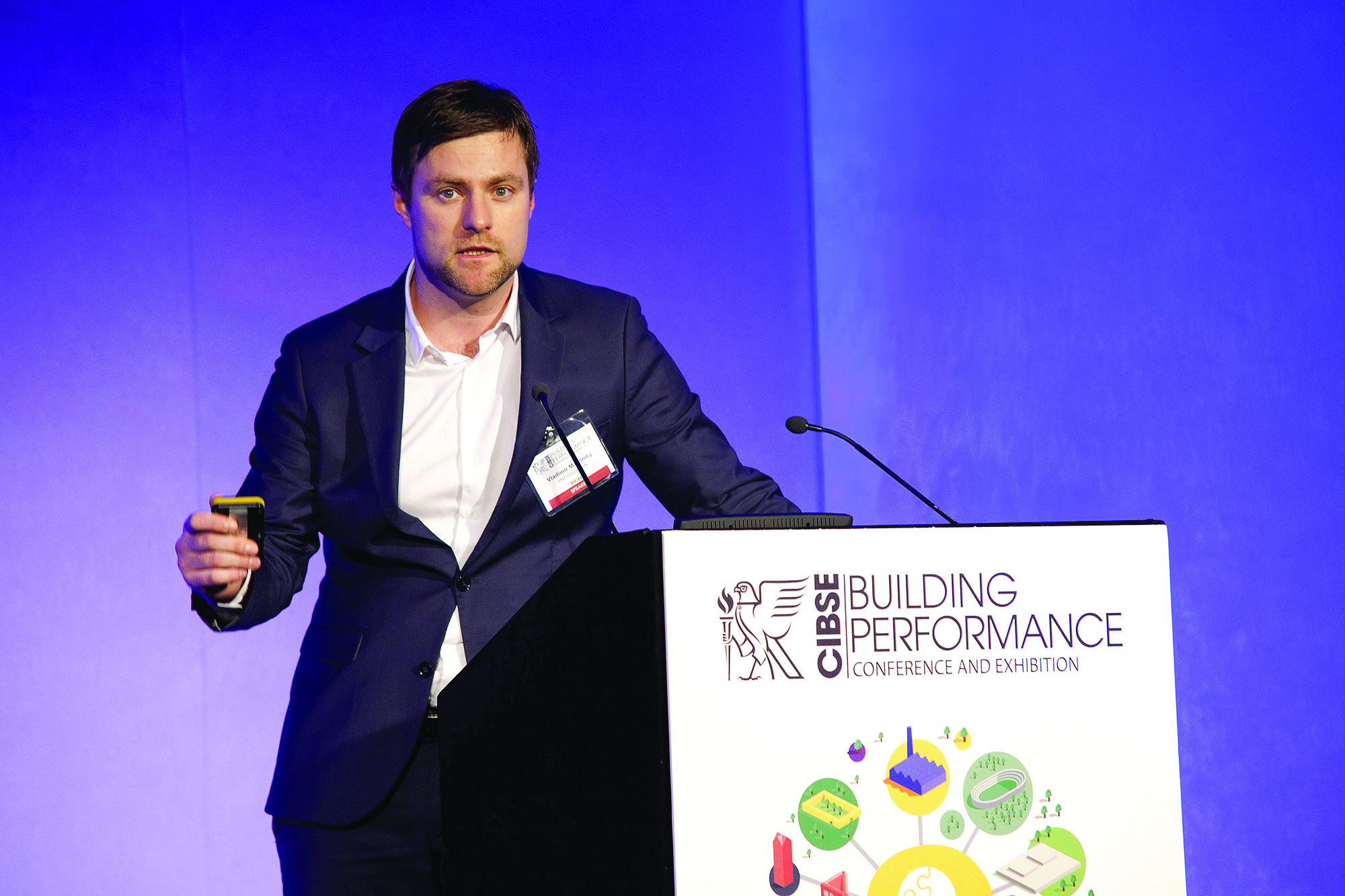 Vladimir Masinsky
Cognicity is a future city project, set up by Canary Wharf Group, to identify and accelerate the development of smart city technologies.
Vladimir Masinsky, Smart City Programme specialist at Entiq/Cognicity, said the idea was to identify, accelerate and procure interoperable smart city solutions to feed the 'integrated city of the future'.
The aim is to develop technologies that help improve efficiency and reduce costs for people living and working in the city. Masinsky cited recent projects that had received £50,000 and a guaranteed pilot, including Pavegen – paving slabs that convert footsteps into energy.
Cognicity also supported Strawberry Energy, a Serbian street-furniture company that has developed solar-powered 'smart benches', incorporating phone-charging points, air quality data and an emergency call button. It is being trialled at Canary Wharf in London.
Concern about security vulnerabilities in buildings has resulted in the fastest created British Standard, PAS 1192-5, which shows project teams how to put strategies in place to ensure sensitive building information is not compromised. Andrew Sieradzki, head of security at Buro Happold, said a whole industry was being created around information management and he urged building services engineers to make use of the elements now available to secure data contained in BIM models.
The increasingly sophisticated controls systems in buildings can also create security weaknesses, according to Ian Ellis, immediate past president of the Building Controls Industry Association (BCIA). 'More building management systems (BMS) run on 'open' protocols because this drives energy efficiency, but these protocols are in the public domain and can be directly accessed from the internet. So security needs to be in place before the system is used,' he said.
In a session on BIM, ECA technical director Jim O'Neil, said only one in six of the respondents to an ECA survey was fully ready for BIM Level 2, and a worrying 59% did not have a BIM planning group.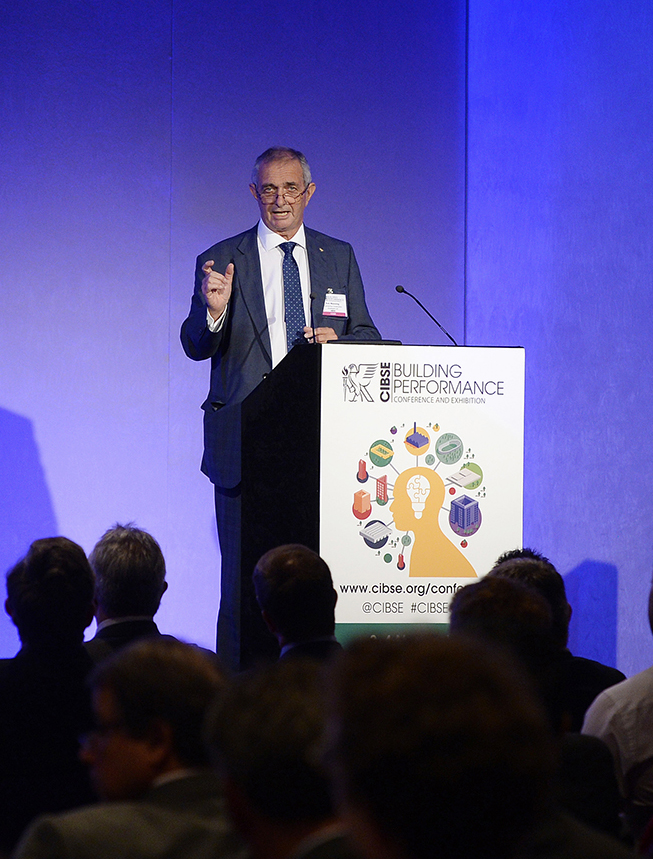 Rob Manning
Rob Manning, of the Government Level 3 BIM Team, Engineering Construction Strategies, said that BIM would change the role of consultants. 'Some of the tedium of design will be removed using digital information provided by suppliers of products and systems.' He also predicted that construction trades would move into the factory, as BIM would demand more precision in design and installation.
Sainsbury's head of engineering, Mark Hawker, chaired a session on the concept of reliability-centred maintenance (RCM), which the supermarket giant has adopted to minimise maintenance costs. RCM is well-established in the airline industry, and is based on the idea that equipment is checked regularly for signs of impending failure.
Sainsbury's applied RCM to its biomass boilers to minimise breakdowns and improve performance. Once it understood the root causes of potential failure, it created a standard manual for maintaining the boilers. CIBSE Journal will feature RCM early next year.
As part of the session on adapting UK buildings to a changing climate, Ann Marie Aguilar, of Arup, focused on the importance of meeting the needs of an expanding older population and the disabled, by making small changes that will enhance their wellbeing and quality of life. Examples include improving lighting for people with cataracts, or designing hospitals to help people with dementia.
She said: 'There's no single model of human behaviour that could be used in a design project, but building design can encourage wellbeing and health.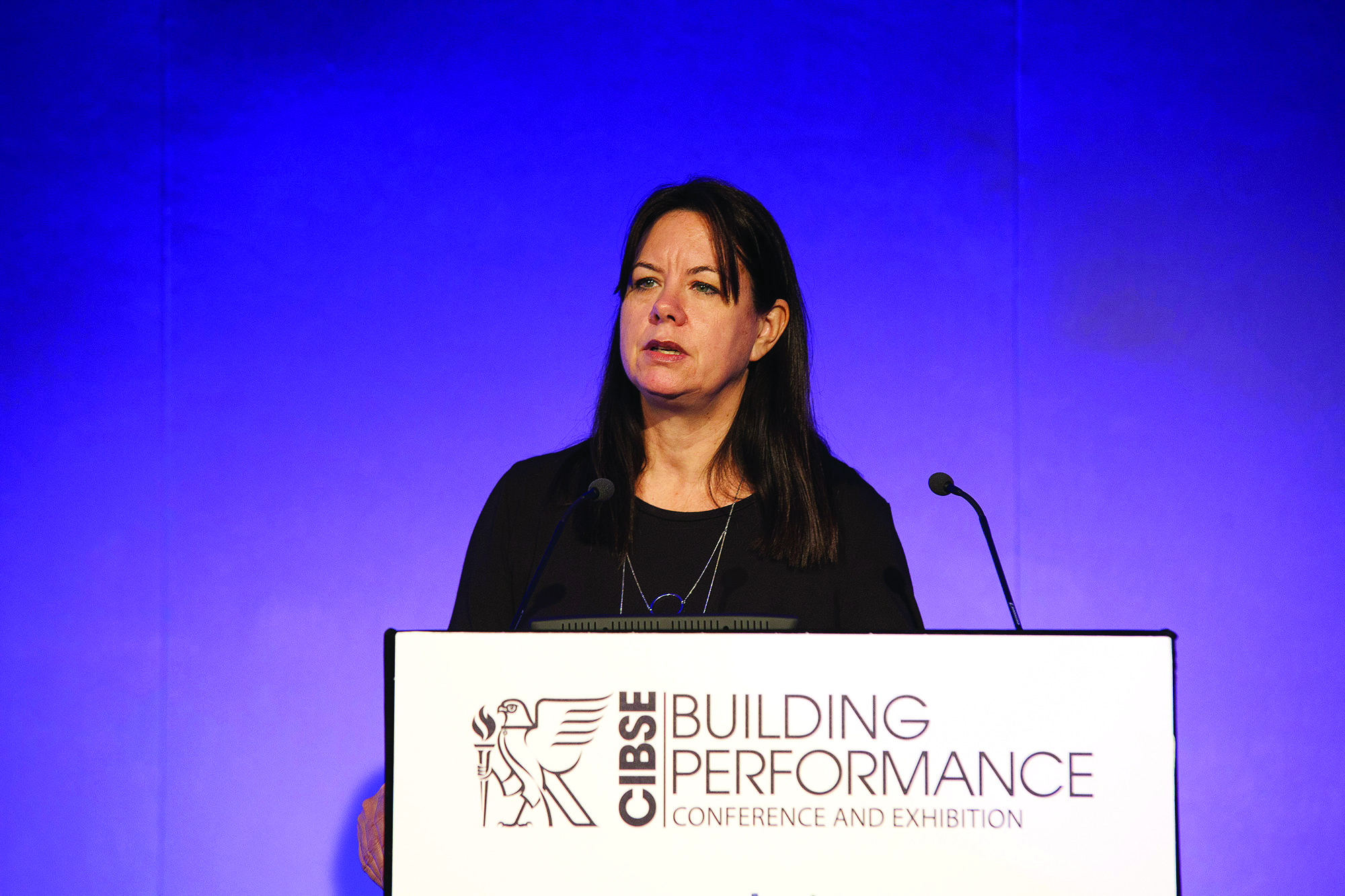 Ann Marie Aguilar
'About 25% of people who visit hospitals have dementia, so why don't we adapt hospital layout and signage to help them? Poorly designed care environments can lead to further impairment.'
Alexi Marmot, of Alexi Marmot Associates, said cultural expectation also had a bearing on building management, citing the demand for air conditioning regardless of its need or effectiveness. She said there was a direct link between our working environment and our job satisfaction, which – in turn – related to productivity. Facebook, for example, maintains its office room temperature at 15°C to keep meetings short and increase productivity.
On average, we use just 19% of total office space productively, said Marmot. 'Most buildings are over-lit, over-heated, over-cooled and, therefore, underused.'
Engineering for people
Matt Colmer, of Innovate UK, asked why buildings fail to perform in real life as they do on paper. 'Are client expectations misleading promises or a disappointing reality?' He said that commissioning and handover are either inadequate or overlooked. 'A lot of money is invested in having systems to manage buildings in a robust way, but – because they are not implemented or managed properly – they are pretty much useless.'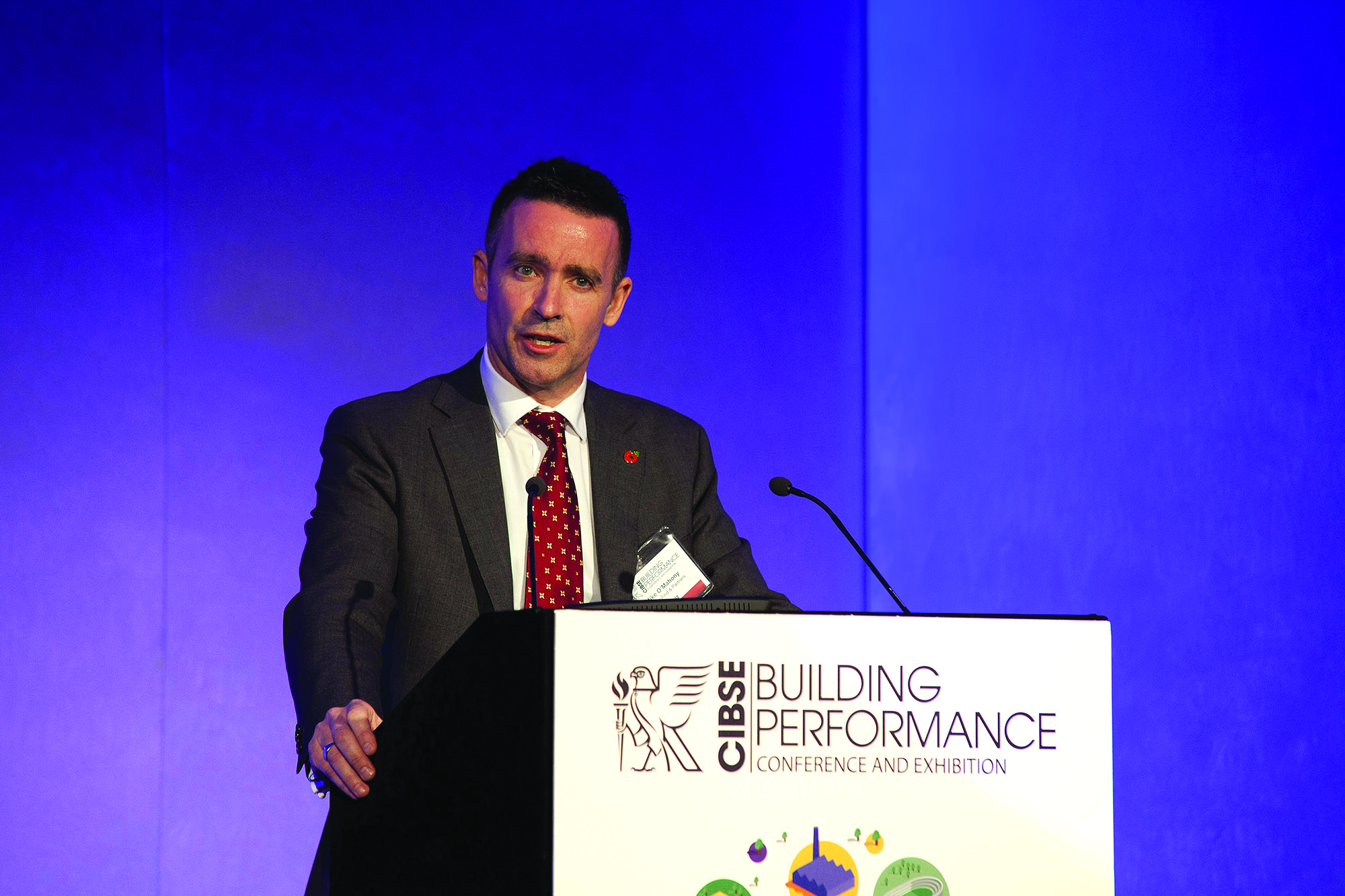 Mike O'Mahony
Colmer cited the Bluebell Health Centre, in Liverpool, where heat pumps, solar thermal and electrical immersion have been installed because planning policy dictated it must have 10% renewable contribution. However, all the centre's domestic hot water needs could have been met through the electrical immersion units alone.
'Ask what you are to gain and what the requirement is, and remember – buildings are for people. You can engineer a building, but you cannot engineer people,' said Colmer.
Stephen Pearson, head of building services at the University of Oxford, said that – from a client perspective – occupants do not always use the building's systems as the designer intends. He added: 'New buildings do not work. Or rather, they do not work as you might expect them to. Instead of asking why, maybe a better question is: "How can we make them perform better"?'
To do that, you must think like a user, train the building users and optimise your buildings, said Eimear Moloney, associate building engineer at Hoare Lea. The consultancy is working with the University of Oxford to optimise the building management systems for its entire estate.
'First of all, find out what's happening on site by monitoring and analysing data, make changes and, finally, monitor those changes to make sure they have had the desired impact.'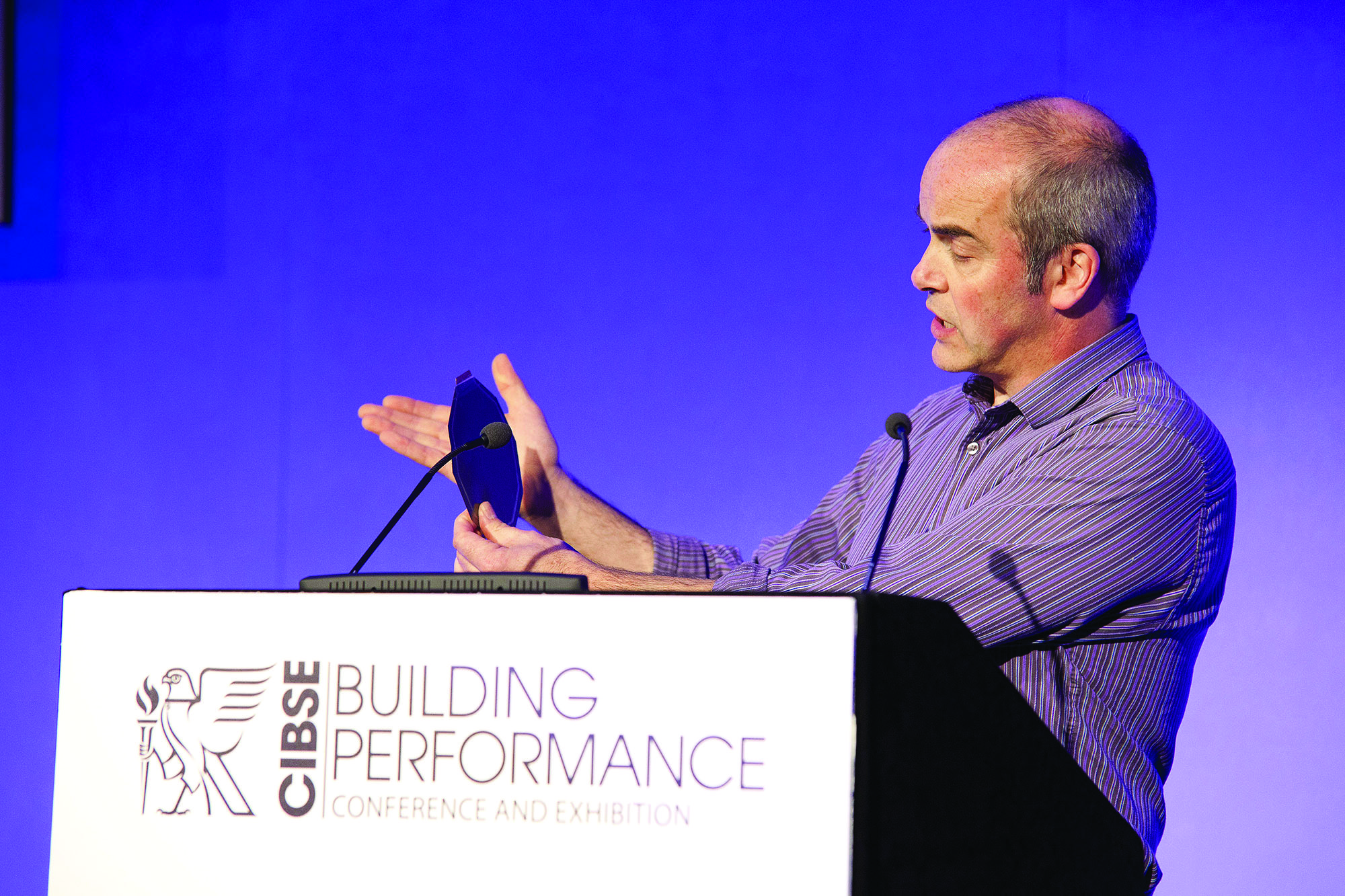 Dave Worsley
Mike O'Mahony, managing director of Andrew Reid & Partners, said commissioning was the Achilles heel of building performance: 'Cutting corners is simple; when the pressure is on, something has to give and – most of the time – it's commissioning.'
He added: 'To succeed, you need to recognise the uniqueness of each scheme, agree success criteria early on, and make the culture shift; we are in it together and, if one fails, we all fail.'
In the last session of the conference, on innovation, Dave Worsley and Paul Jones, from Swansea University, shared their knowledge about a new technology that they are developing to create 'buildings as power stations'.
Worsley told the delegates that, every day, more solar energy falls on Earth than humanity will use in 27 years. He said it could be harnessed with flexible PVs developed and used to power buildings. The firm's prototype three-bedroom house, he added, was not out of reach for developers, costing £125,000.
CIBSE Conference and Exhibition 2016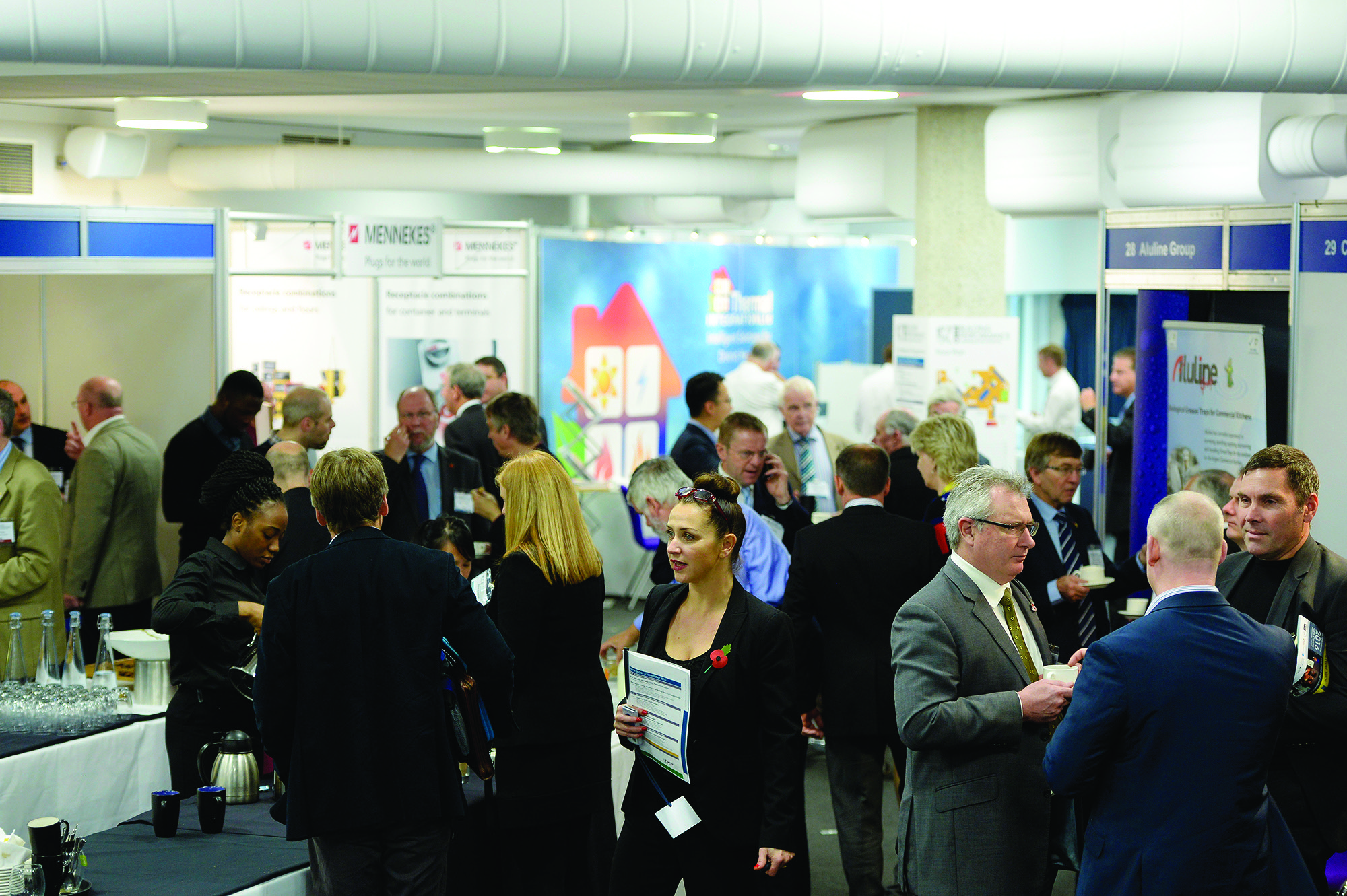 17 and 18 November 2016
Dates for next year's Building Performance Conference and Exhibition have now been announced, with the exhibition planned to be twice the size of this year's.
Book the dates into your diary now.
CIBSE President Nick Mead said he was proud to see CIBSE acting as thought leaders on so many topics, including adapting the UK building stock to climate change, legislation, and building performance.
'It's about putting your head above the parapet,' he said. 'We are good at what we do, we are changing the industry – now we need to raise our profile and shout about it.'
The presentations from this year's conference are available to view on the CIBSE Knowledge Portal