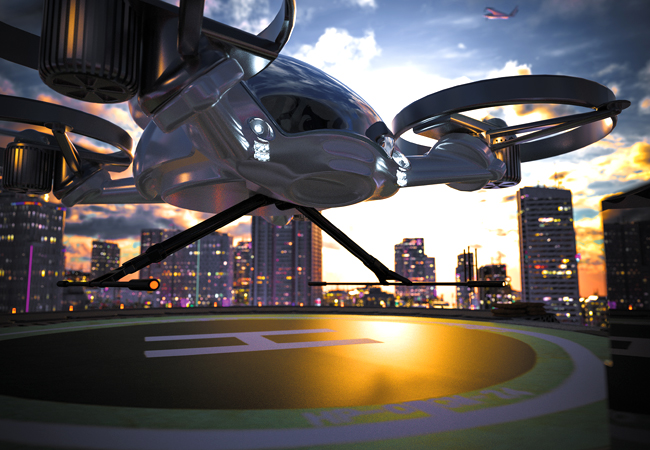 The aviation industry is on a path of profound transformation. Accounting for 2.5% of all global carbon emissions, it is under intense pressure to decarbonise. In July 2022 for example, the UK published its 'Jet Zero Strategy', which sets out a vision for net zero emissions in the sector by 2050, and a 2040 target aimed just at aviation buildings.
With the rise of electric and hydrogen-powered aircraft, as well as the emergence of advanced air mobility solutions, there is a vital need to redesign existing airspace infrastructure for this new generation of aircraft. Collaborations between airlines, original equipment manufacturers, infrastructure operators, and other key stakeholders are essential to establishing the necessary infrastructure for new forms of flying, such as the electric vertical take-off and landing aircraft(eVTOL) vehicles that will soon be filling our skies.
Existing airport operations and infrastructure need to undergo vast changes to decarbonise while accommodating new flying technology. Atkins is applying its Decarbonomics tool to airports, in a bid to create a roadmap towards net zero for them, and has established a dedicated multidisciplinary Future Flight team to look at what infrastructure is required for new forms of aviation. 
'We're actively engaged in decarbonising existing aviation, whether it's retrofitting airports, introducing new propulsion systems to traditional aircraft, or spearheading genuinely sustainable electric propulsion flight,' says Andrew Caughey, head of sustainable aviation at Atkins' Future Flight team.
Decarbonising airports
Atkins' Decarbonomics tool has gained significant traction in the aviation industry, particularly in the realm of airport operations. Launched in January 2022, the tool was created as a way of tackling the energy use of large portfolios of existing buildings, using data to help make decisions around investment.
The initiative has demonstrated impressive results; it is estimated to have saved 300,000 tonnes of carbon. Initially devised as a strategy for retrofitting housing, its success has prompted an expansion into the industrial sector, including the airport space.
The concept builds a framework for clients that benchmarks their current carbon footprints, devises strategic roadmaps for intervention, oversees implementation, and ensures long-term measurement and verification of decarbonisation efforts. Isabelle Smith MCIBSE, technical lead for Decarbonomics and a director of engineering net zero at Atkins' parent company SNC-Lavalin, says the approach to airports presented a new set of challenges, with very different types of interventions.

Airports represent such a small percentage of aviation carbon, but they are the enabler to unlock the rest of it
A holistic approach was taken to meet the distinctive demands of airport infrastructure. As well as optimising building fabric and energy usage, the tool delves into the complexities of airport infrastructure and the ground-fleet operations needed to support the transition to zero carbon flight. 
'We know we are going to have to make significant changes to electricity generation and distribution in airports, so we have to ask what that looks like from an embodied carbon perspective, as well as an operational carbon perspective,' says Smith.
Scenario modelling is used to anticipate how new technologies, policy shifts, climate change and costs will affect a site. In this way, the development of the roadmap is fully informed and allows planning for resilience and the mitigation of risk as far as possible. This includes assessing the electrification readiness of ground-fleet vehicles, future-proofing infrastructure for energy transitions, and strategising to mitigate stranded asset risks. 
'We've had some great engagement with clients and incredibly positive feedback,' Smith says. 'The initiative actively engages with clients, inviting their input and insights to refine and customise the platform.' 
This ensures that the developed solutions are aligned with the clients' unique goals and challenges.
Smith stresses that, throughout the process, it is crucial to leave room for future opportunities for renewables. 
'A lot of it comes down to technology readiness of the fleet vehicles and determining the point at which electrification is going to be available,' she says. 'We want to make sure these airports are future-proofed.'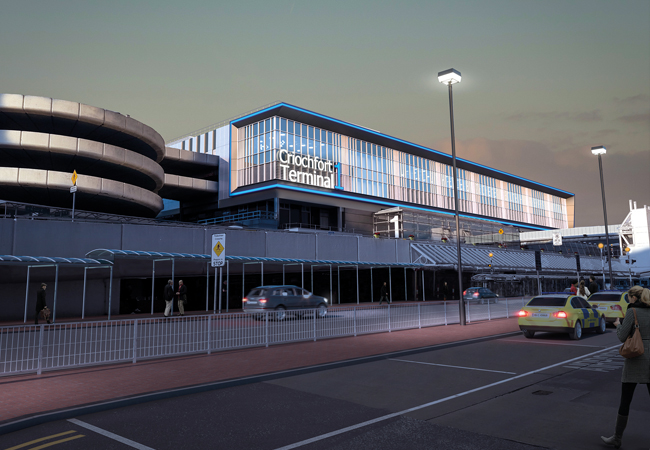 Atkins used the latest in data-driven, digital engineering to help maximise investment, future proof, and decarbonise Dublin airport
Decarbonomics extends its impact beyond emissions reduction to encompass financial and risk considerations. Evaluating the economic viability of interventions ensures that investments today will yield long-term benefits and maintain asset value, says Smith. 'The key question is what is the cost of intervention, and at what point does it become uneconomical? We map that risk and look at ways to mitigate it.'
For example, 25% of the world's busiest airports are situated less than 10 metres above sea level, at critical risk of sea-level rise, so the risk of that asset stranding is major, says Smith. Engagement ensures that financial and insurance sectors are equipped to support sustainable endeavours while managing the future risks effectively.
From an infrastructure perspective, it's crucial to decarbonise because people will still be flying in the future. 'Airports will look and feel totally different from what we are used to today, but they will exist,' says Smith. 'From a financial and social perspective, the sector is very aware that it needs to do this to remain viable; it's at the top of everyone's agenda.'
Evolving air mobility
The growing interest in fully electric and hydrogen aircraft, including eVTOLand  drone taxis, is also reshaping the aviation landscape. Atkins' Future Flight team has been created to expedite the decarbonisation of aviation and brings together professionals from building services, infrastructure, architecture, and structural and civil engineering.
'Whether you are talking about sustainable aviation in its broadest sense or narrowing it down to emerging eVTOL technology, for example, the change to established transportation networks will be massive,' says Caughey. 

Our shared goal is clear: achieving truly sustainable, emission-free aviation while preserving the essential connectivity that aviation provides
'We're looking beyond traditional air travel. Urban air mobility hubs and vertiports are emerging to facilitate short-range travel. They require scalable eVTOL reception facilities, energy efficiency, and advanced technology, such as biometrics for passenger journeys,' Caughey says. 
eVTOLs will operate like air taxis, and their potential promises greener, safer and faster travel. 'Air mobility is a really exciting area,' says Daniel Jones, director at Atkins, who oversees the company's work in the airport sector. 'We've investigated the application of eVTOL drones in various case studies, including passenger transport, cargo, and last-mile logistics.'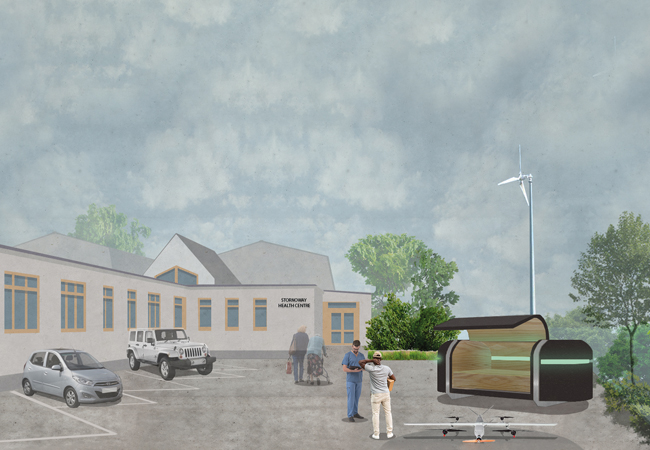 An artist's impression of what landing pods for small drones might look like
The team's first project, the Advanced Mobility Ecosystem Consortium, comes under the UKIR Future Flight Challenge, and aims to demonstrate real-life mobility scenarios in the southwest of the UK. It involves demonstrating the eVTOL ecosystem in the region to showcase key use cases and address challenges such as integration with existing traffic and ground support. 'We're enthusiastic about our role in this project, collaborating with partners such as Vertical Aerospace, Virgin Atlantic Sky Port, and various airports, including Heathrow and London City. We're continuously learning, progressing, and moving towards the outcomes funded by Innovate UK', Caughey says.
Andrew Querée, associate at Atkins, has been collaborating with Atkins' eVTOL partners on the innovative projects, and with county councils, helping them to establish transport hubs in park and ride facilities. 'The focus is on developing air mobility solutions with a range of up to 100 miles, connecting various places, such as airports, eVTOL hubs and venues,' he says.
T
aking healthcare to new heights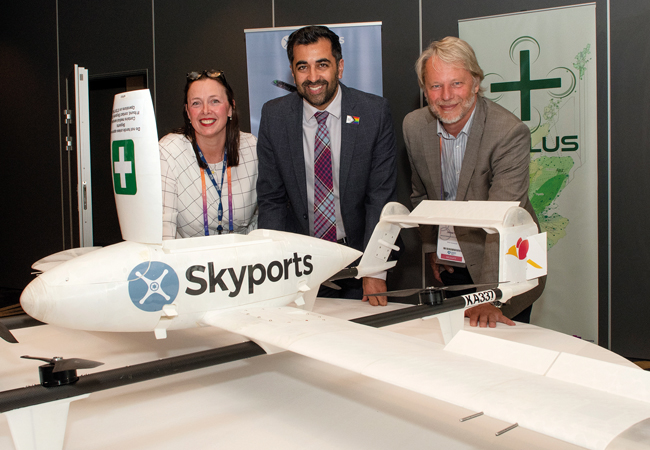 Scottish First Minister Humza Yousaf (centre) visits the Project Caelus drone project
Atkins' Future Flight team is supporting the infrastructure component on a project led by AGS Airports to deliver vital medical supplies via drones. Project Caelus (Care & Equity Logistics Unmanned Air Systems) is a partnership with NHS airports in Aberdeen, Glasgow and Southampton. Already operational, it looks at how drones can be used to transport blood tests from GPs to hospitals and deliver cancer therapies to patients in remote locations.
Infrastructure development is a key challenge, particularly the creation of specialised housing for the drone fleet operating within the network. This involves the testing and development of next-generation systems to support the network effectively. A variety of drones are already operational across different distances in Scotland. Climate-controlled units are also being designed to securely house these systems.
The goal is to use drones to eliminate the need for individuals to take lengthy ferry rides or taxi journeys to access essential medical treatment. 'If we can safely deliver medications while adhering to pharmaceutical parameters, it's an avenue worth exploring,' says Andrew Caughey.
The infrastructure needed to support these new transport systems is also something Querée's team has explored. Rapid charging facilities are essential to ensure commercial viability and efficient passenger movement between hubs. The emphasis is on enhancing the passenger experience, using modern construction methods, and optimising energy efficiency in hub design. 
'Multimodal connectivity is crucial too; there's no sense in everyone driving diesel cars to an airport parking lot that negates the progress of decarbonising,' Caughey said. 
Caughey is keen to stress, however, that the zero carbon vision for aviation isn't just about hydrogen jet planes and drone taxis, but about the improvement to existing buildings and infrastructure. 
'It's important to inject a dose of reality when working with clients to create a roadmap for their developments,' he says. 'Our shared goal is clear: achieving truly sustainable, emission-free aviation while preserving the essential connectivity that aviation provides.'