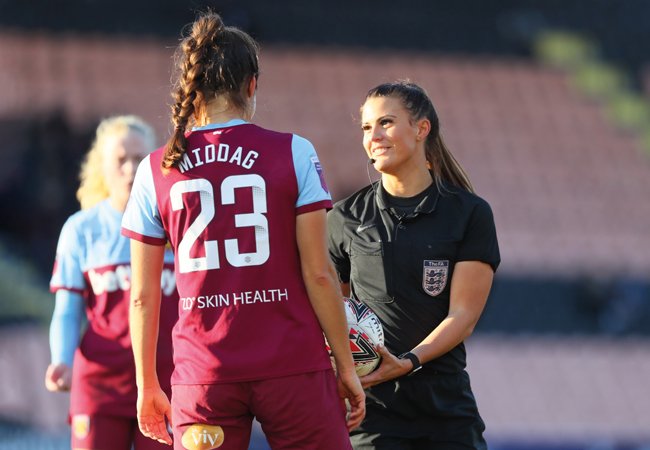 Lucy May brings a wealth of experience to Cundall from her previous roles as head of inclusion at Newcastle United Football Club and as a Women's Select Group referee for Professional Game Match Officials Limited. She has officiated for the Football Association across four continents, and continues to referee in the Women's Super League. With a history of driving diversity, equity and inclusion (DEI) in traditionally male-dominated sectors, May has transitioned from football to the construction industry and shares her vision for promoting DEI within Cundall's global workforce.
Tell us about your previous role and how it prepared you for this new position?
At Newcastle, I led strategy implementation. I worked with the club to help it achieve the Premier League equality standards that weren't being met. Being able to make such an impact was a really positive experience.
I created the 'United as One' brand for Newcastle, to emphasise unity among supporters, employees and players. It's about feeling that, although we're all different, we're all here because we love the same thing. It's amazing to see its ongoing use at events such as Northern Pride.
There are several comparables with the building services industry, because the challenges around DEI aren't necessarily linked to a sector – there are outstanding issues that are very similar.
Are there any specific DEI initiatives that you want to introduce at Cundall?
It's a work in progress. I want to take the time to understand the company. Cundall has grown vastly over the past few years, with offices in 25 countries, so it's about making sure we have one overarching global vision, while creating a delivery model that enhances and encourages a plan to address the cultural differences in each of our regions.  
Ultimately, the focus should be on sustainable, meaningful change. People often ask for a five-year strategy, but I find that difficult when you're looking at diversity and inclusion. If we reflect on what it looked like five years ago, to where we are now, could we really have planned for that? Did we know some of the societal issues we were going to face? It's about setting principles that still allow us to flex as things change and issues are highlighted. 
What changes have you observed within women's football throughout your career? 
It's totally changed. There's more excitement around it – it's grown crazily. At my first Women's Super League game, there were maybe 100 people there. When you look at where we are now, I sometimes have to pinch myself. I first picked up the whistle 20 years ago, and was the only girl in the room. As women, we often degenderise ourselves to fit in, because we don't want the repercussions of breaking a mould. When you look now, it's a very different environment and I'm so grateful to have been part of that journey. 
What lessons can we learn off the back of the change in women's football? 
What it's really demonstrated is the power of activism for driving change. Allyship is great, but we need to translate this into action. The united front of key messages around zero tolerance and support is crucial. 
Increased coverage of Lionesses' [England women's] games boosted engagement and showcased their professionalism and quality. It's a valuable lesson for organisations. The visibility of role models plays a pivotal role in educating people. It's not just about leadership role models – we need relatable figures at all levels. When you can see someone that you relate to, it's a lot easier to stand up and say 'that's what I want to do'. 
I use football analogies all the time at work. If you had 11 defenders on a pitch, you might not concede goals, but you're not going to win games. The diversity of position is just as important as the diversity of person – and it's the same in business.
What has been your best experience in refereeing?
It's got to be walking out Arsenal vs Chelsea at the 2016 Women's FA Cup Final at Wembley and the stadium was full. That feeling of looking up and realising where I was, and that, as a little girl, I didn't have any relatable role models. Women's football wasn't even really a thing. I didn't have a school team because I was the only girl. I remember just sitting there, looking at what can be achieved in such little time.