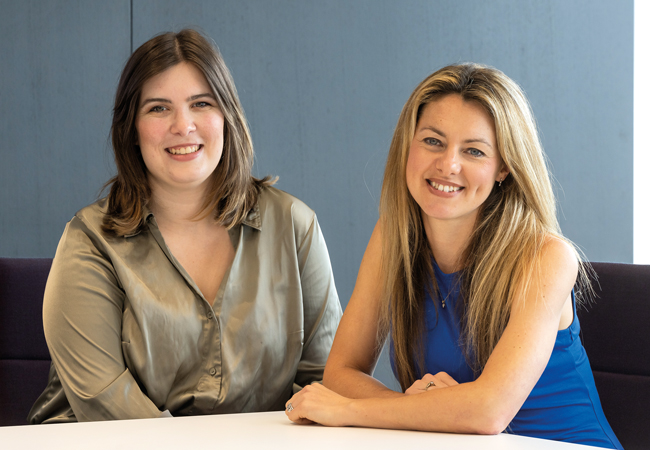 Jennifer Cox (left) and Mary-Ann Clarke
Learning from a mentor opens up a multitude of avenues. You'll discover opportunities you'd never even thought about,' says Jennifer Cox, ACIBSE, discussing the many benefits of mentor schemes for young engineers with her mentor Mary-Ann Clarke FCIBSE.
Mentoring has become an integral part of professional development in many industries. Its ability to empower individuals, enhance skills, and foster career advancement, presents an opportunity for both mentors and mentees to engage in a relationship that propels personal and professional growth.
Earlier this year, CIBSE launched a pioneering programme aimed at cultivating a culture of mentorship within the organisation. The initiative seeks to encourage more professionals to embrace the role of mentors while inspiring others to step forward as mentees. 
Cox, an electrical engineer at Aecom and Clarke, a director at Aecom, are great examples of the positive impact mentoring can have on both parties. They interviewed each other for CIBSE Journal on how the mentor scheme has enriched their professional lives. 
Jennifer: How long have you been a mentor?
Mary-Ann: I've been in the industry for 20 years and been mentoring for about 15 of those. Currently, I'm mentoring you and one other. I also do quite a bit of sponsorship, mentoring people going through the last stages of their chartership. 
Jennifer: What led you to being my mentor?
Mary-Ann: You joined us from Edinburgh in 2019. It was a whole new experience for you, but you slotted well into the team, and I really saw something in you. I thought you had fantastic potential, so nominated you for CIBSE Graduate of the Year in 2020. That was when I started properly mentoring you. 
Jennifer: It started with me asking questions about how to get involved, and then, when you nominated me for the award, we went through it step by step together, looking at what I had done with Aecom and with CIBSE. 
Mary-Ann: It was amazing when you won and got to go out to the States for the ASHRAE conference. We'd spent hours going back and forth over your presentation until it felt perfect. I really wanted to push you forward. We got you involved with the CIBSE channels; you are now chair of CIBSE YEN London and committee member for Youth Engagement of CIBSE Patron, really getting your name out there.
Jennifer: What changes have you seen in me since you became my mentor? 
Mary-Ann: I genuinely see how you've become so much more confident in your own ability. At the start, you were a little unsure but, over the years, I've watched you grow. Now, rather than coming to me to ask what to do, you'll say: 'I'm thinking of doing this, what's your opinion?' The dynamics have changed, and that shows great progress. 
Jennifer: Being able to talk to you and have that relationship grow so naturally has been great. Having that back-and-forth dynamic has really helped me grow with the confidence side, but also in understanding what opportunities are out there and what I can achieve with my career. We often talk about my future and what I want my job to look like five years from now; our continuing conversation has helped me develop those plans. 
Mary-Ann: Yes, we've spent a lot of time exploring your options and what feels right for you. If you're not sure something is pointing you in the right direction, you're able to come to me and we've been able to figure out what experiences would be better suited. We'd rather you have the room to grow into your career at Aecom than leave for another job; being able to evaluate those choices together is so important. 
Jennifer: I've been very fortunate to have you there to guide me towards certain people or projects, pushing me to become more proactive and engaged in what I'm interested in.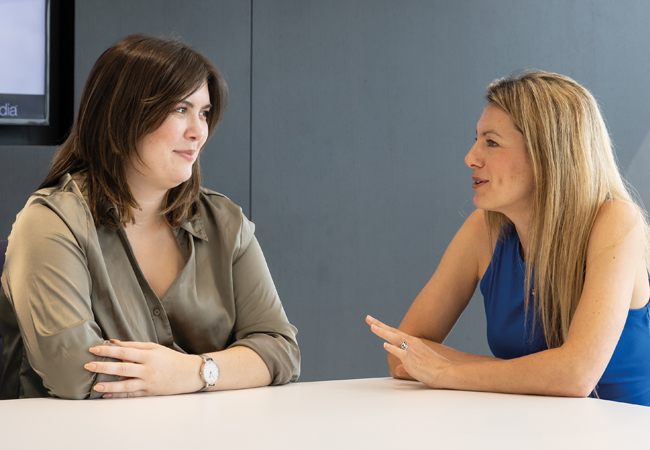 Jennifer: Why did you want to be a mentor? What have you got out of the process?
Mary-Ann: I've always had this need to help people to be the best version of themselves. If I can support people, give them the confidence to become that best version, then that's what I want to do. 
I feel immensely proud seeing my mentees succeed. Watching you win Graduate of the Year in 2020 and then the Women in Construction & Engineering (WICE) Best Young Women Engineer award in 2021 was amazing. I'm very lucky to be able to tell everybody that I am your mentor.
Looking at another side of it, being a mentor has helped me progress in my own career; it's been very beneficial to my learning, it keeps me asking questions. We learn from each other. It's important to stay in touch with that younger generation and understanding what's changing in the industry. For me, mentoring is like sticky toffee pudding. Even if I'm full from my meal, when dessert comes out and sticky toffee pudding is on the menu, I'll always find space. At work, people are like my sticky toffee pudding – it doesn't matter how busy I am, if someone needs my help, I'll always make the time.  
Jennifer: It's very much a philosophy you've instilled in me too. I've benefited very greatly from what you've done for me and want to pass that on and share what I've learned with my team and with the YEN groups. As my career progresses, communicating with the young engineers coming into the industry and looking at what they can learn from my own experiences has become a passion of mine as well.
Jennifer: What would you say to others who are thinking of being a mentor? 
Mary-Ann: I'd say do it. You have to want to put in the time and the effort, and make sure you are mentoring the right person. But, if the relationship's natural and you can see potential in somebody, then you should absolutely mentor them, the benefits for all involved are worth it. 
Mary-Ann: Would you recommend having a mentor? 
Jennifer: Absolutely. It's important to seek out someone in your sector who you aspire to and can support you in the areas you are interested in. Just reach out and see if they have the time and are willing to help. Being able to ask questions and learn from others opens up so many different avenues, and having that encouragement and engagement really facilitates you getting to where you want to be. You'll discover opportunities you'd never even thought about. 
Mary-Ann: What have the highlights been for you throughout our relationship as mentor and mentee?
Jennifer: Getting the Graduate of the Year award and the WICE award is up there, with you supporting me through that. Having someone behind me throughout my chartership was also a massive help, and now just generally in my career. Getting to learn from you and share my progress with someone has really helped me.
And generally, it's great to have fostered a relationship. It's nice to feel comfortable to come and ask you about anything; we don't have to formalise it. You've always got a minute for me to give me an opinion or advice, or point me in the right direction. 
Visit the YEN Careers fair
CIBSE Young Engineers Network (YEN) is curating the programme for this year's Careers Fair, taking place at International Students House, London, on 12 October 2023 between 11am and 4pm.
Following the success of last year's talks and workshops, members of the YEN London Committee will be returning to deliver presentations and workshops designed to share knowledge and experience about starting your journey as a building services engineer.
Sessions will include a First Steps into Industry presentation and
panel discussion, with YEN members sharing their experiences and journey to date.
There will be three workshop streams during the afternoon: top tips on preparing your CV and covering letter; starting your journey towards Professional Registration and becoming a Chartered Engineer; and developing your presentation skills.
The final session will be a discussion between YEN and an industry leader, providing an opportunity for attendees to ask questions. For more details visit: bit.ly/CareersFair23
There will also be members of the CIBSE YEN on hand to discuss the benefits of signing up, upcoming events, and how you can get involved.