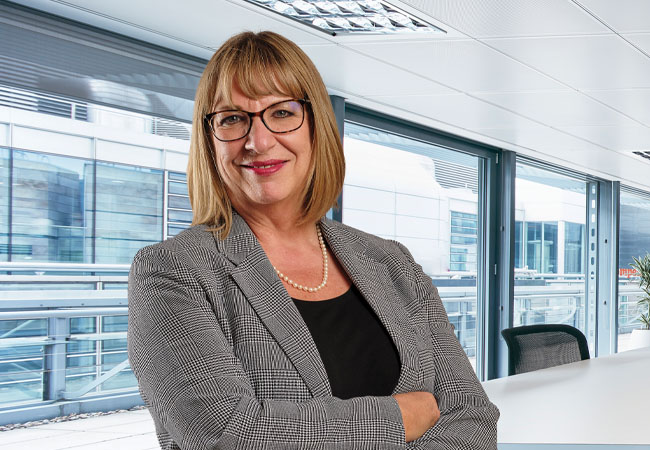 Karen Boswell OBE joined Baxi Heating as managing director in September 2020
'The heat revolution is coming and we've got to be prepared.' Baxi Heating's managing director Kate Boswell OBE is in no doubt that the government's pledge to decarbonise buildings will lead to a radical change in how heat and hot water is delivered to them.
Heating accounts for around 40% of the UK's greenhouse gas emissions, predominantly through the burning of natural gas. For the UK to meet its target of net-zero carbon emissions by 2050, boiler manufacturers such as Baxi will have to develop alternatives to traditional boilers – and fast. As part of the roadmap to 2050, the government is proposing to ban gas boilers in all new homes by 2025.
'We are committed to a portfolio of cleaner products that work with low carbon fuels by 2025,' says Boswell. 'Change is coming, whatever way you look at it, and we have to be ready to offer people what they require to take advantage of the heat revolution.' Baxi, she adds, is changing the way it works, too: it is committing to be carbon neutral in all operations by 2030.
Leading change is not new to Boswell. Before joining Baxi last September, she was a managing director at Hitachi Rail Europe, which also faces a major energy transition – from diesel to electric and hydrogen.
The solutions proposed by Boswell are around heat pumps, heat networks in dense urban environments, and hydrogen-ready boilers. 'We have a multistrand approach using a mix of technologies to offer solutions to the challenge,' she says.
Boswell advocates air source heat pumps for well-insulated new buildings, and Baxi markets them as part of its Assure range. For heating existing properties, she believes that hydrogen can replace natural gas. 'We see the repurposing of the gas grid to support hydrogen as a non-disruptive solution, particularly in poorly insulated buildings. It can capitalise on the existing infrastructure and transition us to a cleaner fuel source,' she says.
Baxi has been working with the UK government on hydrogen trials. It is involved in the HyDeploy energy demonstration at Keele University, where up to 20% of hydrogen is being injected into a natural gas network serving 100 homes and 30 faculty buildings. Alongside Worcester Bosch, Baxi is also showcasing hydrogen boilers at a 100% hydrogen housing demonstration project near Gateshead. 'It's important to work with gas providers to understand their requirements and see the part you play,' Boswell says.

Engineers are a precious commodity – you need to nurture them and encourage them to adopt new technologies. The onus is on us
Results from the trials will be published by Baxi soon, but Boswell is confident that hydrogen boilers will work – in part because of the work done on hydrogen appliances by its Remeha brand in The Netherlands. 'Technically, we're doing well, and I know we'll be able to make great products and the controls that manage it,' she says.
Baxi has called on the government to mandate hydrogen-ready boilers for new installations in 2025, and she says there will be commercial hydrogen-ready boilers on the market from 2024. 'The installation of hydrogen boilers could begin a long way before 100% hydrogen networks are available. If you have a boiler that is ready and adaptable, it can be adjusted for hydrogen in a simple, non-intrusive way,' says Boswell, who believes the big challenge is around public understanding of what hydrogen will do.
'We have a lot of work to do to support consumer understanding. Affordability, consumer choice and acceptance is a big part of the journey, and we have to be careful to avoid fuel poverty,' she says.
Preparing engineers for the energy transition is also a big focus. 'Engineers are a precious commodity – you need to nurture them and encourage them to adopt new technologies,' says Boswell, who sits on the board of Enginuity (enginuity.org) an organisation supporting skills development in UK engineering.
'The onus is on us to help them succeed. There won't be a cliff edge; it's something we are working towards over time.'
To prepare its staff, Baxi is investing in a new training academy in the Midlands, which will also be available to specifiers, installers and contractors to learn about new domestic and commercial products. It is also creating hubs of skills in its internal teams, and has created a roadmap of the training and development opportunities on offer.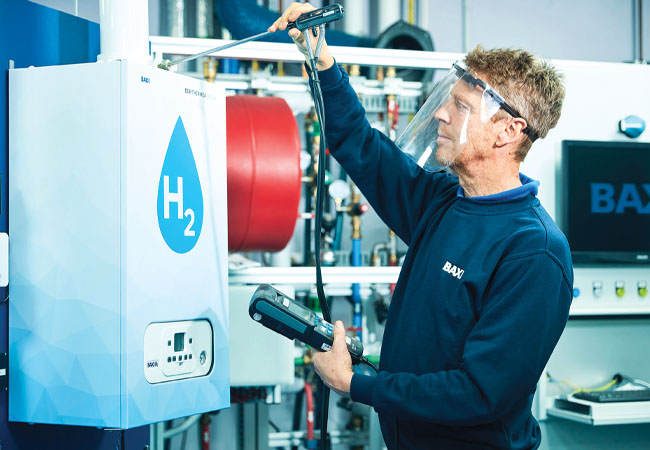 Baxi Heating's hydrogen appliances are currently being trialled
Boswell is also keen to encourage the next generation of engineers, so Baxi has partnered with 10 schools near its manufacturing site in Preston. 'It's brilliant. It's a really great way of also educating the teachers and parents,' she says.
In addition, she wants to encourage people from a diverse range of backgrounds to come into the industry, and an aspiration to create an inclusive culture that supports equal opportunities was included in Baxi's Sustainability Pledge.
'There's not enough diversity. We need to make environments feel right, culturally. We want an organisation that's committed to enriching diversity in all its forms,' she says. 'You have to run a company that looks like the customers you serve – otherwise, how can you possibly understand and come up with the right solution? It starts with demonstrating how interesting our industry is, showing the potential career paths and thinking about how we communicate with people.'
Another part of Baxi's Sustainability Pledge is aiming to be carbon neutral in all operations by 2030. It recently consolidated its UK manufacturing operations into one factory in Preston, which Boswell says has resulted in 'considerable energy benefits'. The company is also focusing on removing waste in packaging and promoting responsible energy consumption and recycling, and a new BMS at Preston has enabled energy use to be monitored closely. Vehicle emissions are also under the microscope; by 2025, Baxi aims to phase out non-electric vehicles and, this year, is trialling an electric van.
Boswell says Baxi is looking at the efficiency of materials all the way through its production stages, and at the embodied carbon of its products. 'Embodied energy is a massive issue. It affects the whole supply chain and, as an organisation, we want to influence this – but it's not a quick fix,' she says.
Baxi now insists that key suppliers achieve a minimum bronze EcoVadis certificate of sustainability. While this doesn't guarantee low embodied energy, it indicates a direction of travel, says Boswell. 'We're driving harder on embodied energy. It's something we want to get to grips with. It's on the agenda,' she adds.
Despite the Covid-19 pandemic and Brexit uncertainty, Boswell reports a strong commercial start to the year. Q3 and Q4 were also strong last year and Baxi did not stop production. The big unanswered question, she says, is whether people will return to their workplaces,and how empty offices will be repurposed. Even before the pandemic, Baxi had been looking at  how its staff might work more flexibly and at more collaborative spaces.
'A positive that has happened is people's confidence in their use of technology, and the realisation that some people can work from home very effectively,' Boswell says. Increased awareness about mental health and wellbeing has also been a really good thing, she adds, as has the chance to think differently about work. 'It's not about working harder; it's about working smarter. We're trying to encourage people to take regular breaks – go for a walk for an hour. It takes confidence for people to do that and not feel they have to be chained to a desk all the time.' 
An opportunity to reset in a post-pandemic world will give Boswell the chance to double-down on her sustainability goals. She understands the role heating companies such as Baxi have in determining whether we hit our net-zero goals. 'I'm passionate about living in a sustainable world and taking some responsibility for that,' she says. 'Future generations will judge us by our actions.'
Career CV
September 2020: Joins Baxi Heating as managing director UK and Ireland
2019: Joins Enginuity as board member
2015-19: Managing director at Hitachi Rail Europe
2016: Made an OBE for services to the railway industry
2009-15: Managing director at East Coast Mainline
2006-09: Deputy managing director, First Capital Connect