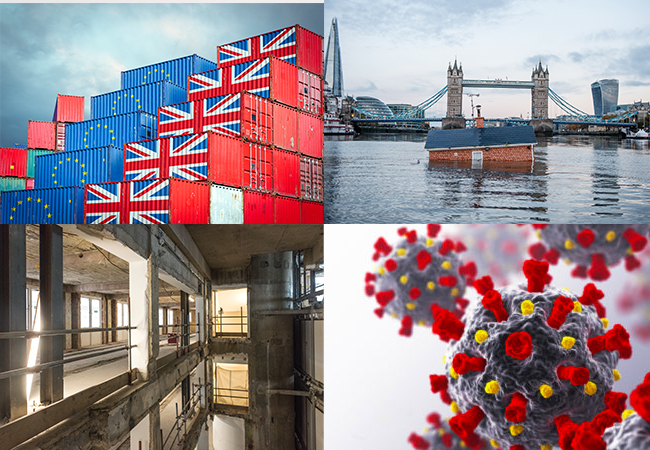 CIBSE's Build2Perform conference was virtual last year, but this did not stop industry speakers addressing some of the biggest issues likely to affect building services in 2021. These include Brexit, Covid-19, the Building Safety Bill, and the drive towards net-zero carbon.
The UK and EU concluded a trade deal last month, and the changes to trade and movement of people will have long-lasting consequences for industry.
Peter Raynham, professor of the lit environment at UCL and chair of the British Standards committee on light and lighting, discussed how the UK would no longer be able to influence European standards when it left the European technical standards organisations, such as CEN.
Until the UK writes its own laws, he said, it will follow EU regulations and directives. It will remain a full member of the European technical standards organisations CEN and CENELEC until the end of 2021, but there could be divergence between the UK and Europe after this. He added the UK would no longer be able to block European standards, even though UK firms would have to comply with them if they trade in Europe.
The UK has a significant presence on standard committees, making up around 30% of the leadership. Raynham said there is a big question over whether this will continue. 'Why would the EU want to pay people to generate documents that they're not going to use themselves,' he asked.
Building-safety reforms
A session on building-safety reform outlined some of the major changes in regulations and responsibilities that the government's new Building Safety Bill will bring to the sector.
These include the establishment of a Building Safety Regulator (BSR), the creation of a new regulatory regime and building control system, and the introduction of new competence arrangements. The bill also demands a major change in industry culture and working practices, and a commitment from industry to embrace new standards.
Gillian Kiy, regulatory interventions lead, Building Safety Programme, at the MHCLG, said the new regime would put residents first. 'It's about establishing a culture where individuals are encouraged to report occurrences to promote safety,' she said.
Dr Scott Steedman, BSI director of standards, discussed the institution's work developing a competency framework in response to the Hackitt report and draft legislation. BSI is developing competencies and standards against which firms can benchmark themselves, he said, adding: 'There has to be a culture of understanding the impact of your work on the work of others.'
In the session on Covid-19, Chris Iddon, CIBSE Natural Ventilation Group chair, looked at how buildings could be protected from the virus over winter. He reminded the audience that smaller droplets or aerosols containing the virus can remain airborne for several hours, and build up in a poorly ventilated room.
Increasing ventilation rates helps dilute the virus, but other factors needed to be taken into account in colder months, Iddon added, such as occupant discomfort, excess heating energy and the risk that the ventilation system might be switched off. He said some HVAC systems would also struggle to temper air at high outdoor airflow rates.
Net-zero carbon
In the 'net-zero carbon' session, Simon Wyatt, partner at Cundall, said the UK's legal target of net-zero carbon emissions by 2050 was hugely ambitious. 'There's nowhere left to hide – every sector in society has to decarbonise and rise to the challenge,' he added.
Wyatt pointed out that 400 local authorities have launched climate emergencies and are aiming for net zero much sooner than 2050. Bristol and Inverness, for example, are aiming for 2025, while London and Manchester are targeting 2040 and 2038 respectively.
Over the past year, Wyatt said he had seen a large increase in ethical/green finance. This has been driven, in part, by the task force on financial-related disclosure set up by the Bank of England, which requires organisations and funds to report the risk of climate change to their business, and put adaptation and mitigation strategies in place.
Pressure was coming from occupiers too, said Wyatt, adding: 'We've had a number of tenants turn around and threaten to move out of buildings.'
To achieve net-zero carbon in buildings, he said, energy consumption would have to reduce by 60%, which equates to the building energy target of around 55KW per m2 quoted by LETI and UKGBC.
With lower operational carbon, embodied carbon becomes more important, said Wyatt, who cited CIBSE's TM65 Whole-life carbon of building services for calculating embodied carbon in building services, and said a RICS framework could be used to calculate the structure and fabric.   
Carbon offsetting should only be done once emissions from construction and operations had been cut, he added. 'You'll see a lot of greenwash, where people have paid a small amount of money to offset their carbon footprint, which is unacceptable.'
Universities' green credentials are being assessed alongside their student experience and academic offering, said David Stevens, vice-chair of the CIBSE Facilities Management Group, who highlighted a great disparity in wealth across the sector.
With Covid-19 accelerating the trend towards online learning, he said the sector should divest itself of poorly performing buildings and allow the private sector to improve performance.
In the retrofit session, it was highlighted that if we are to make any significant progress towards the net zero by 2050 target, over 27 million buildings must be refurbished – and one in five of these is a heritage building.
To retrofit the 20 million non-domestic premises in the UK, Passivhaus Trust's John Palmer said demand needed to be balanced with generation on a regional – or even country – scale, rather than looking at individual buildings.
He said energy use would need to be a quarter of current usage. To achieve this, high fabric performance would be required and the cost, difficulty and risk of refurbishing heritage buildings would have to be reduced.
UCL's Dr Peter Rickaby added that the performance gap was 'an attention to detail deficit', which, he said, PAS 2038 Retrofitting non-domestic buildings for energy efficiency will help to address.
The session on 'Ventilation, energy efficiency and overheating, and the Building Regulations' provided an update to Part L and Part F of the Building Regulations in England and the future development of SAP.
Speakers included Peter Rankin, from the MHCLG, who said it was important that compliance tools such as SAP and SBEM 'were up to the job'. As buildings use less energy, he added, any quirks or shortcomings will become more apparent and significant.
CIBSE's Julie Godefroy and Thomas Lefevre, of Etude, outlined the SAP and Reduced Data SAP (RdSAP) 11 scoping project, commissioned by BEIS. This will look at how the standards can improve to produce pertinent and comparable energy assessments of future homes. 'Our aim is to identify key issues between SAP and the ecosystem, and outline 20 key recommendations for the improvement of SAP,' said Lefevre.